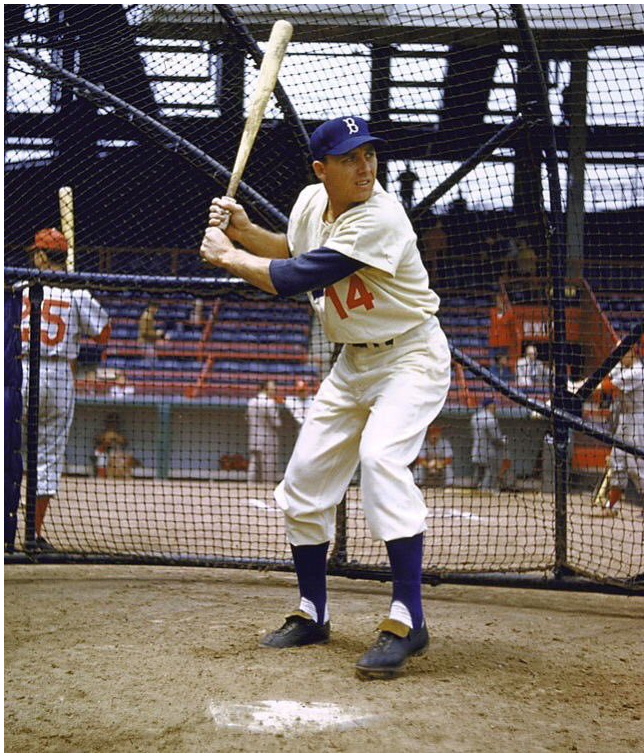 Having been inducted into the National Baseball Hall of Fame, Gil Hodges, who helped the Dodgers win World Series titles in Brooklyn and Los Angeles, will have his No. 14 jersey retired.  He joins Walter Alston, Roy Campanella, Don Drysdale, Jim Gilliam, Sandy Koufax, Tommy Lasorda, Jackie Robinson, Duke Snider, Don Sutton and Pee Wee Reese among Dodgers players and managers to have their numbers retired in left field.  Other than #19, Jim Gilliam, all others so honored have been inducted into the MLB HOF as Dodgers.  As my first favorite Dodger, I am more than okay with Junior being so honored.
The pregame ceremony will take place on June 4, when the New York Mets visit Dodger Stadium.  Hodges played his final two seasons with the Mets in 1962 and '63. His 96-year-old widow, Joan, still lives in Brooklyn.  Gil's daughter, Irene, was with her then 95 year old mother when the vote was announced.
In a statement released by the New York Mets, Irene:
"She just pounded her heart and said, 'I'm so happy for Gil'.  My dad was a great manager and a great player, but above all else was a great dad."
There will be a bobblehead commemorating his addition tot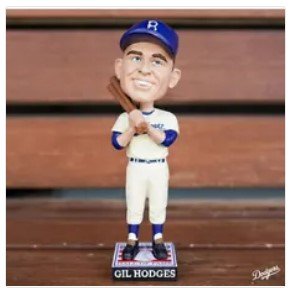 Admittedly I am not a fan emanating from the Boys of Summer era. My "fandom" started when the Dodgers got to LA.  Of course I have read the stories, including Roger Kahn's 1972 best seller, aptly entitled The Boys of Summer.
One thing I have learned is that Brooklyn Dodgers fans are unlike no other.  The New York Giants were a celebrated team, and while it may sound heretical to say, perhaps a more celebrated team than Da Bums in Brooklyn.  The Polo Grounds were as feted as was Ebbets Field.
While in New York, the New York Baseball Giants won five of the franchise's eight World Series wins and 17 of its 23 National League pennants. Famous moments in the Giants' New York history include Bobby Thomson's 1951 home run known as the "Shot Heard 'Round the World", and the defensive feat by Willie Mays during the first game of the 1954 World Series known as "the Catch".
OTOH, the Brooklyn Dodgers won a single WS (1955) and 12 pennants.  And a book was written about that Brooklyn team up to and including the 1955 WS Championship team.  The book also kept track of several "Boys of Summer" after that 1955 Championship… (Clem Labine, George Shuba, Carl Erskine, Andy Pafko, Joe Black, Preacher Roe, Pee Wee Reese, Carl Furillo, Gil Hodges, Roy Campanella, Duke Snider, Jackie Robinson and Billy Cox).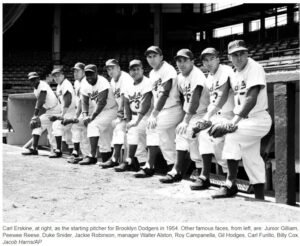 Both organizations moved west to California after the 1957 season, thus the Dodgers and Giants rivalry moved from two of New York's boroughs to Los Angeles and San Francisco.
Yet I do not see or hear anything about the NY Baseball Giants from fans of the SF Giants like I do from LA Dodger fans about the Brooklyn Dodgers.  I see countless Brooklyn baseball caps and shirts, but nothing associated with NY Baseball Giants. I am not saying there aren't those fans, I just do not see them.  I also acknowledge that I am not looking for them.
Hodges was a four sport star in high school.  He was offered, and declined, a contract from Detroit because his choice was to go to college to become a coach.  He was convinced to sign a contract with Brooklyn in 1943, and at the age of 19, spent 1 game in the Brooklyn lineup as a 3B.
After the 1943 season, Hodges entered the Marine Corps.  He served in combat as an anti-aircraft gunner in the 16th Anti-Aircraft Artillery Battalion, participating in the battles of Tinian and Okinawa, and received a Bronze Star Medal with Combat "V" for heroism under fire.
After being discharged from the Marines, Hodges rejoined the Dodgers as a Catcher.  He was called up in 1947, but with the emergence of Roy Campanella, Leo Durocher moved Hodges to 1B.  Hodges stuck with the team for good in 1948 as a 24 year old.
He was an All Star 7 consecutive years from 1949 through 1955 and again 1957.  His first .900 OPS was in 1951.  He exceeded .900 two additional years in 1953 and 1954.
In 1951, Hodges became the 1st Dodger to hit 40 HRs in a season.  He played in all 158 games and struck out a NL leading 99 times that year.  With a .374 OBP, he had to have walked a few times, right?  Yeah, 93.  The next year he walked 107 times with 90 Ks.   Boy has this game changed.  Only in the eyes of the beholder can anyone truly say if it was better then or now.  I will touch a little on that later in the post.
Hodges was a power hitting 1B, but he broke the .300 barrier in both 1953 and 1954.  Hodges ended 1953 with a .302 batting average, finishing fifth in the NL in runs batted in (122) and sixth in home runs (31), and yet he was 14th in MVP voting.  In 1954, Hodges set the team home run record with 42, hitting a career-high .304 and again leading the NL in putouts (1,381) and assists (132). He was second in the league to Ted Kluszewski in home runs and runs batted in (130), fifth in total bases (335), and sixth in slugging (.579) and runs (106).  And yet the best he could do was to place 10th in the Most Valuable Player vote.  Below is the 1954 NL MVP vote:
http://www.kronishsports.com/SE/MLB/Awards/MVP/1950s/1954.htm
For the one WS championship team, 1955,
" facing the Yankees in the World Series for the fifth time, he was 1-for-12 in the first three games before coming around. In Game 4, Hodges hit a two-run homer in the fourth inning to put Brooklyn ahead, 4–3, and later had a single that drove in a run as they held off the Yankees, 8–5; he also scored the first run in the Dodgers' 5–3 win in Game 5. In Game 7, he drove in Campanella with two out in the fourth inning for a 1–0 lead and added a sacrifice fly to score Reese with one out in the sixth inning. Johnny Podres scattered eight New York hits, and when Reese threw Elston Howard's grounder to Hodges for the final out, Brooklyn had a 2–0 win and their first World Series title in franchise history and their only championship in Brooklyn."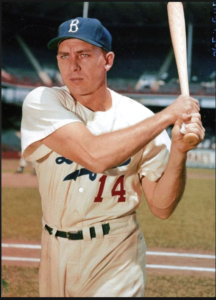 Hodges also contributed a .391 BA in the 1959 WS victory over CWS, including a HR to win Game 4.
1959 was his last big productive year for LAD.  After the 1961 season, Hodges was left unprotected and was picked up by NYM in the 1961 expansion draft.  He hit the Mets first career HR and later became their manager.
He was on two WS Championship teams (Dodgers 1955 and 1959) as a player and one as a manager (1969 NY Mets).
On Easter Sunday 1972, Hodges was returning from a golf game with Mets coaches Joe Pignatano, Rube Walker, and Eddie Yost.  He collapsed on his way to his room at the Ramada Inn in West Palm Beach, FL. from a massive heart attack.
Pignatano later recalled Hodges falling backwards and hitting his head on the sidewalk with a "sickening knock", bleeding profusely and turning blue. Pignatano said "I put my hand under Gil's head, but before you knew it, the blood stopped. I knew he was dead. He died in my arms."
Unfortunately, Joe Pignatano will be joining Hodges in heaven to view the ceremonies, as he just passed away May 23, 2022.
He had previously suffered a minor hear attack during a game in 1968.
In 1960, Hodges broke Kiner's NL record for right-handed hitters of 351 career home runs.
After 1963, he ranked tenth in MLB history with 370 home runs – second to only Jimmie Foxx among right-handed hitters.
He held the National League (NL) record for career home runs by a right-handed hitter from 1960 to 1963.
He held the NL record for career grand slams from 1957 to 1974.
Hodges won the first three Gold Gloves issued in 1957-1959.  He would have won several more had there been the award prior to 1957.  He was considered the premier defensive 1B in NL (if not MLB) during his Brooklyn playing days.
Upon his retirement in 1963,
"Hodges batted .273 in his career with a .487 slugging percentage, 1,921 hits, 1,274 runs batted in, 1,105 runs, 370 home runs, 295 doubles and 63 stolen bases in 2,071 games. His 361 home runs with the Dodgers remain second in team history to Snider's 389. His 1,614 career double plays placed him behind only Charlie Grimm (1733) in NL history, and were a major league record for a right-handed fielding first baseman until Chris  Chambliss surpassed him in 1984. His 1,281 career assists ranked second in league history to Fred Tenney's 1,363, and trailed only Ed Konetchy's 1,292 among all right-handed first basemen. Snider broke his NL record of 1,137 career strikeouts in 1964. When he retired after the 1963 season, he had hit the most home runs (370) ever by a right-handed batter up to that point in time (surpassed by Willie Mays) and the most career grand slams (14) by a National League player (eclipsed by Willie McCovey). He shares the major league record of having hit four home runs in a single game (only 18 players have ever done so in MLB history)."
Yet Gil Hodges never really got close to being elected by the Baseball Writers Association of America (BBWAA).  He received 24.1% of the vote his 1st year in1969.  On his 15th and final BBWAA ballot, he received 63.4%.
From 2003 through 2009, Hodges failed on four attempts under the Veteran's Committee, receiving a high of 65%.  The Golden Era (1947-197) replaced the Veteran's Committee in 2010.  His 1st year of eligibility (2011) he failed to achieve the necessary 12 votes.  He did receive 9.
In 2014, Hodges received 3 votes in the Golden Era vote.  In July 2016, the Golden Era committee was replaced by the Golden Days Committee (1950-1969).  Hodges was nominated on November 5, 2021, for election by the Golden Days Committee.
Vin Scully sent out a Twitter indicating that he was praying for Gil Hodges to finally be enshrined.
"Gil Hodges was one of my all-time favorites," the iconic broadcaster recently wrote on Twitter, responding to a photo of the two together at Brooklyn's Ebbets Field in the early 1950s. "I pray he'll get into the Hall of Fame."
Here is an excellent article written by Tom Hoffarth about "prayers for Gil Hodges".  To be totally upfront and forthcoming, it is an article written from Gil's Catholic background.  It also introduces a documentary film on the life of Gil Hodges and how his Catholic upbringing molded him as a person: The Soul of a Champion – The Gil Hodges Story.  It was released in November 2021 to perhaps push those 16 voters to finally recognizing that Gil Hodges deserves to be in the HOF.
I am convinced that Vin Scully's heartfelt twitter had a significant impact on the vote.  Regardless what the catalyst was, it is about time that MLB is recognizing Gil Hodges into the National Baseball Hall of Fame, and that the Dodgers Organization in recognizing Hodges in their Ring of Honor.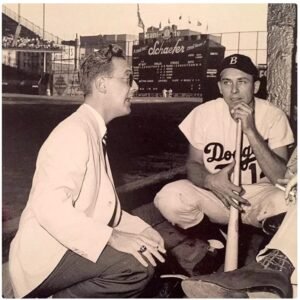 On December 5, it was announced that Gil Hodges received 12 votes, and on July 24, 2022, Hodges will be enshrined in the National Baseball Hall of Fame in Cooperstown, NY. He will be joining fellow Golden Days candidates, Jim Kaat, Tony Oliva, and Minnie Miñoso; Early Baseball Era (candidates whose primary contribution to the game came prior to 1950), Bud Fowler and Buck O'Neil; and the sole BBWAA inductee, David Ortiz (Big Papi).
Hodges joins manager Walter Alston, and players Jackie Robinson, Pee Wee Reese, Duke Snider, and Roy Campanella from that 1955 WS Championship team to be inducted into the National Baseball Hall of Fame.  Technically Sandy Koufax and Tommy Lasorda were members of that 1955 team, but they did not participate in the 1955 WS.  Don Drysdale would not join the team until 1956.  Vin Scully was also part of that 1955 WS Championship run.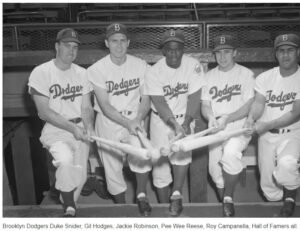 What will be the next number retired by the Dodgers?  22?  34?  30?  #34 (Fernando Valenzuela) will not be inducted into the HOF, but no Dodger has worn #34 since Valenzuela. #22 (Clayton Kershaw) will be a 1st ballot BBWAA HOF inductee.  #30 (Maury Wills) is still being considered for induction, but it seems unlikely.  However, I doubt that you can find two more iconic Los Angeles Dodgers than Fernando or Wills who impacted the game, team, and community more than those two.    Whether they go into the National Baseball HOF, they deserve to be honored.  Wills turns 90 in October.  It sure would be nice if Maury could be honored before he passes.
Gil Hodges was a very good athlete but a GREAT baseball player.  A committee of 16 finally recognized his greatness.  He will now be recognized by the Dodgers Ring of Honor as well as the National Baseball Hall of Fame.
Here are the stats for the MLB 1B inducted into the National Baseball Hall of Fame.  Draw your own conclusions.
https://www.baseball-almanac.com/hof/hofst1b.shtml
Now finally back to the differences in the players of the 50's to the 90's pre-steroid era, compared to the players today (IMHO).  For me, there is no question that today's MLB Players are exceptional athletes, but I truly believe that earlier players were better baseball players.  Although you cannot convince me that Willie Mays was not a better baseball player OR better athlete than anyone playing today.  Will we ever see three more complete CF than Willie, Mickey, and The Duke?  Ken Griffey Jr. comes to mind, but that is one.
The greatest response on the subject came from one of my son's closest friends in baseball, Phillies 1B, John Kruk.  When Kruk was recognized by a woman drinking beer and smoking cigarettes, she approached him scolding, "You should be ashamed of yourself. You're an athlete."
Kruk responded, "I ain't an athlete, lady. I'm a baseball player."
I'm not an athlete, I'm a baseball player. -John Kruk pic.twitter.com/wxadgEuSOv

— Baseball Quotes (@BaseballQuotes1) August 17, 2021