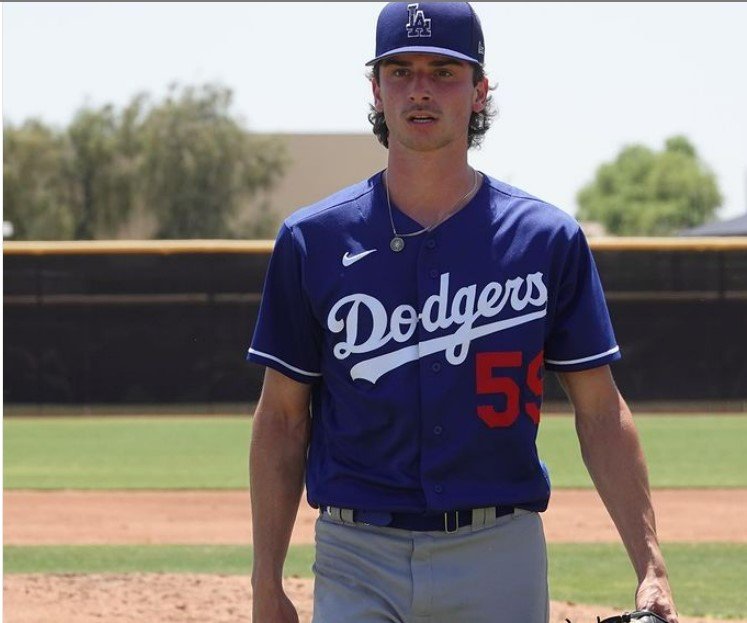 https://www.instagram.com/p/Cdtz1PRvAcs/?utm_source=ig_embed&ig_rid=60c25d11-260f-4797-a2bc-ac93b1472b71
Right-hander Peter Heubeck made his long-awaited debut with the Rancho Cucamonga Quakes on Thursday, June 2 against the Lake Elsinore Storm. I say long-awaited as he did have a very successful debut with the ACL Dodgers last September pitched four innings over two appearances allowing just one hit while walking two and striking out nine.
Heubeck, still 19, was born on July 22, 2002 in Baltimore, Maryland and played high school baseball with Gilman School in his hometown of Baltimore.  Gilman is an All-Boys Private Independent School.
At Gilman The 6-foot-3, 170-pound senior compiled an 8-2 record on the mound with 101 strikeouts and a 1.20 ERA in 64.1 innings. He posted a WHIP of 0.82 and held opposing batters to a .115 average while leading the Greyhounds to the conference championship.
He was then selected by the Dodgers in the third round of the 2021 First-Year Player Draft after having won the Maryland Gatorade Player of the Year Award. Current teammate Maddux Bruns, who was selected in the first round by the Dodgers, won the  the Gatorade Alabama High School Player of the Year Award.
Heubeck was not a sure bet to sign with the Dodgers as he had signed a national letter of intent to play baseball on scholarship at Wake Forest in the fall. The Dodgers did sign him for almost $700.000 over the posted slot value. When it was all said and done the young right-hander  was ready to pursue a baseball career and perhaps it was the drafting team that made his decision a bit easier.
"I was super excited about Wake Forest [since committing in 2019], but when it came down to it, I feel like the Dodgers are the best organization in baseball with player development, especially for pitchers. All the people I've talked to so far there are super good people and I felt it was an opportunity I couldn't pass up," Heubeck said. "It's incredible. I've been dreaming about this my whole life really. I know it's going to be a grind, but I'm so excited to go after it."
Perhaps the die was cast well before the draft. Heubeck, as a youngster, had been surrounded by baseball and good baseball people. His father, Rob Heubeck, was one of the coaches at Gilman so Peter  grew up around baseball and became immersed in it. How could he not when spending time at the park in Baltimore with head coach Larry Sheets, his son Gavin and Ryan Ripkin and his father, Cal Ripkin Jr.?
And maybe it just came naturally according to his father.
"I think it's just the fact he loved it and could never get enough of it. He's always been a student of the game and just soaks it up," Rob Heubeck said. "He never had a pitching lesson in his life. It was always just watching and emulating and working hard. I never had to force him to go out and play baseball — he wanted to do it all the time."
Former major leaguer and Gilman head coach Larry Sheets was as expected, pleased but not surprised, by Heubeck's selection in the third round of the draft.
"Peter is one the hardest-working and most dedicated players I have ever coached. He is a bulldog on the mound and nothing seems to rattle him. He's the guy you'd want on the hill to close out a championship game, which he did. His numbers speak for themselves, but his desire can't be fully measured by those numbers." [quote credit to Baltimore Sun]
Peter Heubeck was especially pleased to be drafted by the Dodgers, not only for the development program he knew was in place, but also for other reasons.
https://www.instagram.com/p/CR4QoXOsQmR/
Growing up in Baltimore Heubeck was naturally an Orioles fan but at the same time he was a Dodger fan, no doubt because of his mother and helped out by MLB.TV,  which likes to black out games. Orioles games were blacked out so as a youngster he started watching Dodger games together with his mother. She is a huge Dodgers fan and they spent countless hours playing catch in the backyard and watching Dodgers games, so getting drafted by them was an awesome experience. One expects Mom is an even bigger Dodger fan now.
Heubeck was watching the draft with friends when he received a phone call from his agent telling him the Orioles were going to draft him. Being drafted by a hometown team definitely would be exciting.  What could be more exciting? How about receiving a second call moments before his name was called telling him it was the Dodgers, not the Orioles, who would call his name.
However, the day wasn't over for Heubeck just yet. After a Zoom meeting with some of the Dodgers' staff, Heubeck was told to watch out for a FaceTime chat later in the day. This definitely  was the icing on the cake and cemented in his mind  what he already knew about the Dodgers player development program. Can you imagine this happening to an eighteen-year-old on the east coast three time zones away from Los Angeles?
At the appointed time Peter Heubeck entered FaceTime and met two guys for the first time. Those guys, Clayton Kershaw and Walker Buehler.
"It was really amazing," Heubeck said of meeting the All-Star pitchers. "We had a neat conversation about what it's like going through the organization and just talking baseball. They're just great guys, super nice, and it was crazy."
"That was really special! I mean, I was in shock first of all because I have always looked up to those 2 guys.  I watched Walker Buehler all the way back to his Vanderbilt days and Clayton Kershaw is a Hall of Famer so that was awesome. The thing that stood out is that those 2 guys are such nice guys and that has carried over into everybody else in the organization.  The whole organization is full of good people and good players and the coaches really care about you and your development so that's really nice."
So what does Peter Heubeck have to offer the Dodgers? In reading about him I suspect the character of Clayton Kershaw and Walker Buehler. Beyond that we have scouting reports. I will list just two. One is from Dodger Polk Report which provides the following interview.
Dodger Polk Report
"Now that you've seen how he tunnels his pitches, let's back up and take a look at each pitch.  Heubeck has both a 4 seam that he uses up in the zone that has a really good "riding" effect and a 2 seam that he uses down in the zone that has good vertical break and sink.  The "riding" effect simply means that, because the ball has such a high spin rate, it doesn't drop much, so it appears to be rising to the hitter.  So, he can "ride" the ball, sink the ball and, in doing so, change the eye levels of the hitters.  Recently, Heubeck has relied more on his 4 seam because the pitch has so much "ride" to it, and it's a great pitch to tunnel his curveball and changeup off of."
The Baseball America Scouting Report
"Heubeck is a thin, projectable 6-foot-3 righthander who keeps trending up. His fastball sits 90-91 mph with elite riding life at the top of the strike zone and should tick up as he fills out physically. Heubeck complements his fastball with a plus, 12-to-6 curveball in the low 80s with impressive depth and power. He effectively throws his fastball up and curveball down to give him the north-south profile teams covet. Heubeck mostly relies on those two pitches but has flashed an average changeup. He has an easy delivery and a clean arm action that give him average control."
Heubeck's Quakes debut did not work out quite as hoped as he gave up three earned runs in 2.1 innings pitched. Larry Sheets indicates that Peter Heubeck will not be rattled on the mound and I expect that  includes his Low-A debut. I'm with Larry on this one.