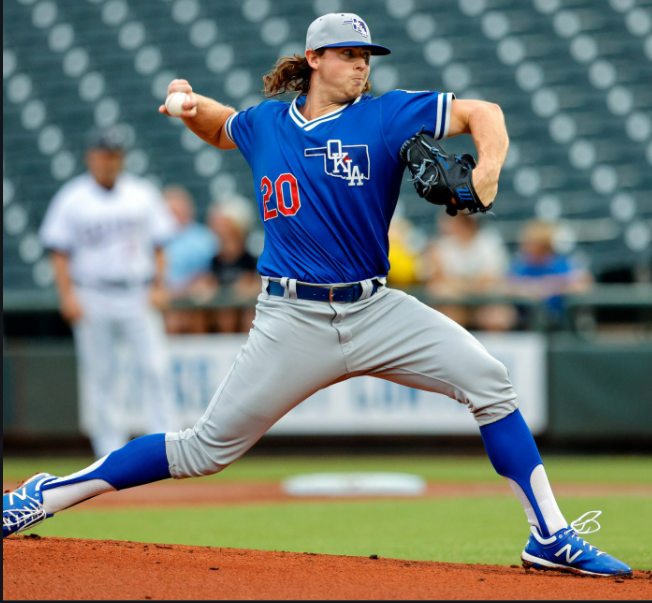 OKC Dodgers 8 vs Reno Aces (DBacks) 3 
On the Mound
Ryan Pepiot started and completed 5.0 innings.  He surrendered his only run on a 3rd inning HR.  He gave up 2 other hits.  His one concern was three walks.  He did record 5 K's.  Pepiot lowered his ERA to 1.77 in a hitter's league, and his record is now 5-0.
Marshall Kasowski, Carson Fulmer, and Justin Hagenman followed Pepiot.  Fulmer allowed an unearned run and Hagenman gave up a HR in the 9th to close out the scoring.
At the Plate
In the 1st, Zach McKinstry led off with a BB.  Jake Lamb singled and ZMac moved to 3B and scored on a Michael Busch sac fly.
In the 5th, Tomás Telis singled and scored on a two out triple by Miguel Vargas.  Vargas scores on a balk.
In the 6th, Michael Busch crushes a lead off solo HR (4).  This was his second homer in B2B games.  Jason Martin then walked.  He moved to 3B on a pickoff throwing error and ground out.  Martin scores on a Jacob Amaya sac fly.  That was Amaya's 1st AAA RBI.    Telis singled and scored ahead of Drew Avans' 5th HR of the season.
The Dodgers' final run came on a Jake Lamb single, moving to third on a fielding error on a Busch ground ball, and scores on a Jason Martin single.
Homers in consecutive games? Michael Busch is good with that.

The No. 3 @Dodgers prospect gets into one for the @okc_dodgers. pic.twitter.com/ZvM3PKIanJ

— MLB Pipeline (@MLBPipeline) June 16, 2022
Two homer inning!

After Michael Busch goes deep on the first pitch, Drew Avans later smacks a two-run dinger!

Dodgers score 4 runs in the 6th inning and lead, 7-1. pic.twitter.com/diDzCd3kIC

— Oklahoma City Dodgers (@okc_dodgers) June 16, 2022
Tulsa Driller 4 vs Wichita Wind Surge 3 – Game 1 
On the Mound
John Rooney drew the starting assignment for Game 1 of the DH.  He pitched well over three scoreless innings.  He did allow 3 hits and struck out 4.  Gus Varland followed Rooney and pitched 2.0 innings.  In his 1st inning, he gave up a double, and two ground balls brought the runner home.  Varland recorded 1 K.
In the 6th, the Wind Surge started their comeback.  Tanner Dodson took the mound and walked three straight batters. He got two outs without surrendering a run.  Jordan Leasure relieved Dodson, and on a 1-0 pitch he gave up a 2-run single before striking the next batter to end the threat.
Guillermo Zuniga entered the 7th in a save opportunity situation.  He walked a batter, and after a steal of 2nd, the tying run was on scoring position.  Zuniga struck out the final batter for his 7th save.
At the Plate
The Drillers drew 1st blood in the 1st.  After a Devin Mann BB, Andy Pages slugged his 10th HR of the season for a 2-0 lead.  In the 4th, Abiatal Avelino opened with a double.  He stole 3rd.  Leonel Valera followed with a walk, and stole 2nd.  Avelino scored on the fielding error.
In the 6th Valera and Jeren Kendall opened with walks.  They moved up to 2nd and 3rd on a ground out 6-3.  Valera scored on a fielder's choice for a 4-1 lead.
Ryan Ward had three hits and Pages had 2.
Home run No. 10 for Andy Pages!

The No. 4 @Dodgers prospect gets things going with a drive to left for the @TulsaDrillers. pic.twitter.com/32ISfFlv7q

— MLB Pipeline (@MLBPipeline) June 16, 2022
Tulsa Driller 7 vs Wichita Wind Surge 4 – Game 2 
On the Mound 
Landon Knack started and had a lack of control with 4 walks to go with 2 hits.  He recorded 5 Ks.  One of those BBs led to the one run he gave up.  After the walk, the runner moved to 3rd on a single and scored on a sac fly.  He got two outs in the 4th, but walked the bases loaded, and after 75 pitches, Knack's night was over.  Nick Robertson came on to get the final out.
Robertson came back out in the 5th, and gave up a game tying Edouard Julian lead off HR (4).  He then retired the side with no further damage.
In the 6th, with Jose Adames now on the mound, Andrew Bechtold reached on a fielding error and wound up on 3rd.  He scored on a WP.  DaShawn Kiersey Jr. hit his 3rd HR of the season.  Austin Drury relieved Adames and gave up a single to the first hitter he saw.  The runner steals second and scores on the second error of the inning.
Drury went back to the bump in the seventh.  A single, walk, single loaded the bases.  Two runners scored on back to back ground outs, and had a 7-2 lead going into the bottom of the 7th.
At the Plate
The Drillers again scored the first run in the game in the 1st inning.  James Outman singled to start the 1st.  Andy Pages drew a BB, and Ryan Ward singled home Outman.
Outman started the rally in the 3rd with his second single.  Pages followed with a single, and Outman scored the 2nd run on a Carson Taylor single.  The Drillers did not get a base runner for the next three innings.
In the 7th, with 2 outs, Devin Mann drew a walk, and James Outman followed with a 2-run HR (14).  That was the last threat.
Today's @ArvestBank Play of the Game for game one of our doubleheader belongs to @james_outman's late 2-run home run! pic.twitter.com/scshsgn77N

— Tulsa Drillers (@TulsaDrillers) June 15, 2022
Wisconsin Timber Rattlers 0 vs Great Lakes Loons 5 
On the Mound
5 pitchers combined to throw a 1 hit 2 walk shutout victory.  They also combined to throw 16 strikeouts.  Carlos Duran made his 2nd start of the season.  In his first outing (06/09) he went 1.0 inning.  Last night he pitched 2.0 perfect innings with 4 K's.  He threw 20 pitches (15 strikes).
Emmet Sheehan followed Duran and went 3.0 innings.  He allowed a double in the 4th, but that was it.  He recorded 8 Ks.  Antonio Knowles pitched 1.0 inning giving up 1 walk.  Jeff Belge pitched the 7th and 8th without allowing a baserunner and 1 K.  Kevin Malisheski closed out the game by striking out the side, with 1 walk.
At the Plate
The damage was primarily done from two batters: Jorbit Vivas and Eddys Leonard.  They combined for 5 of the 7 hits and had the only XBHs.
In the first Vivas led off with a single.  Diego Cartaya was HBP and Leonard singled home Vivas for the game's 1st run.  In the 2nd, Vivas hit a solo HR (5).  In the 3rd, with one out, José Ramos singled.  That was followed by an Imanol Vargas walked.  With 2 outs, Kekai Rios singles to score Ramos.  In the 5th, the Loons scored their final run in an odd fashion.  Eddys Leonard led off with a triple (1).  In currently typical Dodger fashion, after two outs Leonard was still at 3rd.  However, 2 walks and a HBP plates Leonard.
Inland Empire 66ers (LAA)  3 vs Rancho Cucamonga Quakes 8 
On the Mound
20 year old RHP Jerming Rosario from Peravia, DR, was solid, but not elite in his 12th game (10 starts) for the Quakes.  He pitched 4.2 innings before he reached that 75 pitch limit (74 actually).  Really, not one more out so he could be in a position for the win?  He did give up his one run in the 5th, and he left with two runners on.  Jerming's line was:
4.2 IP, 1 R, 3 H, 2 BB, and 4 K.  He has a lot of growth ahead of him, but I am still a fan.
Martin Santana got the final out of the 5th and pitched a perfect 6th, with one K.  Orlando Ortiz-Mayr followed Santana and served up a 2-run HR in his 1 inning.  Kelvin Bautista finished the game with a scoreless two innings.  He issued one walk, and got 2 Ks.
At the Plate
The Quakes scored in the 2nd on an Austin Gauthier walk and Yunior Garcia runs coring double.  The Quakes then proceeded to score at least one run in every inning from the 4th thru the 8th.
The Quakes had a total of 9 hits, but 6 were XBH.  Besides Garcia's run scoring double, the Quakes got doubles from Julio Carrion and Kenneth Betancourt.  The Quakes also slugged three HRs.  Julio Carrion hit a solo HR (5) in the 4th, Damon Keith hit a solo HR (8) in the 5th, and Luis Yanel Diaz hit a 2-run HR (8) in the 7th.
Luis Yanel Diaz, Yunior Garcia, and Julio Carrion each had 2 hits with Diaz and Carrion also contributing a pair of RBIs.  Quakes batters totaled 9 hits and 11 walks. And while they did score 8, they left 12 runners on base.