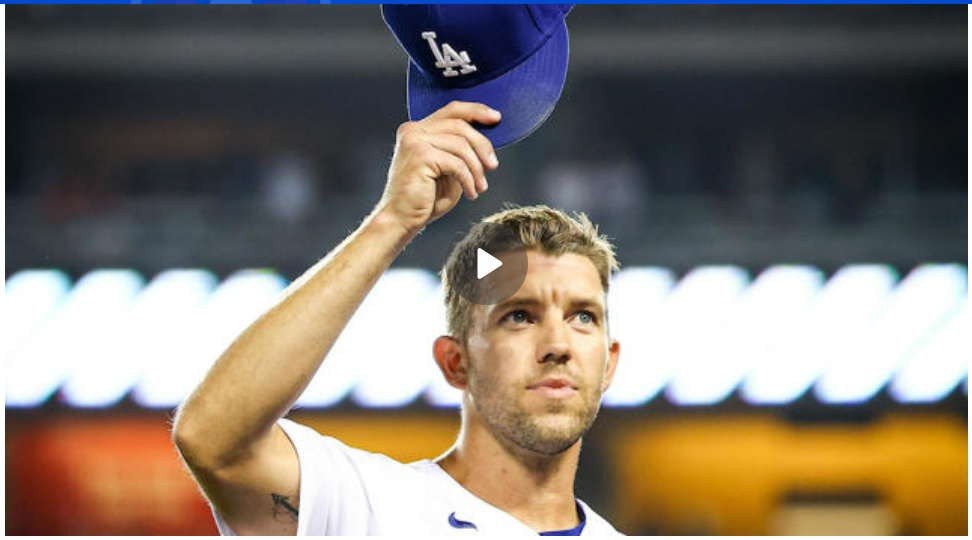 The last LAD no-hitter was a four pitcher combined no-no on May 4, 2018.  The game was played in Mexico against the Padres, with the Dodgers winning 4-0.  Rookie RHP Walker Buehler started and completed 6.0 IP, throwing 93 pitches.  Buehler was followed by Tony Cingrani, Yimi Garcia, and Adam Liberatore.
The last individual no-hitter was thrown by Clayton Kershaw on June 18, 2014, in an 8-0 win over the Colorado Rockies.  Kershaw struck out 15 and issued no walks.  Kershaw was so dominant that he became only the second pitcher to throw a no-hitter with at least 15 strikeouts. Nolan Ryan did it three times. Kershaw didn't throw a ball to any of the final six batters he faced.
The last thing anyone thought going into this game was for a possible no-hitter.  The game started innocently enough.  Taylor Ward hits a pop fly into right center that both Mookie Betts and Cody Bellinger were going after hard.  Mookie got their first, got the ball in his glove, and Belli knocked him down with the ball coming out.  Belli was aware enough to throw the ball to 2B and get Ward easily trying to get the extra base.
It was originally called a hit, but the scorer changed the ruling to E- Bellinger.  It was a little prophetic when Orel and Joe Davis were commenting that since the out was recorded it really didn't matter how the play was ruled…except if he goes deep in the game without giving up another hit.  Little did we know.
Mike Trout followed with a walk.  Shohei Ohtani who has two triples and a HR in 3 ABs against Tyler Anderson, worked the count to 3-2, and gets called out on strike 3 for the second out.  Anderson struck out Matt Duffy swinging on his patented change.
There was still was nothing to foretell what was about to unfold when TA hit Jared Walsh to lead off the 2nd.  Then something clicked.   TA retired the next 17 batters before Jared Walsh reached 2B on Anderson's throwing error.  But he got the final out, and Anderson has a no-no going into the 8th.  He is at 99 pitches.  Three away from his season high and 9 away from his career high in pitches.
Kurt Suzuki led off the 8th with a BB, and all eyes were in the dugout to see what Roberts was going to do.  After a Luis Rengifo F8, Mark Prior was about to go out to the mound to talk about PH Max Stassi, but thought better of it and went back into the dugout.  Stassi hits a bullet that bounced right in front of Trea Turner, but he was able to knock it down and easily get the force out at 2B.  He struck out Taylor Ward to end the inning with his 7th K on the night.
Into the 9th, TA has thrown 117 pitches, and he needs to get through Mike Trout, Shohei Ohtani, and Matt Duffy to record his first no-hitter.  He got Trout looking on a cutter at the top of the zone that Trout knew was strike 3.  That was his 8th K of the night.
Ohtani who has two triples and a HR against Anderson before tonight, hits a ball that Anderson left just about the same spot as the Trout K into RF.  Mookie lays out for it, but it really was just a nice gesture, because the ball was clearly going to get down, and it did for a triple.  Anderson said that he very much appreciated what Mookie did, but he knew it was a hit as soon as it left the bat.
After 123 pitches Doc came out to get Anderson, and TA exited to a standing O.  A grateful Anderson tipped his cap to the crowd, and now they were looking for a shutout and win.
"This is the best stadium in baseball, the best atmosphere in baseball. They were the best fans tonight, it was amazing." pic.twitter.com/EaK9nvf5AS

— Los Angeles Dodgers (@Dodgers) June 16, 2022
Craig Kimbrel came in to close but gave up a run scoring single to Matt Duffy on his first pitch.  But just like the night, he came back to strike out Jared Walsh on three pitches looking, and Brandon Marsh on a 3-2 pitch swinging.
After the game, Doc was asked if there was a point that he thought he was going to have to go get Anderson.  Doc chuckled and said, "I know I have a reputation as the grim reaper, but I am a sports fan also.  I wanted to see the no-hitter."  The pitch count really was not a factor.  He had a short outing the game before, and there will be two off days before he pitches again.  Doc said there were no stressful innings.  His next game will probably be next Wednesday in Cincinnati.  AF also hinted that Mitch White could be recalled becoming that 6th starter after the multiple off days coming up.
The one concern was that everyone was watching Anderson trying to stretch out his left triceps and elbow, and shake out his forearm and wrist in the 5th and 6th innings.  The Dodgers could not afford to lose Anderson. Anderson said that he is constantly doing something like that every game, trying to stay loose.  There is no problem with his arm.
The Dodgers offense again was stifled, but a three run HR by Will Smith in the 1st, and a solo shot by Trea Turner in the 3rd.  These were their 8th HRs of the year, and would be all they needed.  The Dodgers had 6 hits and all with 2 strikes.  Mookie has been getting some horrible calls at the plate.  At some point he is going to blow up at the plate umpire.
The game could have been a little more one-sided except for an outstanding play by future 1st ballot HOF CF Mike Trout stealing a HR from Chris Taylor in the 1st.  The Dodgers had another night with 5-6 deep flyouts near the wall, that probably go out last year.
Tyler Anderson now joins teammate Tony Gonsolin with 8-0 records on the year.  Where would the Dodgers be without these two who were piggyback pitchers in the beginning of the season?  Anderson now has pitched in 67.0 innings making him a qualified starter.  He has a 2.82 ERA and 0.94 WHIP.  He has 63 Ks and a remarkable 11 walks on the season. That is almost a 6/1 SO/W ratio.  It is going to be very hard to keep both Gonsolin and Anderson off the NL All Star roster.

Alanna Rizzo and Mark Prior talk about Tony Gonsolin and pitching on High Heat