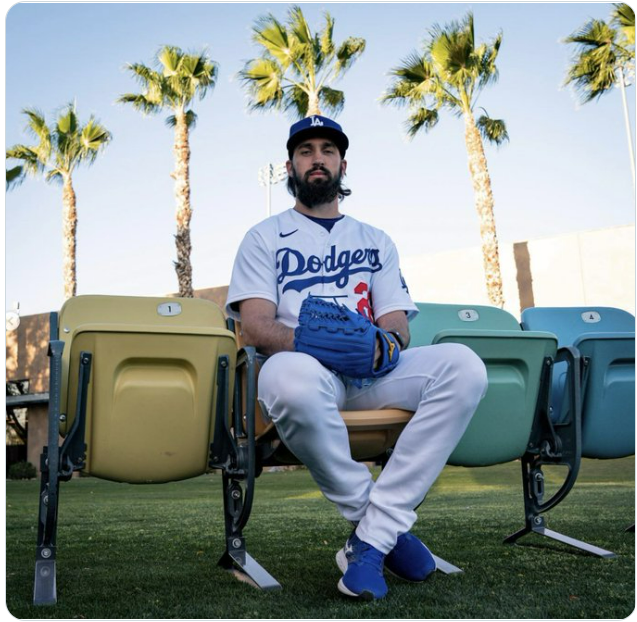 It appeared as if the Dodgers changed tactics and went up hacking the first time through the lineup.  Noah Syndergaard was breezing through 3 innings.  9 up and p down on 29 pitches.  Thor got Mookie on a very questionable call for strike 3 and Syndergaard was perfect through 3.1 IP.
But Mookie started to change the pattern by being more patient.  He got called on a bad call, but the change was in.  Freddie Freeman walked on a 3-2 pitch and the LAD has their first baserunner. Trea Turner followed with an infield single on a 3-2 pitch.  On a 3-1 pitch, Max Muncy grounded into a 4-6 force out for the second out.  With runners on 1st and 3rd Will Smith walks on an 8 pitch AB to load the bases.  Justin Turner follows with the 3rd walk of the inning to force in a run.
Three walks and an infield single to break the 0-0 tie.  Now up 1-0 with the bases loaded and Cody Bellinger comes to the plate to put a hurt on Noah Syndergaard.  Three batters walked in the inning, 5 straight three ball counts, Syndergaard had already thrown 37 pitches in the 4th, and Belli swings at first pitch in the dirt.  He proceeds to strike out on three pitches.  The Dodgers were still 0-2 WRISP and left 3 on base in the 4th.
In the meantime, Tony Gonsolin is breezing through 5.0 innings.  He has allowed one Shohei Ohtani single and two walks.  He is just south of that 15 pitch per inning bar with 72 pitches, with 5 Ks.  Not to be forgotten, but that Ohtani hit was erased by a perfect throw from Will Smith to Gavin Lux on an attempted steal.  Gonsolin kept him close with a couple of throws over to first.  But it was a perfect pop and snap throw to Gavin's glove that did not need to move.
Chris Taylor hits a bloop double to start off the 5th.  It was originally ruled a foul.  How does the 1B umpire miss the call from less than 10 feet away and straddling the line with the ball clearly bouncing on the line?  Oh well, it was properly overturned and CT3 was on 2nd with nobody out.  Right where the Angels wanted the Dodgers…with a RISP.  CT3 promptly steals 3rd without a throw.  Runner on 3rd and nobody out. 4-3 groundout, strikeout, strikeout, and the Dodgers are now 0-5 hitting WRISP on Tuesday and 2-29 in the last 4 games.
Tony Gonsolin comes out to start the 7th.  He gets Matt Duffy (hitting in Anthony Rendon spot) on a pop up to Gavin Lux.  That was the night for Tony, and with the lefty Jared Walsh coming to bat, Doc went to LHRP Caleb Ferguson.  Caleb got Walsh on an 0-1 groundout to Trea Turner in the shift.  And then induced a pop out for Max Stassi.
Gonsolin made it clear that he felt he could have continued, but as Doc said after the game, that is exactly what he should say.  But Doc had other things to manage.  With the fragile arms on the staff, Doc said the decision was easy for him.
The Dodgers went quietly in the 7th, and Daniel Hudson was called in from the bullpen to pitch the 8th.  He throws 10 pitches, 9 strikes, with 2 Ks and a 4-3 line/ground out.
In the 8th, Gavin Lux just missed a waist high 4-seamer.  The Mookie came to the plate mired in a 2-34 slump and did not miss a hanging curve for his 17th HR.  Freeman and Muncy walked to put still another RISP.  And like the LAD hitters before him, Will Smith could not produce.  As with Gavin Lux in the 6th, Smith hit the ball hard, but for an out.  No attaboys for hitting the ball hard.
Now with a 2-0 lead, Craig Kimbrel entered for a save opportunity.  He K's Taylor Ward on a nice breaking ball.  On a Mike Trout broken bat pop up, the sharp end of the bat hit plate umpire Nate Tomlinson through the mask into his face.  The pop up?  It landed just beyond Lux's glove.  It did look like Lux slowed a bit, hearing Cody Bellinger footsteps charging.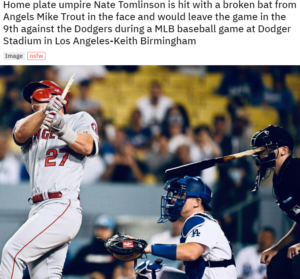 But there was an extended injury delay (9 minutes) to change umpires, and the first pitch to Ohtani is a line drive into right center for a double.  Maybe Belli isn't hitting, but as I said yesterday, he does play elite defense.  His slide to cutoff the Ohtani double before it went to the wall saved a run and saved Ohtani ending up at 3rd with one out.  It was a great defensive play.  That gets a DRS.  Matt Duffy follows with a BB and the bases are loaded with one out.  On a first pitch center cut fastball to Jared Walsh, Walsh puts a scare into the crowd with a bullet that went foul.  Kimbrel then K's Jared Walsh swinging on a wicked knuckle curve for out #2. Kimbrel then proceeds to overpower Max Stassi with three called strikes.  Game over.
The Dodger offense is still struggling getting three hits.  But one of those hits was a Mookie Moon Shot.  The team went 0-6 WRISP and they left 6 men on base.  That is 2-30 WRISP and 35 LOB in the last 4 games.
The offense continues their slumber, but the story tonight is Tony Gonsolin and the bullpen.  Gonsolin has another 6.1 shutout innings in still another quality start. That is 6 straight quality starts and 7 on the season.   His ERA is now down to 1.42, BAA .147, and WHIP 0.82.  That is sheer dominance.  He has not had a single poor outing yet this year.  I cannot find enough accolades to give to the Catman.  He just keeps purrrrring along.  Okay maybe he doesn't know that you need three outs in an inning at times.  But if that is all we can find wrong, how GREAT is he.
Caleb Ferguson is getting closer and closer to be getting high leverage setup opportunities to help Daniel Hudson.  Kimbrel made it interesting, but the delay had a lot to do with that.  He came through when he needed to.
The Dodgers are now tied with San Diego.  Questions are still present, but this was a huge LAD win.
More on Tony Gonsolin…
Lowest ERA through first 12 starts in a season (Dodgers history)

1.33 – Don Drysdale (1968)
1.35 – Hyun-Jin Ryu (2019)
1.42 – Tony Gonsolin (2022) ‼️
1.45 – Sandy Koufax (1963)
1.46 – Clayton Kershaw (2016)

— Blake Harris (@BlakeHHarris) June 15, 2022