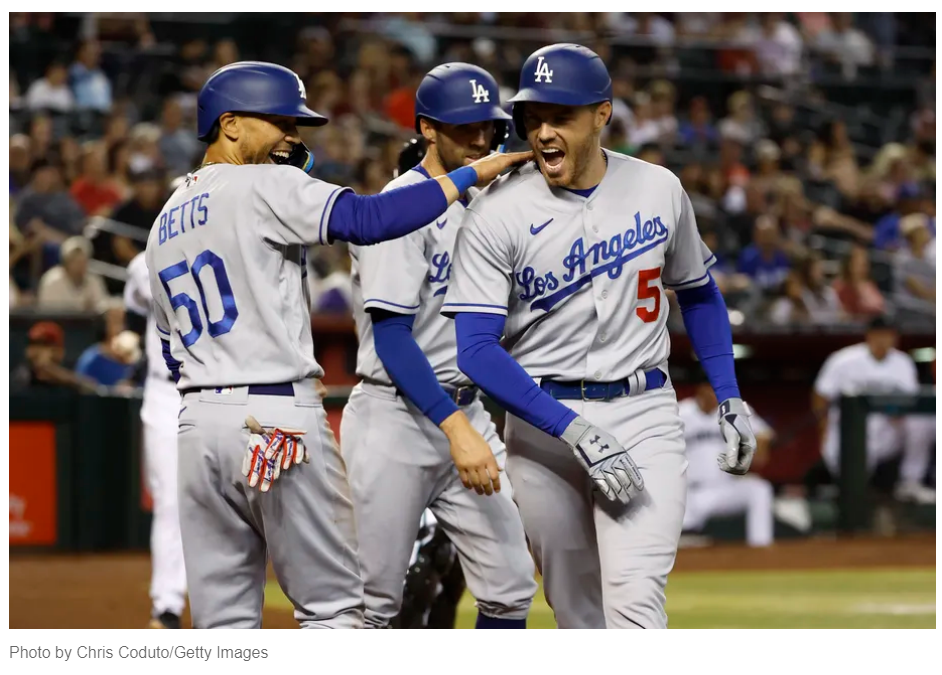 On paper the Dodgers are a loaded team.  They have three former MVP's and a former batting champ in their lineup.  In the beginning of the season, it was a lineup that was favorably compared to the 1927 NYY team, with journalists actually justifying it.  What they were really saying was that on paper, the Dodgers had the best lineup in MLB.
This team started out blazing, and it still shows them at the top YTD for most offensive categories, but sliding in the last 7 and 15 games.
During the last 7 games, the Dodgers have played NYM (1), CWS (3) and SFG (3).  During the last 15 games the Dodgers have played AZ (2), Pittsburgh (3), NYM (4), CWS (3), and SFG (3).
The Dodgers are 2-5 in their last 7 games and 6-9 in the last 15 games.  They have been shut out twice in the last 6 games.
Against the teams with a record >.500 they were 2-5, and 4-4 against teams with a record of <.500.
During the last 7 games the Dodgers have been outscored 23-31.  For the last 15 games, the Dodgers have been outscored 53-63.
For the last 7 games the team is 11-58 WRISP (.189), and left 56 on base.  In their last 15 games the team is 24-131 (.183) and left 106 on base.
What does all that mean?  If you ask Doc his response is:
"People get caught up in their own individual paths, but the whole focusing on just winning a game and doing whatever it takes to win that day, we have to get back to that mindset."

"I just think that the urgency to do whatever it takes to win that night, on the offensive side, hasn't been there," Roberts said, Saturday night's 14 runners left on base fresh in his mind. "Cumulatively, the sum of runs has been there, but the consistency of output hasn't been there, and that consistency is what helps you win more than you lose."
 Doc was also asked if he felt like Dodgers players were too focused on their own at-bats, and he didn't have much of an answer for that.
"I don't know that answer, but I need to find that out because it's getting more clear that we're not doing enough to win baseball games. We're too talented," Roberts said before Sunday's game. "It's not about trying. We all know it's not a try league. We need to all come together to start winning baseball games. That's the only goal."
But there was at least one player who came out with a different take.  Justin Turner's response:
"I don't know what that means. I don't think we're doing anything differently. Go out and you set the table and try to come up with a big hit and just didn't. … We've done a good job of setting the table. We just haven't been able to get that big hit to unplug this."
 I respect Justin Turner more than any Dodger not named Clayton Kershaw.  He has been the de facto team captain and driver of the LA offense for the last 9 years. He will surely go down as one of the great LAD players of all time.  And I believe he will be a terrific manager.  But what does "not doing anything differently mean"?  Different from what?
Thus far the team has played 60 games.  The last 15 represent 25% of the games played in 2022.  The last 7 games represents 11.67% of the games.
Here are the Dodgers' slash line for YTD, Last 7 Games, and Last 15 Games.

Clearly what the Dodgers' offense has been doing the last 25% of the games is different from the first 75% of the games.  So what is the problem?  It has been the middle of the order all year.  When the team is going it is the top 3 of the order and bottom 2 of the order.  But that middle 4 has taken a hit.
Bench:
Note – Rios has been out the last 9 games and the team is 3-6 for those games.
Here is the Dodger metrics for the last 7 and last 15 games by player:
Will Smith is an unlikely #4 batter, but he really represents the only semi-reliable bat for the middle.  See the yellow highlighted numbers.
Gavin Lux is a perfect #9 batter.  He gets on base and has speed to not clog the bases for Mookie.
For June, Mookie has been downright bad and it shows in their record.
Mookie Betts:

See Mookie for the last 7 games.  Is it any wonder the Dodgers' record is 2-5?  The two games they did when; Tony Gonsolin pitched a great game against CWS, and the Dodgers got three HRs accounting for their only runs in their first win.  It is not as if they hit Johnny Cueto that hard.  In the other game, I think Tony La Russa had more to do with that win than any player, and did not need Mookie.
The Dodgers were 20-9 in May and are 4-7 thus far in June.  The record is very representative of Mookie's offense.  He is clearly the catalyst, and he is getting paid to be.
What does it mean?  I know statistics can be manipulated to support whatever position one wants.  For me, the Dodgers offense is going through a bad spell.  But they are too talented to stay this bad.  Mookie will break out again.  Freddie is going to get hot again.  He was MVPesque in April/May.
Freddie Freeman:

Look at BB/SO numbers for May and June and you get an idea of the kind of month Freddie is having.
The top two batters are sub .600 OPS for the month of June.  What should we expect their record to be?  It won't last.
I am not worried about Mookie or Freddie.  But I am concerned with Max Muncy, Justin Turner, and Cody Bellinger.  Gavin Lux by himself has a larger bWAR individually than Muncy, JT, and Belli cumulatively. Muncy, JT, and Belli have below league average OPS+ numbers.  This isn't the #8 and #9 hitters, but the run producers at 5, 6, and 7.
Is Father Time catching and surpassing JT?  This isn't where we would expect JT to be in June.  He really has not had a good month yet?  Will he get hot the second half of June and the summer?  We can only hope.
Justin Turner:

Max Muncy is an enigma.  He says his elbow is fine, and yet he is not producing at all.  He has the least OPS+ of any regular on the team.  Outside of 2020, Max has been as productive as any slugger in MLB.  For 2022 his power is way down, and his BB rate is significantly higher.  Does the elbow hurt when he swings?  He says no, but he is walking a lot more when he should be driving in more runs. He has Mookie, Freddie, and Trea hitting ahead of him and yet his RBI's are down.  Last year he had an RBI every 5.28 AB.  This year it is at 7.74 AB, or 64 RBIs based on last year's ABs.
The biggest question mark is Cody Bellinger.  Yes he is a former MVP.  He was a prolific power hitting OF/1B 2017-2019.  But after that????
Cody's 1st half 2019 was otherworldly.  His second half 2019 was merely great.  Here are his numbers post 1st half 2019:

His stats just for 2020-2022 are as follows:

For the last 2+ years Cody is sub Mendoza BA and a sub .650 OPS.  He is at a HR every 25 ABs pace.  That is less than 25 HRs per year at 600 AB's.  He has never reached 600 ABs in a year, but has come close twice.  Right now he is on pace for a 548 AB season which would translate to a 22 HR season.
The Dodgers have no choice but to continue to put Cody's name in the lineup.  With his $17MM contract and another arbitration year, he has no trade value.  He plays elite CF defense. The Dodgers do not have anyone in MiLB remotely ready to play CF for the ML team.
Nobody questions the pride or desire of the players.  We all know they are trying.  However, as Doc said before Sunday's game:  "It's not about trying. We all know it's not a try league."
Or as the great Jedi Master, Yoda, said in the Empire Strikes Back:
"Try not, DO. Or do not. There is no Try" 
His other lesson to Luke Skywalker was if you do not believe, you will fail.
Yes I am a Star Wars nerd.
It's Doc's job not to complain, but to get the team's oars rowing in the same direction.  I still remember watching JD Davis clapping as he was running to 1B on a ground out because he knew he got the runner from 2B to 3B with less than 2 outs.  With 2 strikes, put that upper cut swing in your back pocket and stop swinging at stuff you know you cannot hit.  And I know that it is easier said than done.
Watching the Dodgers chase in a bases loaded game changing situation, I am also reminded of what Eric Karros said with Gavin Sheets (CWS) at the plate in a similar situation last week.  Karros said, do not throw Sheets a strike.  He is not looking to walk but to be a hero, and he wants to swing.  Let him.  Result, on a 3-2 pitch, he swung at ball 4 in the dirt.  Sound familiar?
LAD has the Angels and their two best pitchers going in the short 2 game set.  Let's hope that the day off has recharged their focus, and they can start a 10+ game winning streak.  They are certainly capable.
https://www.youtube.com/watch?v=6kRAE_2BPB0