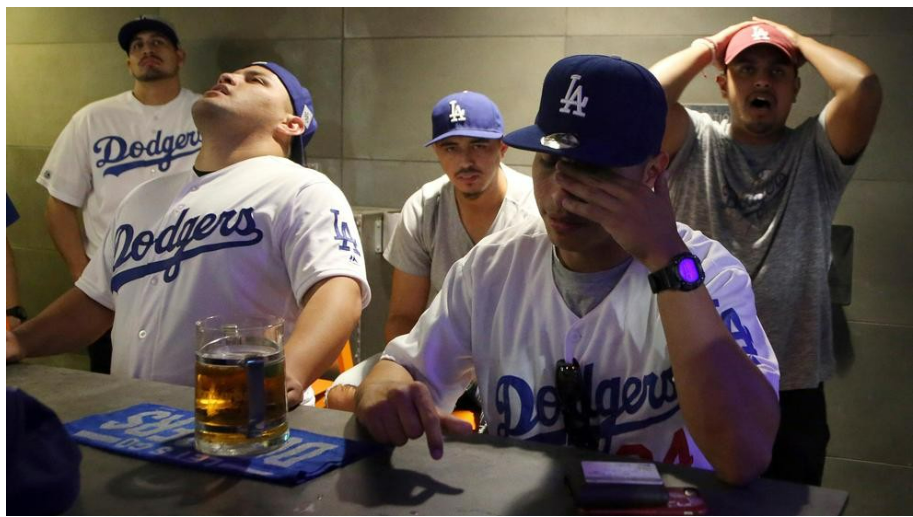 Well that was humbling.  The Dodgers will now be limping home after being shut out by the Giants 2-0, that ended in a series sweep by hated ones.  Hated except up here in Northern California where I will now be roasted by Giants fans at least until they play again.  I can always point out standings, but for how long?
Let's first examine the series.  The Dodgers lost all three games with 4 runs scored vs 12 runs scored against, for a -8 run differential.  I point that out only for those who admonish some of us with how much of a factor that is in determining how great a team is.  I am not sure that any of the games were in doubt from the Giants point of view. Their pitching was better, starting and relieving.  The Giants' hitting was timelier. The Giants' defense was better.  The Dodgers did out single the Giants.
Two of the LAD four runs were solo HRs by Gavin Lux and Freddie Freeman.  What about the rest of the AB's?  The Dodgers were 2-24 WRISP, while the Giants were 5-21.  For the three games the Dodgers had 29 runners LOB while SFG had 16.  All in all it was a crumby weekend offensively.
The Dodgers are now 4-7 in the month of June, and are 4-9 in their last 13 games. They have been outscored 60-47 in those 13 games.  Their team ERA for the last 7 games is 4.50.  For the last 15 games it is 4.24.  The team is now 13-11 against teams with a > .500 record.  Right now, the Dodgers are not playing good baseball.  Is it a trend, or a preview?
To rub salt in the wound, the Dodgers lost Walker Buehler, maybe for the rest of the season.  He is not supposed to throw a ball for 8 weeks, which takes him into mid-August.  Two weeks to get back on the mound for a bullpen session.  Another week plus for a simulated game.  Two games in rehab.  At best (???) by the end of the season, which is exactly what Doc said when he mentioned they hope to get Buehler back before the end of the season.
As some of us tried to point, there was just something wrong with Walker Buehler in 2022.  I do not believe anybody on this site speculated as to what the problem was.  But Walker was not the same pitcher, and it was his fastball that was a dominant pitch before 2022 and then became extremely hittable this season.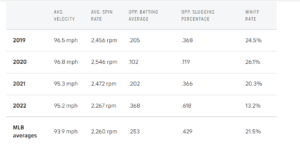 I know that there was speculation that Buehler may have been the benefactor of high spin rates due to the sticky stuff.  I chose not to speculate as to the reason.  But now there is some evidence that Walker may have benefited.  Somebody went back and pulled the information.  Buehler's fastball spin rate decreased from 2,611 rpm before the crackdown of foreign substance last year to 2,349 rpm after.  What does that mean?  I am not sure.  But there is another puzzle piece to fill in.
With the loss of Walker Buehler, what does that do for the rotation?  The Dodgers will pitch Tony Gonsolin and Tyler Anderson against the Angels.  They will have an open date on Thursday, allowing Clayton Kershaw to pitch Friday against the Guardians.  Julio Urias should go Saturday against Cleveland, and Andrew Heaney would be in position to start on Sunday against Cleveland.  I have no idea how deep the rotation can pitch into the games, but they would be back to a 5-man rotation. Now the speculation for how long.
For me, the biggest concern would be Tony Gonsolin, BECAUSE of his exceptional pitching thus far.  On June 8, Tony Gonsolin completed 57 IP in 2022.  That is more IP than he has ever completed at the ML level.  In 2017, he threw 70 IP and in 2018, 128 IP in MiLB.  In 2018, 83 of those IP were at Rancho Cucamonga in a league he was nearly 1 year older than the league average.
It is a benchmark that he has never surpassed at the ML level, and what happens from here forward is uncharted.  We just do not know if he can continue at this pace.  That is not criticism of the Catman.  What he has done this year has put him at the pinnacle of the CY race and is deserving of all the accolades thrown his way.  But to ignore that he has never done this before, is unwise for LAD officials.  And I do not consider them unwise.  Let's not forget in 2021 when Walker Buehler was the odds on favorite for the CY going into September, and then the wheels came off.  Too many IP?  We will never know.
Will Tony Gonsolin suffer the same fate, or will he beat all the odds and continue to be the Ace throughout 2022?  Remember he did have a sore shoulder in 2021.  Could that reappear again before the end of the year?
Last year, the Dodgers had an Ace they could grab a hold of and hold on.  They actually had two after July.  This year, there is no clear Ace.  There have been some outstanding YTD performances from some unlikely sources:  Tony Gonsolin, Tyler Anderson, Andrew Heaney.  There have been some outstanding YTD performances from expected sources:  Julio Urias and Clayton Kershaw.  And there have been some disappointing YTD performances…Walker Buehler and Craig Kimbrel.
The Dodgers are going to ride this pitching depth as long as they can.  Mitch White pitched 5.1 hitless and scoreless innings at a AAA game on Sunday.  He is growing.  Not to the level of Tony Gonsolin, but nevertheless he is gaining momentum. Mitch is ready and waiting to jump back in when needed.  Ryan Pepiot is close.  I do not think the Dodgers would hesitate to put Pepiot into the ML rotation if necessary.  In the interim, he is going to remain in AAA to work on his command.
After the ignominious sweep, it is not the end of the world or even the baseball season.  The Dodgers are still in 1st.  They are still on pace for 100 wins.  But the crowd is getting closer. Milwaukee is the first team looking up to be in the WC and they are only 4.0 behind LAD.   The Dodgers have their two best pitchers going against the Angels at home.  Then the Guardians come to LA for a three game series.  It figures to be Kershaw, Urias, and Heaney for the series.  Mitch White could piggyback with Heaney.  That is still a formidable rotation, and not one that I would count out.  The bullpen is another issue.  Before next Sunday's game, there figures to be one less reliever on the 26-man (Heaney activated), and one more to be moved after the game (13 pitcher limit on roster).
I want to be clear.  I still believe in the Dodgers.  Even without Walker Buehler, I think they are in a position to get to and win the WS.  But to ignore concerns is not going to make them go away.
Tomorrow, I will look at the offense.