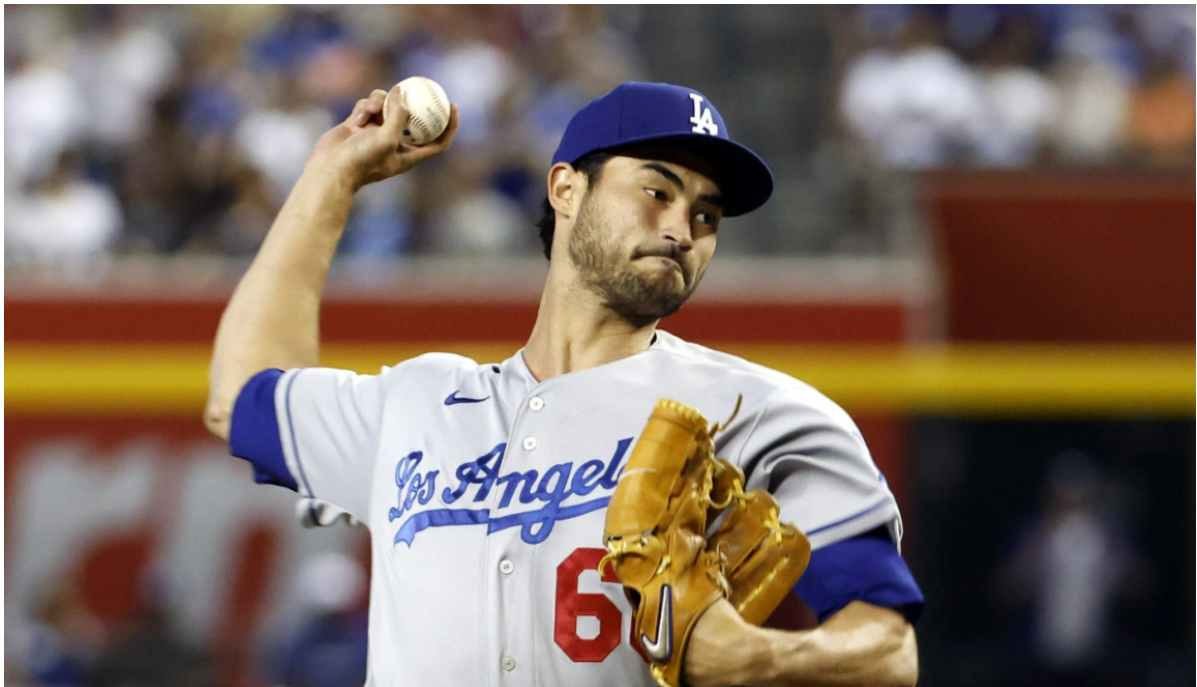 Salt Lake City Bees (LAA) 3 vs OKC Dodgers 8
On the Mound
The story of this game is Mitch White.  After pitching 5.0 innings of 2 hit shutout innings against the ChiSox, Mitch White was summarily optioned to OKC.  The option did not seem to phase Mitch.  On Sunday, Mitch took the mound against the Bees.  White pitched 5.2 IP (72 pitches/45 strikes).  He did not allow a run or hit.  He did walk 2 and 1 HBP.  He never had any serious traffic.
White is ready, willing, and looks to be able to assume a backend ML rotation spot.
Welcome back to Chickasaw Bricktown Ballpark, Mitch White!

5.2 IP | 0 H | 0 R | 2 BB | 6 K

His final pitch 👇 pic.twitter.com/azhFzh12bT

— Oklahoma City Dodgers (@okc_dodgers) June 12, 2022
Jon Duplantier followed White and got roughed up, in his 1.1 IP.  He allowed all three runs.  Garrett Cleavinger and Justin Hagenman pitched the final two scoreless innings.
At the Plate
Miguel Vargas hit his 10th HR in the 3rd inning.
Miguel Vargas made another deposit in the bullpen, it's his 10th homer of the season for OKC, 100.3 mph off the bat, 413' pic.twitter.com/te1FLyYLwd

— Josh Thomas (@jokeylocomotive) June 12, 2022
Drew Avens had a bases clearing double in the 5th inning.
Down in the count 0-2 with 2 outs. Ain't nothing for Drew Avans, as he smokes a bases-clearing double to left field!

Avans then scores on a RBI single by Omar Estévez to make it 8-0! pic.twitter.com/NLns3wh6N9

— Oklahoma City Dodgers (@okc_dodgers) June 12, 2022
Tony Wolters had two hits including his 1st triple.
Northwest Arkansas Naturals (KC) 7 vs Tulsa Drillers 3 
On the Mound
Well it finally happened.  Gavin Stone looked mortal.  He allowed 4 runs on 7 hits and 2 BBs.  After showcasing a keen strikeout pitch, Gavin was only able to muster 3.  It just was not Gavin's night.
Nick Robertson struck out 5 in his 2.0 IP.
Guillermo Zuniga allowed 3 runs in his 0.1 IP.
Two pitchers who have been battered a bit, Jose Adames and Tanner Dodson, pitched the final 2.2 IP without allowing any hits or runs, and recorded 5 Ks between them.
At the Plate
Leonel Valera continued to prove he belongs in AA with 2 more hits.  Ryan Ward also had two hits.  Jeren Kendall hit a HR in B2B games.  He also had two walks reaching base three times.
Jeren Kendall homered last night, then homered again today, and was on base 3 times. This guy can "disrupt" games as well as anyone when he's getting on base like he did today. #dodgers #dodgersprospects #tulsadrillers #jerenkendall pic.twitter.com/p71lvo3cfQ

— Dodgers Daily (@dodger_daily) June 12, 2022
Great Lakes Loons 9 vs Dayton Dragons (Reds) 5 
On the Mound
Kendall Williams started and was breezing for the first three innings.  He allowed 1 hit and struck out 8.  He had 49 pitches (34 strikes).  However, rain hit Dayton, and the game was delayed for 2 hours.  When play resumed, Williams was obviously not in the game.  Jeff Belge entered the fourth and pitched a scoreless inning.
Ryan Sublette and Jacob Cantleberry allowed 3 runs in the 5th and 7th, before Cole Percival put out the threat with two inherited runners stranded.  Percival continues to shine in relief with a scoreless 8th.
At the Plate 
Diego Cartaya went 2-4 with a double.  He also walked to reach base three times.
Diego Cartaya doubled off the top of the wall in right center to put the Loons ahead in the 1st pic.twitter.com/PSGDRaHAhp

— Josh Thomas (@jokeylocomotive) June 12, 2022
Jorbit Vivas was 2-3 with 2 walks.  Jonny DeLuca was 2-5.
Rancho Cucamonga Quakes 15 vs. Stockton Ports (A's) 3 
On the Mound
Ronan Kopp led three pitchers to combine for no runs on 3 hits, 1 BB, and 1 HBP in the first 8 innings.  They also had 6 Ks.
Breezing 15-0, Madison Jeffrey had a rough 9th allowing 3 runs including a 1 out 2-run HR before Martin Santana struck out the only batter he faced to end the game.
At the Plate
Scoring 15 runs on 17 hits, several Quakes batters had good days, but none better than 20 year old catcher Nelson Quiroz.  Nelson had a game he will never forget; 4 hits, 3 HRs and a double, and 6 RBIs.
A 3-homer, 6-RBI afternoon by Nelson Quiroz powered Single-A Rancho Cucamonga: https://t.co/t4GuSUDNcI pic.twitter.com/XpDbpbjifI

— MLB Pipeline (@MLBPipeline) June 13, 2022
Luis Yanel Diaz had a 4-6 day, with a triple and 4 RBIs.  Kenneth Betancourt went 3-5 with a double.  Yeiner Fernandez and Damon Keith had two hit days.