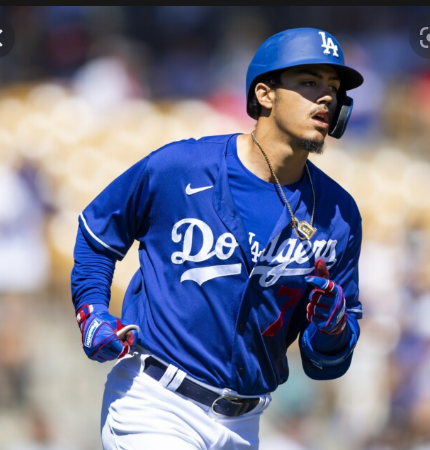 Sugar Land Space Cowboys (Houston) 2 vs OKC Dodgers 3 – 10 Innings
Miguel Vargas (pictured) hit a leadoff 2-run HR (15) in the bottom of the 10th for a walk-off win.
MIGUEL VARGAS CALLED GAME! pic.twitter.com/OXg2hmyxoj

— Oklahoma City Dodgers (@okc_dodgers) July 30, 2022
Justin Bruihl was the opener in this one and pitched a scoreless 1.2 innings.  Michael Grove followed, but allowed a game tying HR in the 2nd, but then proceeded to shut down the Space Cowboys in 4.0 innings.  He allowed one other hit and walk.  He did record 3 Ks.
Mark Washington, Reyes Moronta, and Carson Fulmer got thru 9 without allowing another run.  But in the 10th, Fulmer did allow a 2 out single to score the ghost runner and put the Space Cowboys temporarily ahead.
But the Vargas walk-off got the celebration going.  OKC scored their first run in the 1st when Jason Martin singled home Drew Avans, who opened the inning with a double and moved to 3rd on a Michael Busch infield single.
Drew Avans, Miguel Vargas, and Jason Martin each had a pair of hits.
Arkansas Travelers (Seattle) 5 vs Tulsa Drillers 7
The Drillers got the 2nd walk-off win of the night.  The Drillers newest acquisition, CF Buddy Reed, got his 2nd hit as a Driller, a single to lead off the 9th.  Jonny DeLuca hit the game winning 2-run HR (6). It was DeLuca's 24th HR on the season.
Victory. That is our price. Jonny DeLuca with the walkoff homer and the crowd was ELECTRIC! pic.twitter.com/44Rf3NM4z1

— Tulsa Drillers (@TulsaDrillers) July 30, 2022
Former top draft pick (2nd round – 2016) by the San Diego Padres, Buddy Reed was released in May by the A's.  He was in AAA Las Vegas at the time.  In his first game for Tulsa, he pinch hit for Jeren Kendall and slugged a game tying 2-run HR in the 6th.  He singled.
Buddy Reed hit a bomb in his first at-bat in the Dodgers organization! Reed was released by the A's organization in early May and has been with the ACL Dodgers since then and joined the Drillers just yesterday. Baseball is Awesome! #dodgers pic.twitter.com/s5iYSwb96T

— Dodgers Daily (@dodger_daily) July 30, 2022
The Drillers scored 2 in the 1st with 2 BB, 2 singles, a PB and a sac fly.  In the 3rd, Kody Hoese singled and scored on a Devin Mann double for a 3-0 lead.
Devin Mann was 2-3 with 2 doubles. Buddy Reed was 2-2 with a HR (1) and single.  Jonny DeLuca 2-4 with a HR (6) and double.  Reed, Mann, and DeLuca with a pair of RBIs each.
Alec Gamboa pitched the first 4 IP.  He allowed one run on 5 hits, NO walks, and 2 Ks.  Clayton Beeter relieved Gamboa but could only get through 0.2 IP before allowing a grand slam to give the Travelers the lead.  Overall he allowed the 4 runs on 3 hits and 2 BB.
Keegan Curtis, Jose Martinez, and Jordan Leasure finished the final 4.1 scoreless innings.   They did encounter traffic with 3 hits and 3 BBs, and recorded 5 Ks.
Lansing Lugnuts (A's) 2 vs Great Lakes Loons 4
No walk off in this one.  But the Loons did score all 4 of their runs via 3 HRS.
Nick Nastrini had a quality start in this one and got the win.  He pitched 6.0 innings allowing a pair of runs.  One was a solo HR from C Tyler Soderstrom, his 20th. He surrendered 4 hits, 2 walks, and recorded 6 Ks.  This was a good outing for Nick.
Tonight was the 3rd time in 4 outings that Nick Nastrini has gone 6 innings. He gave up 2, & K'd 2 in his 6 innings.
He has been on point so far in July, as, beyond the length he's given, his ERA is 3.86 & his WHIP is 1.07. He also has 23 K's to just 6 walks this month.#dodgers pic.twitter.com/MccTrkUdAp

— Dodgers Daily (@dodger_daily) July 30, 2022
The Loons got 3.0 tremendous IP in relief from Jeff Belge, Ben Harris, and Ryan Sublette.  Combined they allowed 3 hits and NO walks.  7 of the 9 outs were via strikeout.
Imanol Vargas had a pair of solo HRs (14), and José Ramos had a 2 run HR (14) in the 6th for the eventual game winner.  Ramos now has 20 HRs on the season.
Rancho Cucamonga Quakes 4 vs San Jose Giants 1
The Quakes made it a LAD affiliate MiLB sweep.  It was another well pitched game for a Dodger affiliate.
River Ryan pitched a scoreless 5.0 innings.  He allowed 3 hits and 1 BB, and registered 4 Ks.
Benony Robles pitched 2.0 scoreless innings, but ran into trouble in the 8th.  Staked with a 3-0, allowed a single and walked two with one out in the 8th.  Joan Valdez relieved Robles with the bases loaded.  He gave up a sac fly, but then got the 3rd out on a K.  He finished the game with a scoreless 9th.
The Quakes broke a scoreless tie with 3 unearned runs in the 7th.  The Quakes got the fourth run (1st and only earned) in the 9th.  Jake Vogel opened the 9th with a single and moved to 2nd on a walk to Damon Keith.  Kenneth Betancourt singled to scored Vogel.