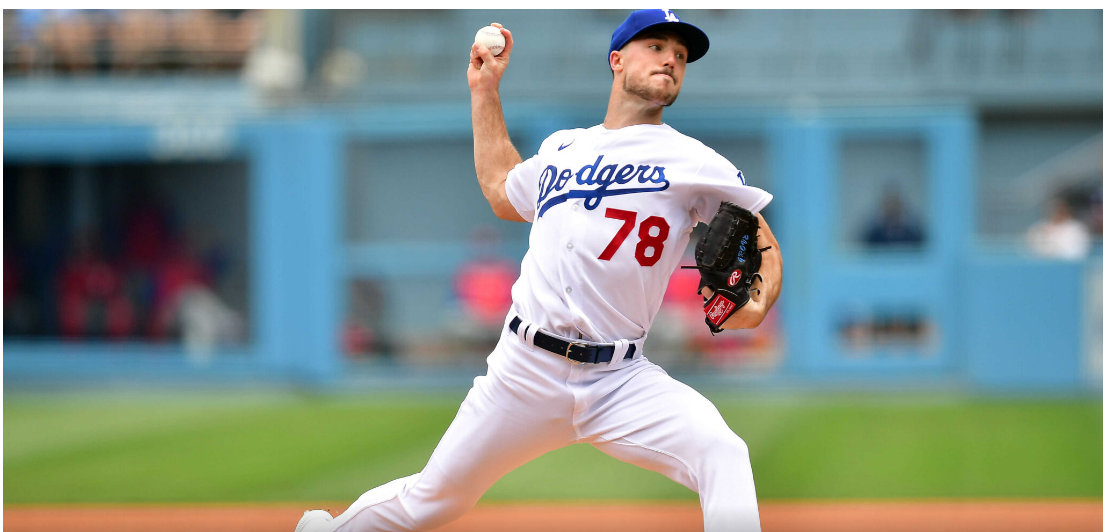 El Paso Chihuahuas (San Diego) vs OKC Dodgers 3 – 10 innings
In a game with the top two teams in the PCL West facing off against each other, the Chihuahuas came from behind to tie it in the 8th and then win it in 10.
Michael Grove followed up on his outstanding last pitched game with another brilliantly pitched game.  The only run he allowed in his 6.0 innings was due to a pair of back to back 2-out doubles in the 4th.  Overall in his 6.0 IP he did allow the lone run on 7 hits, 1 walk, and recorded 6 Ks.  His pitch count was 79 with 60 strikes.
Grove was followed by a pair of LAD pitchers in OKC on rehab assignments.  Victor Gonzalez relieved Grove and pitched a scoreless 7th.  He did allow 1 hit and got 1 K.  Blake Treinen then followed VGon.  Blake got two quick outs and had the third except that Jacob Amaya booted the ground ball and the inning was extended.  Two singles followed and Blake exited with runners on 1st and 3rd.  Jake Reed came in and balked home the tying run.  Treinen should have got out of the inning with only 10 pitches, but instead he threw 20 (15 strikes). Both VGon and Treinen reduced their days between games by 1.  Treinen should be getting ready for back to back.
Justin Bruihl followed Reed and pitched a scoreless 9th.  Carson Fulmer entered in the 10th.  With the ghost runner on 2nd, the first pitch Fulmer threw was hit for a 2 run HR.  After the 1st out, Fulmer walked the next batter.  After the 2nd out, he gave up another 2-run HR.
In the bottom of the 10th, the Dodgers loaded the bases with one out.  Devin Mann hit into a game ending DP.
Ryan Noda began the scoring with his 20th HR in the 2nd.  In the 4th, Edwin Rios led off with a HR,  Jason Martin singled and James Outman hit a run scoring double and a 3-1 lead.  It was a lead that stayed until the 2 unearned runs in the 8th.
Tulsa Drillers 3 vs Arkansas Travelers (Seattle) 6
Lael Lockhart started his 4th game with Tulsa, and had a rough going.  He pitched the first two scoreless innings.  In the 4th he gave up a single, HR, a walk, single, and 2-run double for four runs.
Kyle Hurt followed Lockhart and breezed through the 4th thru 6th inning.  In the 7th he gave up a walk and a 2-out 2-run HR.  Jake Cantleberry inherited two runners in the 8th and left them stranded.
Brandon Lewis was the offensive star for Tulsa with a solo HR (18) in the 3rd and a 2-run double in the 7th.  Lewis had 2 of the team's 4 hits and all three RBIs.
Fort Worth TinCaps (San Diego) 2 vs Great Lakes Loons 13
The Loons scored 13 runs on 13 hits and 11 BBs.
Robbie Peto started and threw 84 pitches in 3.1 IP.  He got through the 1st two innings unscathed, but gave up a 2-run HR in the 3rd for the TinCaps only runs of the game.
Aldry Acosta, Ben Harris, and Julian Smith pitched the final 5.2 scoreless IP, and combined threw only 88 pitches.  Ben Harris has continued with his brilliant season at Great Lakes.  In his 16th game for Great Lakes, he has allowed only 2 runs on 4 hits and 9 walks in 21.1 innings.  He is 22, and it sure would be great to get a chance to see him at Tulsa before the year is out.
The Loons scored 4 in the 1st.  The key blow was a three run HR by José Ramos, his 18th for Great Lakes and 24th for the season.  The Loons scored 3 more in the 3rd with a solo HR by Eddys Leonard (13), and a 2-run shot by Imanol Vargas (18).
The Loons scored a solo run in the 6th on a pair of walks, a ground out and balk.  They finished the night with 5 runs in the 8th (2 earned) on a walk, 3 singles, an error, and double.
José Ramos was 2-3 with 2 walks and 4 RBIs
Jorbit Vivas was 3-5
Imanol Vargas was 3-5
Eddys Leonard and Ismael Alcantara each had 2 hits.  This was Alcantara's first game back with Great Lakes after spending three weeks in Tulsa.  This was also Yunior Garcia's first game with Great Lakes after the promotion from Rancho.  Unfortunately, Yunior did not have a great game.  He went 0-5 with 3 Ks.  Tomorrow is another day, Yunior.
Rancho Cucamonga Quakes 8 vs Visalia Rawhide (Arizona) 6 – 10 innings
Joel Ibarra started and completed 2.0 innings.  He gave up 3 runs in the 2nd.  2 singles, a double and a fielding error scored 3 runs.  Jerming Rosario followed ang pitched 4.0 innings.  He allowed a solo HR for the only run against Rosario.  He recorded 6 Ks against 1 BB.
In 0.2 IP, Christian Suarez walked 3 and allowed 1 hit to score two runs and a blown save.
Yamil Castillo (1.1 IP) and Reinaldo De Paula (2.0) finished the game with 3.1 hitless and scoreless innings.
In the second inning, in his first AB with RC, Juan Alonso slugged a 2-run HR (1).  In the 6th, Jake Vogel hit a ground rule double (20), Nick Biddison walked, and Dalton Rushing cracked his 6th HR in his 16th game and 55th AB.
The Quakes scored the tying run after a Nick Biddison BB, ground out moving him to 2nd, a steal of 3B, and a fielder's choice.
With the score 6-6 going into the 10th, Dalton Rushing was the ghost runner and moved to 3rd on Kyle Nevin's single, and scored on a balk.  Nevin worked his way to 3rd and scored on a Luis Rodriguez single.
Kyle Nevin and Luis Rodriguez had two hits while Dalton Rushing with 3 and Juan Alonso with 2 led the team in RBIs.