El Paso Chihuahuas (San Diego) 4 vs OKC Dodgers 13
The Dodgers had a 3.5 game lead over El Paso for the  division lead going into Sunday's game. They were looking to pick up their fourth win in the six-game series.
On the Mound
Jon Duplantier started and gave up only one run in his four innings pitched. He did allow seven hits but walked only one and struck out four.
Marshall Kasowski and Hansel Robles then each pitched a scoreless, hitless inning.
Justin Bruihl did not fare as well giving up three runs in 0.2 innings pitched. He left with the bases loaded and the usually reliable Mark Washington followed Bruihl and allowed two inherited runners to score but was able to pitch a scoreless eighth inning although he gave up three hits.
Aaron Ochsenbein threw three pitches in the top of the ninth inning before the game was called due to rain.
At the Plate
The Dodgers played long ball to put this game out of reach and pick up another game over El Paso.
James Outman hit a solo home run (8) in the bottom of the second inning to start the dinger parade.
In the fourth inning Edwin Rios homered (4) bringing in Miguel Vargas who has singled. Jason Martin followed suit by hitting his 28th home run of the season and bringing home Michael Busch who had doubled. Jacob Amaya finished the scoring in the inning with a solo home run (4).
Miguel Vargas scored the lone run in the fifth inning on a home run to left center field (17).
The Dodgers added on four more runs in the sixth inning  on a James Outman walk, a Tomás Telis single, a Jacob Amaya RBI double and a Devin Mann 3-run home run (1).
Miguel Vargas, James Outman, and Jacob Amaya all had two hits.
Player of the Game
Miguel Vargas got the decision in a close one as he had two hits, one a home run, and walked twice in five plate appearances.
5 innings, 5 homers!

Now it's Miguel Vargas' turn as the barrage continues! pic.twitter.com/b2amXDmihW

— Oklahoma City Dodgers (@okc_dodgers) August 29, 2022
Tulsa Drillers 2 vs Arkansas Travelers (Seattle)7
On the Mound
Kyle Hurt climbed the hill first and had an uphill battle. He allowed four runs, three earned, in two innings pitched and gave up the four runs on one single, four walks and one HBP.
Hurt was followed by Lael Lockhart who pitched a good four innings giving up one run on two hits while striking out two.
Keegan Curtis came on in the seventh inning and was unable to record an out while giving up two hits and walking one. He left with the bases loaded and Jose Hernandez came in to try to strand the runners. He allowed two to score on a single which was the only hit he allowed in his 1.1 innings pitched.
Guillermo Zuniga pitched a clean inning in the bottom of the eighth inning with two strikeouts.
At the Plate
The Drillers had only four hits and scored but two runs.
In the top of the third inning Ryan Ward brought home one run following Abiatal Avelino who reached base on a Travelers error.
The second run came across in the fourth inning on  a Kody Hoese SF following a Justin Yurchak double and an Andy Pages ground out.
Player of the Game
As mentioned Lael Lockhart was a bright spot on the mound with four strong innings. He gets the game award.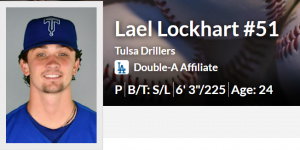 Fort Wayne TinCaps (San Diego) 3 vs Great Lakes Loons 4
On the Mound
Personal favorite Ronan Kopp started for the Loons and ran into some self-inflicted trouble. It was his High-A debut and he was charged with two runs in 1.1 innings without giving up a hit as a result of four walks. Aldry Acosta replaced Kopp with the bases loaded and allowed two inherited runners to score.
Robbie Peto came on for the next four innings and had a good Sunday afternoon with four innings of one run ball.
Peto was followed by Jeff Belge who did what has become a habit for him by pitching a clean inning with two strikeouts.
Braydon Fisher pitched a clean eighth inning and left in the top of the ninth after allowing a two-out hit.
Ben Fisher was called upon to get the last out. He hit the first batter he faced moving the tying run to second base. However, Harris did what he does as a habit . He struck out TinCaps right fielder  Agustin Ruiz.
At the Plate
The Loons struck early in the bottom of the first inning with a two-run home run by Jorbit Vivas following a Diego Cartaya walk.
They added on another run in the second inning on a long home run by Ismael Alcantara who has been on fire since returning from a brief stop in Tulsa.
Alcantara struck again in the third inning with an RBI double following singles by Jorbit Vivas and Eddys Leonard. That finished the Loons scoring and it was up to the relief corps to shut down the TinCaps, which they  did.
Player of the Game
Ismael Alcantara with his home run and double along with two runs batted in earned the award. He has gone 7-14 since returning from Tulsa with three home runs. He is a strong candidate for Player of the Week consideration.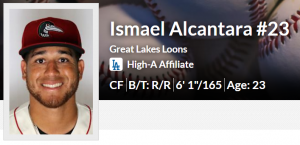 Rancho Cucamonga Quakes 13 vs Visalia Rawhide (Arizona) 4
On the Mound
Darlin Pinales started for the Quakes making his Class-A debut and it was a good one. He pitched three scoreless innings allowing but one hit and striking out three.
Joel Ibarra pitched the next two innings giving up only a walk and striking out two.
Jerming Rosario took over the reins in the sixth inning and had a smooth inning but ran into trouble in the seventh. Following a single and with two out he walked three consecutive hitters to force in a run. Trouble followed Rosario in the bottom of the eighth inning.  The first three Rawhide hitters reached base on  a walk and two singles resulting in a run. After that he gave up a two-run home run cutting the Quakes lead down to three at 7-4.
Carlos De Los Santos came on to put the game to bed in the bottom of the ninth inning. After three hours and fifteen minutes he was able to close it our with no more damage on a fly ball and two strikeouts.
At the plate
The Quakes scored early and often scoring in each of the first four innings.
In the first inning Taylor Young led off with  a single and was followed by a Jake Vogel walk, a Dalton Rushing single, a Yeiner Fernandez SF and a Nick Biddison RBI single.
They scored two more in the second inning with Juan Alonso getting on by a fielding error. Jake Vogel doubled and both were brought home by a Dalton Rushing double.
A lone run scored in the third inning on a Rayne Doncon home run (2) to left center field.
The Quakes tacked on a sixth run in the fourth inning. Luis Rodriguez doubled, Griffin Lockwood-Powell singled and Juan Alonso topped the inning off with a RBI single.
In the seventh inning Taylor Young again led off an inning with a base hit, stole second and went to third on a fly ball to center field. He scored on a Dalton Rushing single.
The Quakes loaded the bases in the top of the ninth inning with a walk to Taylor Young and singles by Jake Vogel and Dalton Rushing.  Taylor scored on a ground out by Yeiner Fernandez and Vogel scored on a Nick Biddison double. Both Fernandez and Biddison scored on a three-run home run by Griffin Lockwood-Powell.
Every Quake had at least one hit. Taylor Young, Jake Vogel, Griffin Lockwood-Powell and Luis Rodriguez all had two hits. Nick Biddison had three hits while Dalton Rushing had five.
Player of the Game
It is getting a bit routine but how do we not pick a guy with five hits and three runs batted in? Dalton Rushing just keeps on hitting and has pushed his batting average to .478.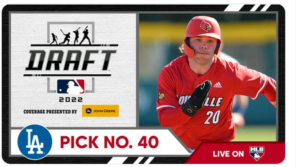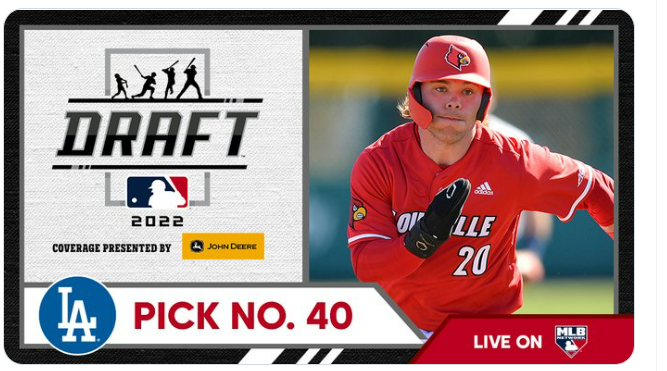 Welcome to the Dodgers, Dalton Rushing! pic.twitter.com/OqlnjzpnJZ

— Los Angeles Dodgers (@Dodgers) July 18, 2022
He plays defense as well.
Dalton Rushing, picking a runner off second 🎯 pic.twitter.com/0npG5rBRo5

— Josh Thomas (@jokeylocomotive) August 26, 2022