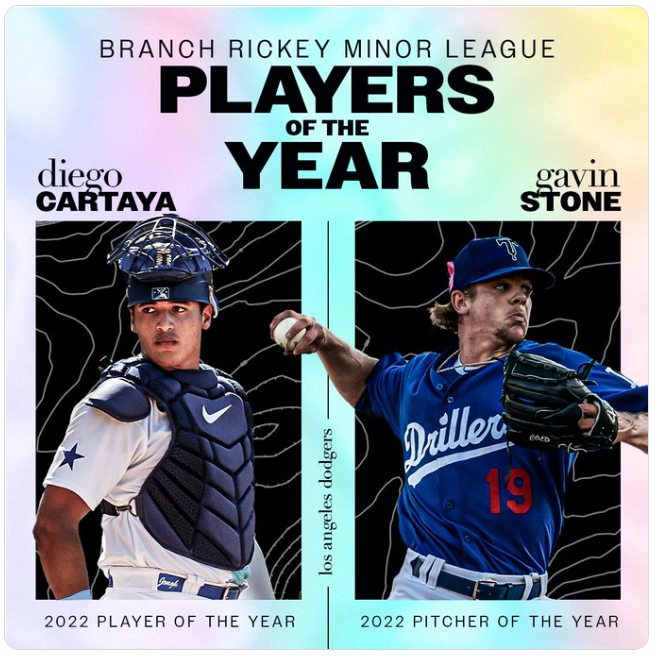 On Saturday the Dodgers named their 2022  MiLB Pitcher of the Year and Player of the Year. I expect very few would have been surprised at their selections.
Congratulations to @DCarty_17 and @gavinbstone on being named the Branch Rickey Minor League Player and Pitcher of the Year! pic.twitter.com/t0HABLKLLB

— Los Angeles Dodgers (@Dodgers) August 26, 2022
MiLB Pitcher of the Year
http://dodgersdigest.com/2021/11/10/helium-gavin-stone-jose-ramos-jorbit-vivas-among-dodgers-prospects-on-the-rise-for-2022/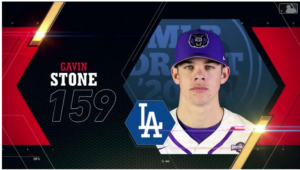 It probably is safe to say that when Gavin Stone was drafted by the Dodgers he would not have  been seen as a candidate  for MiLB Pitcher of the Year in his second professional season.  Beyond that, some of us felt he deserved the honor in his first professional season in 2021.
He was selected by the Dodgers in the fifth and final round of the 2020 First-Year Player Draft. He was the penultimate selection in the draft at No.159, one pick before the 160th and final selection. He was rated the 303rd best-prospect in the draft by Baseball America.
Selected before him were pitchers Bobby Miller, Clayton Beeter,  Landon Knack and catcher Carson Taylor. Beeter has since been traded to the Yankees in the Joey Gallo transaction.
It has been suggested that Gavin Stone was selected as an afterthought  by the Dodgers as the second last player to be picked in 2020 and was selected for a relief role.
Following graduation from high school he headed off to the University of Central Arkansas for a three-year college career which he thought could be extended if he was not selected in the reduced 2020 draft. During the 2018 and 2019 seasons he pitched primarily in relief with 2019 being a signature season out of the pen in which he made 20 relief appearances sporting a 1.52 ERA along with a 1.12 WHIP and 58 strikeouts in 47.1 innings pitched. He walked 11.
I expect the Dodgers do very little as an afterthought and they do work to determine if  pitchers can be used in a starting role before strictly assigning them to the pen.
He did transition to starting for the shortened 2020 season in which he made four starts.
The 6'1"/175 lb. right-hander was on track for a banner season posting a 3-1 record and a 1.30 ERA in 27.2 innings along with a 0.76 WHIP. He also struck out 31 and walked six, with teams hitting him at a lowly. 161 clip.
Gavin Stone's piece de resistance came on his final start of the season on March 6th in which he tossed a complete game no-hitter against Southern Louisiana. He was one walk short of perfection. Following the walk he retired the final 14 batters he faced, including getting his 13th strikeout in the final at bat of the game.
Perhaps that no-hitter sealed the deal for the Dodgers and the rest is history.
Stone started his 2021 season with the Rancho Cucamonga and finished it with the Great Lakes Loons. On the season he posted a combined 3.76 ERA and a WHIP of 1.23. Neither would be overwhelming but his 138 strikeouts and 23 walks over 91 innings pitched were a bit overwhelming, certainly to opposition hitters.
He returned to the Loons to start the 2022 season and moved on to the AA Tulsa Drillers after 25 innings pitched in Great Lakes. On August 19th he started for the OKC Dodgers following 73.1 innings with Tulsa. On the year he has posted a 1.50 ERA and a 1.13 WHIP over 102 innings pitched along with 139 strikeouts and 38 walks.
So why did Gavin Stone slip down to the Dodgers in the 2020 draft? One suggestion is that his size at 6'1"/175 lb. might have caused other teams to overlook him. Another is that his three-quarter arm style delivery keeps hitters off balance to help complement his pitching arsenal, which the Dodgers like.
Now 23, Stone does have a three-pitch arsenal  as described in his No. 7 Prospect ranking and one that can yield strikes with all three pitches.
"Stone went from working with a 90-94 mph fastball as a college starter to averaging 94 mph and touching 98 in his first season as a pro, and his low release point creates induced vertical break that leaves hitters scuffling to get on top of his heater. He barely used a mid-80s changeup with some fade in college but now has a harder, devastating cambio that drops off the table. He has scrapped his downer curveball to focus on a harder mid-80s slider/cutter and is working to add more sweep to help combat right-handers."
In watching Gavin Stone with the Loons and then the Drillers, I have been impressed with his mound presence. He gets the ball and pitches seemingly saying this is what I have, see if you can hit it, rather than saying I am going to try to exploit your weaknesses and nibble around the edges. He seems to cause difficulty up in the zone with his heat and down in the zone with his breaking pitches.
Player of the Year Diego Cartaya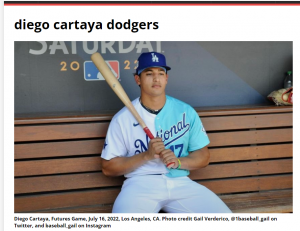 Catcher Diego Cartaya might just be a unanimous choice for the Dodgers 2022 MiLB Player of the Year award although there are others who may well garner considerable attention.
They signed the Venezuelan catcher as an international prospect during the 2018 signing period. The native of Maracay was considered to be the top rated international prospect by MLB.com.
Here is some information from Cartaya's MLB.com prospect page.
"The best overall prospect in this year's class, Cartaya is a well-rounded player at a premium position with the potential to be a star on both sides of the ball. An advanced hitter, the teenager displays plus contact skills and has been praised for his pitch recognition and feel for the strike zone. He has shown some power to the gaps and is expected to improve on that part of his game as he matures. Cartaya is a below-average runner, but the team that signs him does not expect him to be a threat on the bases. It does hope he follows in the footsteps of Kansas City catcher Salvador Perez, who is also from Venezuela. On defense, Cartaya has a reputation as a great receiver with very good hands. He handles pitchers well and has a high baseball IQ. He moves well behind the plate."
Cartaya set out in  2019 to secure his position as a top prospect and has not disappointed.
During the 2019 season he played 13 games in the Dominican Summer League before coming stateside. With the then Arizona League Dodgers (Bautista) he suited up for 36 games hitting .296/.353/.437 with a .790 OPS.
As with all MiLB players the 6'3"/219 lb. Cartaya lost his 2020 season to the Covid-19 pandemic.
He played the entire 2021 season with the Rancho Cucamonga Quakes but had it limited to 31 games by injury. He hit .298/.409/.614 with a 1.023 OPS. His power stroke emerged as he homered 10 times in those 31 games and drove in 31 runs. His injuries were described as multiple back injuries and a strained hamstring.
As expected with catchers, Cartaya has missed a few games  during the current season but has played in 87 games between the Rancho Cucamonga Quakes and the Great Lakes Loons. He has hit .267/.399/.436 with a .935 OPS. His power numbers continue to rise as he has 22 home runs and driven in 69 runs.
In watching Cartaya, what I have  appreciated most is that he has been a clutch hitter during the current campaign. According to Baseball Reference in 76 at bats with two outs and RISP he has hit .305/.461/.678 with a 1.139 OPS. He has produced five home runs and driven 31  in those 76 at bats.
Diego Cartaya will turn 21 on September 7th. However, when interviewed he comes across as a more experienced player. He is always willing and cordial in his interviews as well as humble.
I appreciated his answers when asked about the trade rumors that he might be involved in a trade for Juan Soto. If the Dodgers are looking for character in players, they too have hit a grand slam in signing this young man.
"I only care about playing," he recently said of the trade rumors. 
"I don't really listen to what they say or speculate about me. I know I can play and I just want to play."
While some find it difficult being involved in trade speculation, Cartaya has tuned out the noise.
"It's not very hard," he added. "I don't think it's hard. Just go out and play. It's just a game. Enjoy it. It's not very hard."
I also enjoyed his home runs, especially against Blake Snell.