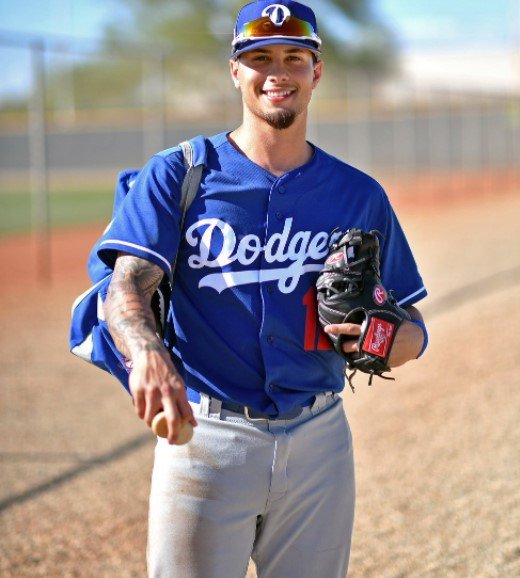 Tacoma Rainiers (Seattle) 7 vs OKC Dodgers 3
Beau Burrows started and allowed a harmless 2 out walk in the first inning.  However, in the 2nd inning, he faced four batters and all four batters scored with him on the bump.  The last two runs via a 2-run HR.  That was the end of Burrows on the night.  Aaron Ochsenbein came in and quickly retired the side in the 2nd.  He allowed a harmless (to the game if not the hitter) HBP, but nothing else.
Mark Washington relieved Ochsenbein and retired all 6 batters he faced.  Danny Duffy then entered in the 6th and was greeted by a ground rule double.  A single put runners on 1st and 3rd.  A passed ball allowed one run to score.  The next three batters went strikeout, walk, strikeout, and Duffy was replaced by Daniel Zamora with 2 inherited runners.  The first batter he faced hit a 2-run double, making all three runs the responsibility of Duffy, and all three were then considered earned.
That was the end of the Rainiers scoring.  Tommy Kahnle and recently promoted Nick Robertson (his AAA debut), pitched two scoreless innings.  Kahnle was perfect in his 1.0 IP.
With 2 outs in the bottom of the 2nd, Jacob Amaya and Devin Mann each drew a base on balls.  Andy Burns singled in one run and a WP moved two runners in scoring position.  Drew Avans singled both Mann and Burns home to temporarily close the score to 4-3.
Jacob Amaya (pictured) went 2-3 plus a BB, and Drew Avans went 2-4 with a BB.
Tulsa Drillers 11 vs Frisco RoughRiders (Texas) 7
Nick Frasso continues to struggle at AA.  However, his night should have been a lot better than it turned out.  He allowed a pair of doubles in the first to surrender a run.  He allowed a harmless single in the 2nd.  In the third is when Nick ran into some bad luck along with poor control.  Frasso allowed a single, SB, groundout, and sac fly.  He walked the next two batters and Gus Varland was summoned to get the final out.  Instead he gave up a 3-run HR allowing both inherited runners to score.  The HR gave the RoughRiders a lead at the end of 3.  Alec Gamboa entered the 4th and breezed through the 4th, 5th, and 6th innings.  But in the 7th, a HBP and BB put runners on 1st and 2nd with nobody out.  He struck the next batter out and was relieved by Jose Adames.  Adames gave up a single and sac fly allowing one of the inherited runners to score.
Jose Hernandez allowed still yet another inherited runner to score in the 8th.  That was a total of 4 inherited runners out of 5 to score.
Justin Yurchak opened the scoring in the top of the first with a 2-run HR.  In the 2nd, Brandon Lewis reached 2nd on a dropped 3rd strike and throwing error, and scored on the first of two Abiatal Avelino doubles (6).
Brandon Lewis had a run scoring single in the 3rd.
Down 5-4 in the 5th, following 3 walks, Avelino hit his second double (7) of the night plating 2 runs, and putting runners on 2nd and 3rd.  2 more walks forced in the 3rd run of the inning and a 7-5 lead.  Ryan Ward hit his 28th HR of the season with a solo shot in the 8th.  The Drillers scored three insurance runs in the 9th to complete the scoring.
Abiatal Avelino – 3-5, 2 doubles, 4 RBIs
Justin Yurchak – 2-6, HR (28), 2 RBIs
Brandon Lewis – 2-5, 3 runs
Jeren Kendall – 2-4
Great Lakes Loons 0 vs West Michigan Whitecaps 3
The Loons were shut out on 6 hits.  Carlos Duran pitched the first 5.0 innings allowing all 3 runs on 4 hits and 3 walks,  He also recorded 5 strikeouts.  Michael Hobbs, Julian Smith, and Antonio Knowles each pitched a scoreless innings following Duran.
Yimi Garcia and Austin Gauthier each had a pair of hits.  Gauthier hit his third double as a Loon.
Lake Elsinore Storm (San Diego) 6 vs Rancho Cucamonga Quakes 10
The Quakes kept their dwindling playoff hopes alive for another night with a victory.  The Quakes marched 4 pitchers to the mound, and each of them surrendered runs.
The Quakes had 13 hits, including 4 HRs.  5 different hitters had multi-hit games, led by Nick Biddison.  5 of the 9 position player starters were 2022 draftees, and the starting pitcher, Jacob Meador made in 6 out of 10.
Nick Biddison (OF) – 3-4, 2 HRs (4), 2 runs, 4 RBIs
Yeiner Fernandez (C) – 2-4, 2 runs
Dalton Rushing (DH) – 2-3, 2 runs
Chris Alleyne – (OF) – 2-4, HR (3)
Jake Vogel (OF) – 2-4
Alex Freeland (SS) – HR (2)