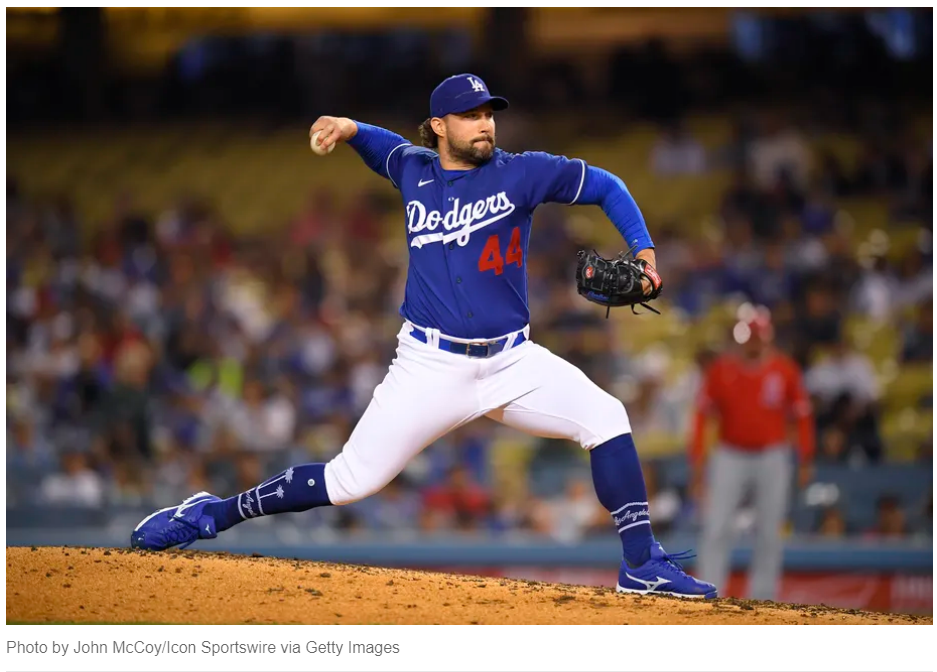 It seems some LAD fans are more fearful of opposing teams starting pitching rather than being confident in the Dodgers rotation.  Because they should have the best record in the NL, they will only need 4 starting pitchers.  Andrew Heaney is not going to be one of the 4 starting pitchers in the playoffs.  If Tony Gonsolin comes back to pitch at a championship level (as we have been advised that he will), then the Dodgers have 5 more than competent and ultra-competitive starters, and one of them can be moved to the bullpen or be a piggyback for one of the four.
There are currently 9 relievers on the current roster.  There are 6 others that could conceivably be added to the roster before the end of September.  Three on the 15 day IL, and three on the 60 day IL. And all 6 are in various stages of returning.
Pitchers not recovering from TJ surgery who are on rehab assignments are limited to 30 days.  After that rehab period, a decision needs to be made as to the status of the injured/rehabbed player.  With one exception;
"With approval of the MLB Commissioner, if a player incurs a new (different) injury or illness or suffers a recurrence of the previous injury or illness while on a Minor League Rehabilitation Assignment, the player must be recalled from his Rehab Assignment and remain inactive for at least five days (for "position players") or seven days (for "pitchers" and for "two-way players") before starting another Minor League Rehab Assignment."
There are three players who are currently on rehab assignments:
Unless VGon is approved as re-injured he will need to be activated on September 14.  I do not think there is any question that he will be activated.  That means that some player on the 40 man will be designated for assignment.  I suspect that will be Heath Hembree.
It is entirely possible that Tommy Kahnle could be released rather than DFA another player on the 40 man.  He is a FA after this year, and his utility will be marginalized compared to those who have been there all year.  It is highly unlikely that he would make the playoff roster, meaning to have him for two weeks when the season is wrapped up, it would make more sense to pitch those pitchers that can (or should) make the playoff roster.
Danny Duffy is in limbo.  He has a team option ($7MM) for 2023.  I think the Dodgers should pitch him to determine if he could be a viable consideration for 2023, even if he (probably) will not be on the playoff roster.  It would necessarily mean that a player currently on the 40-man roster would have to have his status changed.  Either a player will be DFA'd or a player will be moved to the 60 day IL.  I suspect David Price could be moved to the 60 day to make room for Duffy (or Kahnle).
Yency Almonte threw off the mound on August 31, and was scheduled to throw again on September 6.  If all goes well, he would go out on a rehab assignment shortly thereafter.  Yency could ultimately spend the remainder of the season of a rehab until the end of the season.  Of course, if his rehab is successful, he is one pitcher the Dodgers would love to have available in the playoffs. He is eligible to come off the IL immediately.
Brusdar Graterol is eligible to be activated on September 15.  His MRI was clean, so he has begun a throwing program.  Do the Dodgers feel comfortable that he could be a playoff reliever?  If yes, he could be activated with or without a rehab.
David Price could be activated on September 19, sent out for a rehab for up t0 30 days, or transferred to a 60 day IL to make room on the 40-man.  I have no insight as to where the LAD thinking is at on this.
It was reported that Tony Gonsolin would miss only 2 or 3 starts.  He has already missed 2 starts, and his 3rd start would be either September 10 or 11.  If the Dodgers want to be conservative, they could pass Gonsolin's next scheduled start.  With the open date, and five starting pitchers on the active roster, the open date could serve as a 6th pitcher for a 6-man rotation.  The Dodgers have another open date a week later.
If Gonsolin proves to be healthy for the playoffs, two of the starting pitchers could move to the bullpen.
If the pitchers are right, Yency Almonte, Brusdar Graterol, Victor Gonzalez, and potentially Danny Duffy and Tommy Kahnle would make a very good bullpen, extremely formidable.  As we get closer to the October 11 Game 1 of the NLDS.