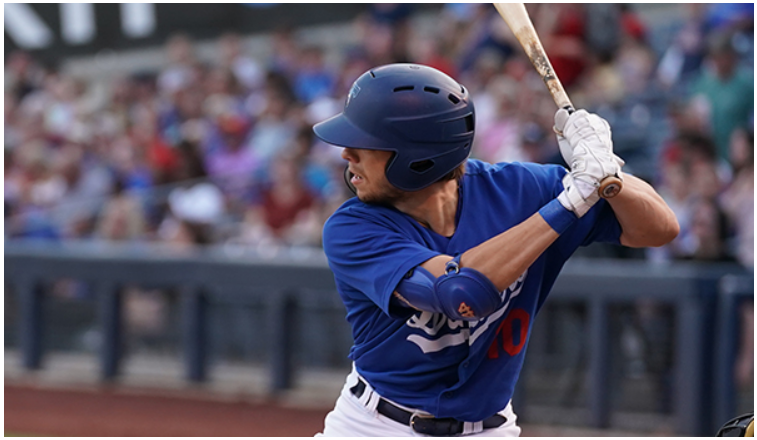 Tacoma Rainiers (Seattle) 4 vs. OKC Dodgers 5
After a walk and single in the 1st without a run, Jon Duplantier retired the next 11 batters.  He surrendered a double and single for a run in the 5th.  He then surrendered two additional runs in the 6th and Nick Robertson was summoned to close out the 6th.
In the 8th with a 4-3 lead, Victor Gonzalez got two quick outs before allowing a double and single for a run.  After a walk, Justin Hagenman was surrendered to get the final out.
Mark Washington pitched a scoreless 10th to set up for OKC's walk off win.
The Dodgers scored 1 in 2nd via a Drew Avans squeeze.  Ryan Noda and Hunter Feduccia (pictured) both singled with Noda taking third.  Avans laid down a bunt and Noda scored.
In the 5th, Feduccia and Avans singled.  Michael Busch doubled  (25) to score Feduccia.  Edwin Rios then singled to score 2 to take a 4-1 lead, that evaporated in the 8th.
With the score still tied at 4 in the bottom of the 10th and Busch starting at 2nd, Andy Burns singled Busch to 3rd.  Busch was out at home (3-2) on a fielder's choice by Edwin Rios.  After a James Outman fly out, with runners on 1st and 2nd, Jason Martin and Ryan Noda both drew walks to force in the winning run in walk off fashion.
Hunter Feduccia – 3-4
Andy Burns – 2-5
Tulsa Drillers 3 vs Frisco RoughRiders (Texas) 4
Landon Knack retired the 1st 6 hitters in order.  In the 3rd, Knack allowed back to back singles, but got the DP and fly out to end the inning.  Knack has not pitched past 4.0 innings since June 26.  In the 5th he allowed a walk, single, and 3-run HR.  After a strikeout, he gave up another single and was relieved by Tanner Dodson.  Dodson balked the runner to second where he scored on a single.  Yet another inherited runner scoring.
Jake Cantleberry and Jose Adames finished the final 3.2 scoreless innings.
Tulsa got on the board 1st with a 2-run HR by Leonel Valera (11) in the 3rd.
After a Chris Betts walk, Andy Pages hit a 2 out run scoring double (24).  However, Pages was left stranded.  The Drillers went meekly in the 9th and fell short in a 4-3 loss.
Justin Yurchak had 2 of the 4 Drillers hits, including his 21st double.
Great Lakes Loons 6 vs West Michigan Whitecaps (Detroit) 7
River Ryan threw 2.0 scoreless innings, but in the third, he allowed 4 singles for 2 runs.
Ben Casparius relieved Ryan in the 4th.  He issued a BB, triple, and sac fly to score 2.  In the 6th, Casparius issued a BB, double, and HR to score 3.
Aldry Acosta, pitched a scoreless 8th.
In the 2nd, José Ramos drew a walk, and went to 3rd on a fielders choice and throwing error.  He scored on a Yunior Garcia sac fly.
In the 6th, the Loons hit 3 singles and Luis Yanel Diaz hit a Grand Slam HR (6).
In the 7th, the Loons got close on an Eddys Leonard double, moving to 3B on a fielders choice and scoring on a wild pitch.
The Loons had 6 hits, with nobody having a multi-hit game.
Lake Elsinore Storm (San Diego) 12 vs Rancho Cucamonga Quakes 4
Chris Campos started as an opener for the Quakes and retired the side in order in the 1st with 2 strikeouts.
Jose Ibarra pitched the next 2.0 scoreless innings, issuing one walk and recorded 1 K.
Things went south after the 3rd, when 3 Quakes pitchers gave up 12 runs.
Livan Reinoso pitched a scoreless 9th.
Down 5-0, the Quakes climbed back into the game when they scored 3 in the 5th.  Luis Rodriguez led off with a solo HR (11).  After a Griffin Lockwood-Powell single, Rayne Doncon followed with a 2-run HR.
The Quakes scored an additional run in the 9th with a Luis Rodriguez double (20) and a Griffin Lockwood-Powell run scoring single.
The Quakes had 6 hits, with Rodriguez, Lockwood-Powell, and Doncon collecting 2 each.