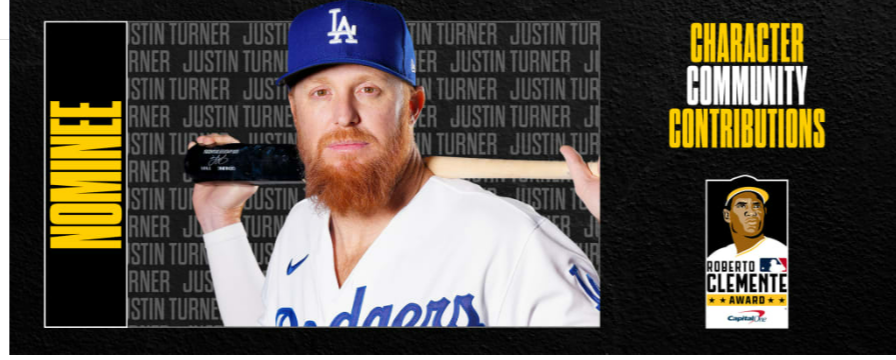 The Roberto Clemente Award is given annually to a player who demonstrates the values Hall of Famer Roberto Clemente displayed in his commitment to community and understanding the value of helping others. It is awarded to the MLB player who best represents the game of Baseball through extraordinary character, community involvement, philanthropy and positive contributions, both on and off the field.  Each club nominates a player in September. The winner is selected from 30 nominees during the World Series. Originally the award was called the Commissioner's Award, the honor was named for Clemente in 1973.
This year marks the 50th anniversary of when Roberto Clemente, the Hall of Famer and 15-time All-Star tragically died in a plane crash on New Year's Eve 1972 while attempting to deliver supplies to earthquake victims in Nicaragua.
The first winner of the Award (as was then known as the Commissioner's Award) in 1971 was Willie Mays.  Last year, the winner was Nelson Cruz, representing Minnesota.  The Dodgers have had two previous winners: Steve Garvey (1981) and Clayton Kershaw (2012).  22 teams have had winners, with St. Louis leading the way with 6.  Baltimore has 5, while NYM and Minnesota have had 4 winners.  Their respective communities are very blessed to have them.
This year, the Dodgers have nominated Justin Turner for the 5th time in the last 6 years.  Kenley Jansen broke that string as the Dodgers nominee in 2019.
A leader on and off the field.

Congratulations to @redturn2 on being named the Dodgers nominee for the 2022 Roberto Clemente Award! Get your votes in now at https://t.co/i02OKXsBsc. pic.twitter.com/jNOSP9Jhy2

— Los Angeles Dodgers (@Dodgers) September 8, 2022
Thursday, September 15th will mark the 21st annual Roberto Clemente Day, which was established by Major League Baseball to honor Clemente's humanitarian legacy, and to formally acknowledge Club nominees of the Roberto Clemente Award.
The Dodgers plan to honor JT on the field prior to their game against the Arizona Diamondbacks on September 19.
JT has become ingrained in the community, giving his time, energy and financial support to a variety of charitable efforts.
The Justin Turner Foundation (JTF), which he founded in 2016 with his wife Kourtney. The Foundation's official mission is to support homeless veterans, children (and their families) battling life-altering illnesses and diseases and various youth baseball organizations.
To help raise funds and awareness for the challenges faced by homeless veterans, the Justin Turner Foundation holds an annual golf classic and champions AM 570's Veterans Day Radio-a-thon, both of which support the Dream Center's Veterans Program. In 2022, the golf tournament raised more than $650,000 for the Dream Center and Children's Hospital Los Angeles.
The JTF supports and provides housing for veterans at The Dream Center in Los Angeles and has provided the Dream Center with over 70,000 toys and 14,000 bicycles to children through its holiday-giving efforts.
Beyond his Foundation, Turner is a fixture at Dodgers and Dodgers Foundation community events, local hospitals and the Dream Center, which renamed its food bank The Justin & Kourtney Turner Food Bank in his honor.
During the COVID-19 pandemic, the JTF partnered with the Dream Center to assist its drive-through and walk-up food and essentials line. An estimated 12,000 individuals per day received meals through drive-through distribution and an estimated 900,000 meals were served throughout 2022.
JTF covers the annual costs of the Dream Center Foster Care Intervention Program, which works to ensure families can remain together and out of foster care.
The Dream Center named its food bank The Justin & Kourtney Turner Food Bank.
The Turners also regularly visit Children's Hospital Los Angeles (CHLA), Cedars-Sinai and UCLA Mattel Children's Hospital.
In 2019, the JTF hosted its first Winter Wonderland at CHLA for children unable to leave the hospital for the holidays.
The Turners are board members for UCLA's Operation Mend, which provides advanced surgical and medical treatment for veterans as well as serve on the board for Children's Hospital Los Angeles.
This year, Turner, a native of Long Beach, donated to and helped renovate the main community room and dining area at the Volunteers of America Transition House (T-House), a 20,000-square-foot facility that offers emergency shelter and individual service plans to help with the move to more permanent housing.
During All-Star Week and the morning following a Dodger game on July 17, the JTF's All-Star Bingo Tournament helped raise more than $25,000 for causes the JTF supports.
This year, Justin was the LA Marathon race starter ambassador, helping to raise more than $70,000.
Justin also created a Military Monday program prior to the 2019 season where, through social media, he solicits nominations and then selects a military family to receive an all-inclusive gameday experience each Monday home game.
Last year, the Turner's created an event to support one of Kourtney's passion…running. Kourtney has run in the last 4 LA Marathons.  In 2021, they created a virtual Turner Trot 5K.
On Sept. 4, 2022, the Foundation took over the parking lot of Dodger Stadium and a mile of the famed Sunset Strip for the first ever in-person Justin Turner Foundation Turner Trot 5K. More than 1,200 in-person participants ran from Dodger Stadium, through Echo Park, and to the Dream Center where the Turners greeted the participants. Participants included Justin's Los Angeles Dodgers teammate Chris Taylor and his fiancée Mary. Tricia Roberts, wife of Dodgers manager Dave Roberts, also participated, and so did Max Muncy's wife, Kellie, and NHL star Tyler Toffoli.  JT gives Kourtney all of the credit  was primarily spearheaded by JT's wife, Kourtney, who has run the last four LA Marathon's.
Second annual (and first in-person) @JTFoundation10 Turner Trot 5K was a success this morning. @redturn2 @court_with_a_K pic.twitter.com/OdhOGjvm9L

— Matthew Moreno (@Matthew__Moreno) September 4, 2022
The second annual Justin Turner Foundation Turner Trot 5K kicked off at Dodger Stadium this morning! More than 1,200 runners participated to help raise funds and awareness for the Dream Center. pic.twitter.com/kcdKKbk51x

— Los Angeles Dodgers (@Dodgers) September 4, 2022
When asked to comment on his nomination, JT offered:
"I'm grateful to once again represent the Dodgers as the Roberto Clemente Award nominee," said Turner. "There are many honors that come with being a Major League Baseball player, but there is nothing that makes me more proud than representing Roberto's No. 21 and trying to follow in his philanthropic footsteps. The Justin Turner Foundation doesn't work for recognition, but receiving this distinction reassures us that our relationship with the community is on the right track."
"It's really an honor. I've received this nomination multiple times now, and with all the teammates that I have that are active in the community, to be the one that is selected to represent the Dodgers, it's pretty special," Turner said. "But more importantly, to be the person that is Justin Turner for the Roberto Clemente award, knowing how much he cared first about community and giving back and lifting people up, that is truly special to Kourt and I and something we don't take for granted."
"I think it's important as a Dodger player or Major League baseball player to understand the platform that we've been given," Turner said. "One thing that Kourt and I really try to take pride in is spending as much time as we can serving other people and setting the example to help other teammates realize just how big their platform is and how much they can impact people's lives and hopefully kind of lead them to starting their own foundation or organization to give back to our community."
You can vote for JT now through 11:59 p.m. ET on October 5, 2022.
VOTE NOW: 2022 Roberto Clemente Award presented by Capital One
Please see link below for the JT bio supporting his nomination.
https://www.mlb.com/community/roberto-clemente-award/dodgers
On September 30, 1972, in his final official AB, Roberto Clemente stroked a double to LF of NYM pitcher Jon Matlack, for his 3,000th career hit.  He did have 17 additional ABs in the 1972 NLCS loss (3 games to 2) against Cincinnati.  Cincinnati went on to lose to Oakland in the WS, 4 games to 3.  It was the first of three consecutive WS wins for Oakland.
We have often been proud of our heroes who have been so unselfish in their philanthropic endeavors.  But how about actually giving your life to one of those causes.  In essence that is exactly what happened to the great Roberto Clemente.  He was killed with four others when the cargo plane in which he is traveling crashes off the coast of Puerto Rico. Clemente was on his way to deliver relief supplies to Nicaragua following a devastating earthquake there a week earlier.
Some of Clemente's  charitable work had taken him to Nicaragua, so Clemente was particularly distressed when he learned that very little aid was getting to victims of a devastating December 23 earthquake near Managua.
Clemente decided to collect supplies on his own and personally deliver them. The plan went awry when Clemente chose for the mission a plane owned by Arthur Rivera. Rivera had bought an old DC-7 propeller plane to go along with a DC-3 he operated to haul cargo in the Caribbean. Apparently, the plane was in such bad shape that others wondered why Rivera had bothered to purchase it.
Rivera had been repeatedly cited for safety violations in previous years. On December 2, Rivera took the DC-7 out to test the engine but forgot to close the hydraulic pump and ended up putting the plane into a drainage ditch. This bent two of the propeller blades and damaged the landing gear. Only some of these damages were fixed prior to the December 31 flight.
On the previous day, Clemente was at San Juan International Airport's cargo area helping to load relief supplies when he discovered there were far more than could be carried in the plane he had available. Rivera approached Clemente and offered to fly the supplies to Nicaragua for $4,000, not telling Clemente he had no crew for the plane. Clemente agreed and Rivera scrambled to find a pilot. He located Jerry Hill, who had a checkered record, and began to load the plane. It was later determined that Rivera loaded the plane over its maximum capacity. In fact, Clemente himself was warned by someone at the airport that the plane looked dangerously overloaded when he was about to board.
The plane took off at 9 p.m. and the sounds of engine failure were heard as it went down the runway. It reached an altitude of only 200 feet before exploding and plunging into the ocean. Rescue workers were sent out immediately, but the task was next to impossible in the darkness. The bodies were never found. The news hit Puerto Rico hard–one friend of Clemente described it as the "night that happiness died."
A subsequent investigation into the crash revealed that the plane never should have been put in the air and that the pilot had erred by over-boosting the engines.
In 1973, Clemente was posthumously inducted into the Baseball Hall of Fame. In 2002, he was awarded the Presidential Medal of Freedom.
Honored to represent the @Dodgers as the nominee for the #RobertoClementeAward Hoping to continue to grow and inspire hope and change in our great community!! #21 pic.twitter.com/8y6U8PQtkg

— Justin Turner (@redturn2) September 8, 2022