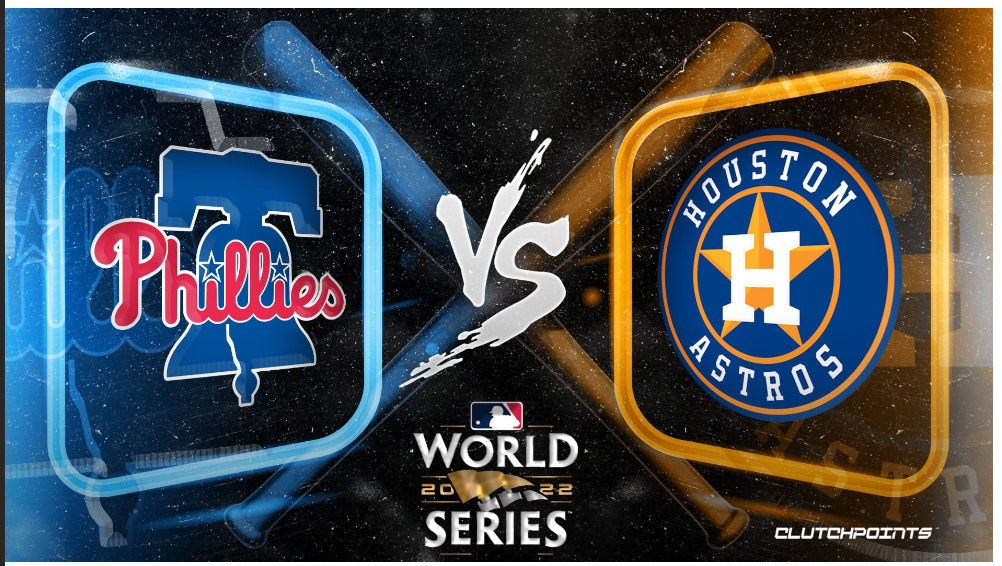 Today marks the beginning of the 118th edition of the World Series between the American League pennant winner, the Houston Astros, managed by Dusty Baker, and the National League pennant winner, the Philadelphia Phillies, managed by Rob Thomson.
Two teams that have been built in different methods.  The Astros led all playoff teams with the most homegrown players on their roster (14) than any other team.  They have done this through the draft, Alex Bregman, Kyle Tucker, Jeremy Peña, and Chas McCormack, and International Free Agents, including starting pitchers, Luis Garcia, Cristian Javier, José Urquidy and Framber Valdez, who combined for 112 starts and 56 wins this year after originally signing for a combined $140,000.  Jose Altuve signed for $15,000 out of Venezuela. Their big power bat, Yordan Alvarez, is technically considered to come via trade, but his first professional AB was in the Astros organization.
The Phillies have their share of draft picks on their roster, including Aaron Nola, Phys Hoskins, Alec Bohn, and Bryson Stott. They also had two international free agent pitchers, Seranthony Dominguez and Ranger Suárez who signed for $25,000.  But they are not the core of the team.  Bryce Harper, Kyle Schwarber, Zack Wheeler, Nick Castellanos, were signed as free agents, while J.T. Realmuto, Jean Segura, Noah Syndergaard, and Zach Eflin were acquired via trade.
Houston was the #1 seed in the AL, while Philadelphia was the #6 seed in the NL. If not for the extended playoffs in 2022, the Phillies would not have made the playoffs.
When the Phillies needed to plug some holes at the trade deadline in August, they swapped prospects for Brandon Marsh, David Robertson and Noah Syndergaard.  Instead of Brandon Marsh, a very competent CF, the Dodgers went after Joey Gallo.  Instead of Noah Syndergaard, the Dodgers passed on any starting pitching.  The Dodgers did pick up a good reliever in Chris Martin to match what Philly did with David Robertson.
The Astros traded for 1B/OF Trey Mancini, LHRP Will Smith, and needed catcher Christian Vázquez.
Positional Analysis
Catcher –
Philadelphia – J.T. Realmuto
Houston – Martín Maldonaldo/Christian Vázquez
Advantage – Philadelphia, but not by as much as would appear. Realmuto is a clear superior offensive catcher, but Maldonado is a great battery mate for their stalwart pitching.  He is the perfect backstop for Houston.
1B –
Philadelphia – Rhys Hopkins
Houston – Yuli Gurriel
Advantage – Split Decision. Both are capable of going off, and both are potential WS busts.
2B –
Philadelphia – Jean Segura
Houston – Jose Altuve
Advantage – Houston – Not as clear cut as most people would think. Segura is having a fantastic playoffs, while Altuve not so much.  But if both play to their norms, Altuve is a clear favorite.
3B –
Philadelphia – Alec Bohn
Houston – Alex Bregman
Advantage – Houston. Big Advantage
SS –
Philadelphia – Bryson Stott
Houston – Jeremy Peña
Advantage – Houston. The two rookies.  Peña is having a fantastic season while Stott is having a good season.  If not for Julio Rodriguez, Peña and Baltimore's Adley Rutschman would be co-favorites for AL Rookie of the Year.  I like Peña in this comparison.
LF –
Philadelphia – Kyle Schwarber
Houston – Yordan Alvarez
Advantage – Houston. Neither player is defensively minded, Alvarez is the more complete offensive ball player.
CF-
Philadelphia – Brandon Marsh
Houston – Chas McCormick
Advantage – Houston (slight). McCormick is a superior defensive CF and both are good offensive threats.
RF-
Philadelphia – Nick Castellanos
Houston – Kyle Tucker
Advantage – Houston. Tucker is a superior defensive and offensive threat.
DH-
Philadelphia – Bryce Harper
Houston – Trey Mancini
Advantage – Phillies – HUGE. Harper is a difference maker.  He could carry the Phillies on his back.
Starting Pitching-
Philadelphia – Aaron Nola, Zack Wheeler, Ranger Suárez, Bailey Falter or Noah Syndergaard
Houston – Justin Verlander, Framber Valdez, Cristian Javier, José Urquidy or Luis Garcia
Advantage – Houston – After Nola and Wheeler, Philadelphia is lacking. Houston is five deep, and as good as Nola and Wheeler are, they are not the equivalent of Verlander and Valdez.
Relief Pitching – Without going into the names, the Astros have an enormous edge here.  They have MLB's #1 bullpen, while Philadelphia's bullpen is not very good as a group.  Phillies are capable of having moments, but they are at a clear disadvantage in this realm.
My pick – Houston in 5.  I am actually pulling for Houston because of Dusty Baker.  Dusty has been such a good manager through the years, he deserves to get his World Series ring.
One final point.  For those that like to point out how great the Dodgers have been during the regular season the last five to six years (and they have been), the Astros will be participating in their second consecutive WS and 4th in their last 6 seasons.