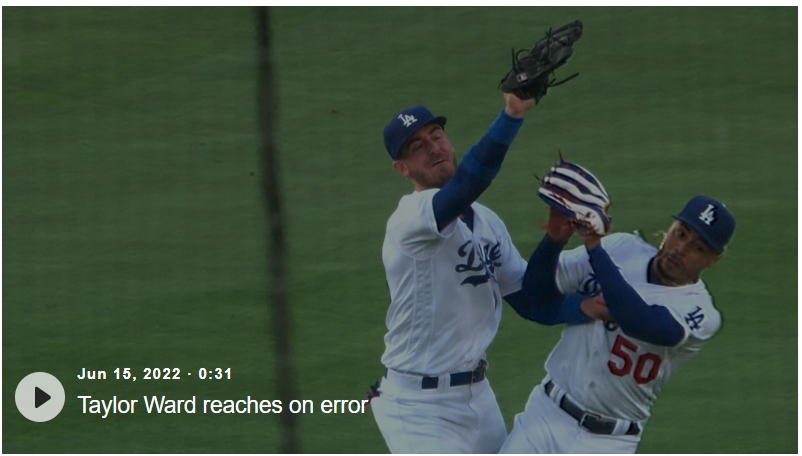 I remember vividly when we used to refer to the Giants for their June Swoons.  But 2022, it seems to be LAD.
After Friday night's loss, LAD Manager, Dave Roberts, had this to say:
"We're not doing a good job moving that guy to third base to then create a situational opportunity," Roberts said. "Tonight you saw that with [Cleveland], they did a nice job of that, and it ended up being a sac fly to drive in the winning run. Those are little things that certainly are magnified when you don't score a bunch of runs. And in extra innings, we haven't been good at it."
Thank you Captain Obvious.
The Dodgers are 0-5 in extra inning games and have 0 sac bunts for the year.  Maybe they could turn the page on the "all or nothing" RVS approach and sacrifice to get the runner on 3B with less than 2 outs.  In the 5 games, they have been outscored 8-2 and have failed to score in 3 of the games.  Try something different.  Of course, they are also 25th in sac flies.
Of course there are those that continue to point out the run differential and remind us how good they are with a +114 run differential.  But let's look a little more closely at the run differentials.  The Dodgers do have the type of offense that can score runs in bunches.  There is no denying their abilities.  So we should expect the team to have a lot of high scoring games.
In MLB parlor, a blowout game is one where the game run differential is 5 runs or more.  The Dodgers are 16-4 in those contests, with a run differential of +97 in those 20 games.  In the other 45 games, the team is 24-21 with a run differential of +17.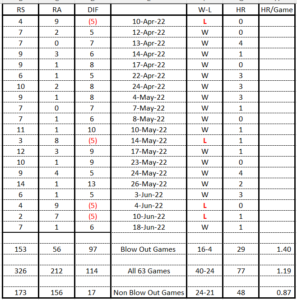 Not only are the Dodgers 0-5 in extra inning games, but they are also 4-8 in 1-run games.  In 2-run games?  8-9.  Of the 65 games the Dodgers have played, 29 have been decided by 2 runs or less, and their record is 12-17.  Close games are not the Dodgers friend.
You will also notice the Dodgers are averaging 1.4 HRs per game in blowouts, less than 0.9 HRs per game in non-blowout games.  What does that mean?  RVS strategy is great in blowout games, not so much in non-blow out games?
Much was made of the Dodgers pathetic hitting WRISP last weekend with the Giants: 2-24 with 29 LOB.  What can we say about this weekend's lack of hitting?  5-34 and 28 LOB.  Note, that one of those hits was an infield single by Trea Turner where the run scored was because of an error.  They did get a sac fly.  They are now 25th in MLB with 14.
Close game losses are the residual of not only poor hitting with RISP, but also inadequate relief pitching.  Since June, the Dodger relievers ERA is 4.18 (20th in MLB) with a WHIP of 1.21 (16th in MLB).  For those of us who believe SIER is a good metric, the Dodger relievers SIERA was 3.28 (25th in MLB).  It is not because the bullpen is overworked.  For June, the bullpen has 54.2 IP (23rd in MLB).
But not all is lost.  This team has the capabilities of going on one those 42-8 (2013), 43-7 (2017) runs.  Or 43-17 (2020) and 56-11 (2017).
On June 22, 2013, the Dodgers were mired in last place in the NL West 9.5 games behind the Arizona DBacks, with a record of 31-42.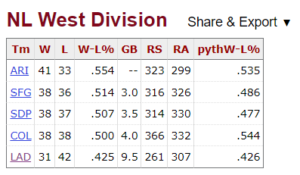 On August 17, 2013, after 50 games the Dodgers went 42-8 and found themselves 8.5 games in front in the NL West.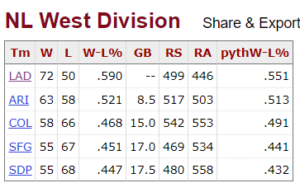 They made up 18 games on Arizona in 50 games.
In 2017, they had another run.  On June 7, 2017, the team was 35-25 and 2.0 games behind Colorado.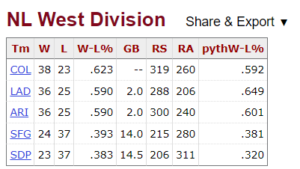 On August 5, 2017, after 50 games in which the Dodgers went 43-17, they were comfortably in 1st place in the NL West.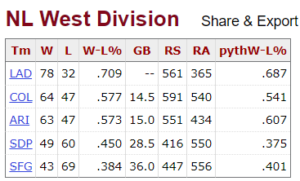 The team was not done on August 5.  The Dodgers continued on with a 56-11 run through August 25, and were 21 games up.
Is the 2022 team capable of such a run?  With JT and Max Muncy in the middle of the lineup, I have my doubts.  I think Will Smith is capable, but in the 3-4-5 spot?  He is a much better hitter in the #6 slot.  I think the 1st half 2019 version of Cody Bellinger is in the rear view mirror.  But his defense his plus, and I could tolerate a lesser offensive Belli if JT and Muncy start to muscle up.  I keep hearing that Muncy has a UCL tear that is hurting his power.  Maybe, maybe not.  But Max has 4 HRs all year, and three were by or before May 4.  Did he reinjure the elbow?  Is he hurt now, or is he simply regressing?  Is he not swinging as much because of his elbow? Muncy says his elbow is fine.  Should we take him at his word?
Over the same approximate number of games:
JT
2022 – .209/.282/.338/.620 – 4 HR
2021 – .277/.367.481/.848 – 12 HR
2020 – .307/.400/.460/.860 – 4 HR (42 games)
2019 – .303/.387/.439/.826 – 7 HR
2018 – Hurt much of the early season
Muncy
2022 – .153/.327/.270/.597 – 4 HR
2021 – .264/.418/.529/.947 – 14 HR
2020 – .192/.331/.389/.720 – 12 HR
2019 – .280/.378/.538/.916 – 16 HR
2018 – .263/.386/.599/.984 – 13 HR
2022 is way behind the previous several years in production.  The problem is that both are in the middle of the lineup, which is supposed to be the run producers.
So if the Dodgers are going to go on one of those runs, JT and Max are going to need to begin hitting, or the Dodgers are going to need to find suitable replacements. What are the odds?  Let's look at 2022 recent hitting trends.
My prognosis is that the Dodgers will not find any capable replacements, and will continue to have to lean on JT and Max.  They are more than capable of making the playoffs with their present roster.  Win the WS?  I do not believe they are capable of going on a 42-8 run, but I have been wrong before, and hope I am this time.