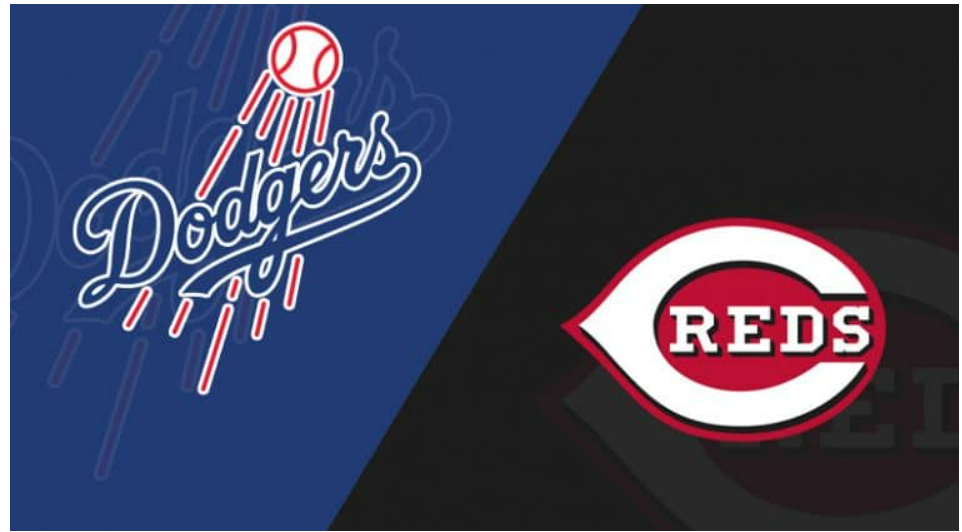 The Dodgers will be facing the top three from the Reds: Tyler Mahle, Luis Castillo, and Hunter Greene.  The Dodgers were countering with arguably their top three: Tony Gonsolin, Tyler Anderson, and Clayton Kershaw.
As it started, it wasn't a picture postcard day for Gonsolin.  Gonsolin's command was missing in the first two innings.  I HR in the previous 4 games, and 2 in the first two IP.
With 61 pitches thrown in 3.0 innings, it was looking less likely that Gonsolin would get his 7th consecutive quality start.  As it turns out he got thru 5.0 innings and threw 87 pitches.  While not a quality start, he was in a position for the win.
And while this my not have been his best command in a game, he was still good enough to get19 swing and misses.
He threw four pitches:
Slider – 32 pitches – 10 whiffs
4-seam fastball – 28 pitches – 1 whiff
Splitter – 23 pitches – 8 whiffs
Curve – 4 pitches – 0 whiffs
Not as efficient, but extremely effective.
There has not been a lot of positive ink written about the LAD bullpen, but tonight, the bullpen was brilliant.  Four LAD pitchers pitched an inning each.  Combined they allowed no runs and 2 hits.  They did not issue one walk, and had five K's.
All four pitchers were very efficient, and all four should be in a position to come back in game 2.
What is eye opening for me was that the five hardest thrown pitches (all > 100mph) were thrown by Brusdar Graterol, but not one whiff.  His fastball is hard but with little movement, and his secondary is getting no swing and miss.  For Bazooka to get more high leverage spots, he is going to need to increase his swing and miss pitches.
The Dodgers were entering the Reds series against their top three pitchers, with offensive struggles that have been well chronicled.  Going into Tuesday's game, for the month of June, the Dodgers were batting as a team: .234/.299/.385/.684 – 11th, 13th, 10th, and 11th in the National League, respectively.  The Dodgers were last in the NL in runs scored in the month of June with 56. For comparison, the Padres were #1 with 119.
Much has been written in the LAD apparent inability to manufacture runs.  No sacrifice bunts all year, and one sacrifice fly in June.
To open the 3rd inning, Justin Turner doubled off the top of the fence. Eddy Alvarez got the LAD 1st sac bunt of the year.  And a Gavin Lux sac fly gets the run home.  They turned the page, and got a run.
As a team, the Dodgers hitters had 13 hard hit balls, with 10 balls hit > 100 mph.  They were 3-8 WRISP, with 8 LOB.  The Dodgers had 17 hits.  The first three LAD batters went 9 for 13 with a walk.  #5 batter had 3 hits, #7 and #9 had 2 hits.
The three most scrutinized LAD batters have been Max Muncy 1-5 (infield single against the shift), Cody Bellinger 0-5, and JT 2-4 (a booming double off the top of the wall).
Hopefully, the Reds will be the beginning of the Dodgers getting back to being an offensive juggernaut.  It wasn't perfect, but 17 hits, a big night for the first three batters in the lineup, a good night for JT, a continuing strong June for Gavin Lux, is a good start.
Best LAD hitter in June?
Gavin Lux June team ranks:

‣ .347 BA (1st)
‣ .407 OBP (1st)
‣ .531 SLG (1st)
‣ .407 wOBA (1st)
‣ 165 wRC+ (1st)
‣ 0.7 fWAR (T-1st)

Lux is the present and the future. #Dodgers

— Doug McKain (@DMAC_LA) June 21, 2022
Gavin Lux has the 8th highest batting average in the majors on the road (.333)

— Blake Harris (@BlakeHHarris) June 22, 2022
Gavin went 2-3 on the night with a sac fly,.  He had 2 of the 100+ MPH exit velocity ABs on the night.  Gavin may not be an All Star this year, but he is getting very close.
Speaking of All Star voting.
At the end of Phase 1 (June 30), the top two vote-getters at each infield position and the top six vote-getters in the outfield will advance to Phase 2, where the rest of the starting lineups will be decided. (If an outfielder finishes as the top vote-getter in a league, then only the top four outfielders from that league will advance to Phase 2.) The votes from Phase 1 do not carry over to Phase 2.
CATCHERS
1. Willson Contreras, Cubs – 801,630
2. Travis d'Arnaud, Braves – 471,921
3. Yadier Molina, Cardinals – 454,685
4. Tyler Stephenson, Reds – 370,453
5. Will Smith, Dodgers – 323,894
FIRST BASEMEN
1. Paul Goldschmidt, Cardinals – 930,441
2. Pete Alonso, Mets – 602,321
3. Freddie Freeman, Dodgers – 469,197
SECOND BASEMEN
1. Jazz Chisholm Jr., Marlins – 634,762
2. Ozzie Albies, Braves – 589,804
3. Jeff McNeil, Mets – 580,257
4. Gavin Lux, Dodgers – 256,411
THIRD BASEMEN
1. Manny Machado, Padres – 969,582
2. Nolan Arenado, Cardinals – 581,363
3. Austin Riley, Braves – 557,220
4. Justin Turner, Dodgers – 254,057
SHORTSTOPS
1. Trea Turner, Dodgers – 811,839
2. Dansby Swanson, Braves – 599,251
3. Francisco Lindor, Mets – 521,489
DESIGNATED HITTERS
1. Bryce Harper, Phillies – 1,059,433
2. William Contreras, Braves – 584,630
3. Albert Pujols, Cardinals – 344,248
4. Max Muncy, Dodgers – 189,643
OUTFIELDERS
1. Mookie Betts, Dodgers – 1,446,050
2. Ronald Acuña Jr., Braves – 1,398,563
3. Joc Pederson, Giants – 630,584
4. Starling Marte, Mets – 469,344
5. Juan Soto, Nationals – 451,079
6. Adam Duvall, Braves – 332,387
7. Mark Canha, Mets – 320,910
8. Marcell Ozuna, Braves – 303,945
9. Cody Bellinger, Dodgers – 301,121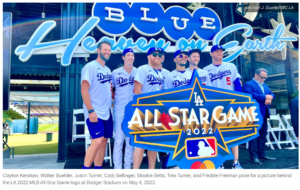 The Dodger offense got a good start on the road, and Tony Gonsolin, while not dominant, had another solid outing to go to 9-0.  He still leads MLB in ERA (1.58), WHIP (0.82) and BAA (.150).
Next up – Tyler Anderson