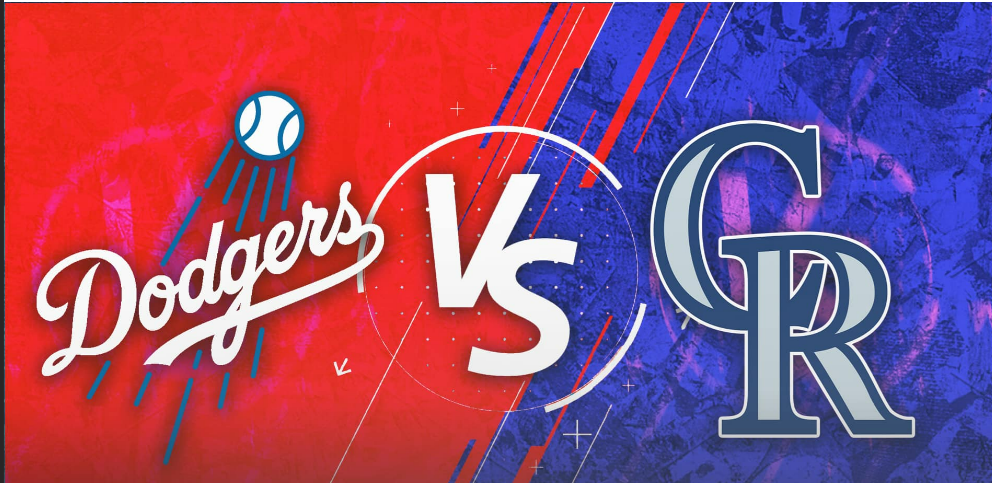 Sometimes life gets in the way of this blog for me.  I spent a couple of days with my grandsons at The Great Wolf Lodge in Manteca earlier this week, and I was not able to get much writing done.  Thanks to my partners, Harold and Rob, I do not have to go it alone.  I was able to put together yesterday's just before passing out from being in the water all day.  It was one I was saving for later, but now I can put another together as we get closer to the All Star game itself.
Some random thoughts on the past series with the Colorado Rockies.  If Clayton Kershaw is ever scheduled to pitch in Coors again, he should come down with an illness on that day.  For any stadium he has pitched more than 7 innings, no stadium has given Kershaw as much of a problem as Coors.  His ERA at Coors is 4.81, worse than any other stadium.  His K/9 is 8.5, and only Oracle Park and PNC at 8.4 are worse.  His WHIP at Coors is 1.330.  Only at Busch Stadium does he have a worse WHIP (1.340).  Some stadiums are built such that certain pitchers cannot pitch well enough to succeed, and that stadium is Coors for Kershaw.  I can live with that.
The Dodgers do return to Coors one more time this year…July 28-31.  I am guessing that Kershaw's turn will come up during that series.  I feel comfortable with that prediction as I have a one in five chance of being wrong.  Although by doing the review of the schedule after the All Star Break, if Kershaw starts the second game against SF after the break, he will miss the Colorado series.  I would just send him home from SF and not let him set foot in Colorado. 😉
Here is what Clayton had to say about his Colorado outing:
"I'm going to go with, just not overthink it and just say I sucked today. Thankfully they'll let me do it again in five days. But not a lot of positives today, for sure. …I haven't been that bad in a long time. It was good. Check you where you're at. Remember this game's not easy. Get going again."
Freddie Freeman's emotional weekend reminds us that this game is played by human beings and not by computers.  I am wondering what algorithm was created by the nerds was in factoring how Freddie would play in Atlanta coming home.  Or how he would react after such an emotional weekend.
I think Clayton Kershaw would react very similarly if he left and returned to Dodger Stadium.  Remarkably, Kershaw and Freeman have the same agency representation, Excel Sports Management.  I would bet that Kershaw told his agent that he wanted to stay in LA and to make it happen.  We will never know what the communication between Freddie and his agent were (nor should we), but it was clear that Freddie was not ready to move on from Atlanta.
But that weekend is over, and it is time for Freddie to put Atlanta in the rearview mirror.  Freddie has acknowledged as much, and has stated the following:
"I'm grateful to be able to put on this uniform every single day," Freeman said, "and I will continue to do that for the next six years.

"I'm happy to be a Dodger. That's where my focus lies."
I take him at his word, and I am hoping (predicting) that Freddie will put up MVP type numbers.  The Dodgers need him, and he is the consummate professional.  If his series in Colorado is any indication, he is going to perform very well for the year AS A DODGER.
I just do not know what to expect from Tyler Anderson. He has not been the April-May version of the Tyler Anderson we got to enjoy.  He has had rough outings in three of his last four games.  From June 3, his ERA has grown from 2.59 to 3.23.  His June ERA is 3.81.  Too many innings, or is he just reverting closer to the pitcher he has been throughout his career?  Looking at the schedule, if the team stays in a 5-man rotation, Tyler is due to make three more starts: Padres, Cubs, Cardinals.  Two of the three scheduled starts have Anderson pitching at Dodger Stadium, where his numbers are significantly better than they are on the road.
What to make of the LAD bullpen?  There is not one reliever who I am sure will come in and shut the door.  That is not to mean that I think they will fail, but I am not comfortable that they will succeed 9 out of 10 times or even 4 out of 5.
The two best high leverage relievers are gone and maybe both for the year; Daniel Hudson and Blake Treinen.  There was hope that Blake Treinen could be back, but he is weeks away from throwing from the mound.  The Dodger PR machine has already missed on the minimal game loss report, and missed on being back after the All Star break report.  Is it any wonder why some journalists are now speculating that Blake is truly out for the season?  Maybe this is all a front so that teams are not looking to take advantage of the Dodgers come trade deadline.
I do not think any other baseball executive has taken advantage of AF in any trade.  In fact the only time I think AF was taken advantage of was his signing of Trevor Bauer, the single biggest mistake of his illustrious career.  I do think he was hoodwinked into this from not wanting the Mets or Padres signing him.  I am comfortable in knowing that AF and BG will not sell the farm for a pitcher like Luis Castillo or Frankie Montas.  Every team wants the Dodgers pitchers, and that is one area AF wants to stay away from.  The position players are more in play.  I am not sure there is a whole lot of true elite value in any of them, although I would rather wait and see what Miguel Vargas and Michael Busch can do for LAD.  I exclude Diego Cartaya from that scenario as well.
The only pitcher prospect AF has traded since 2015 that has been successful at the MLB level has been Frankie Montas.  But he was not the one that Oakland sought most of all.  That was Grant Holmes, and he is still mired in MiLB.  Holmes is no longer one of the top prospects in the A's organization, and is pitching miserably in AAA.  Holmes was #4 and Montas was #5 in the LAD prospect list at the time of the trade. Holmes was the last #1 selection for the Ned Colletti/Logan White regime.
Pitching is a tenuous strength because of the paucity of current talent depth.  But it is the offense that is failing the team this month.  Okay, maybe failing is a bit harsh, but it certainly is not a strength right now.  Here is a look at the offense for June (before Wednesday's game).
Just to be clear, the ranking of 7th in K%, is the 7th highest K%, not 7th least. Here is what Doc said about the offense after being shut out at Coors.
"I don't think that we're clicking. I think that certainly, you can look at roster, you can look at the back of the baseball cards, and certainly, the run differential. But each game, I just think that with the offense, there's been inconsistencies in performance. We got shutout last night at Coors."
Yes, I fully acknowledge that the offense showed up in the final game at Coors.  But we have been fooled before to believe the offense was turning the corner.  We need to see if they stay consistent through the 10 game homestand, including 4 with the Padres.
Okay, the Dodgers are headed home to face the Padres with a 1.5 game lead.  They need to open a lead.  The Padres will be starting Joe Musgrove, followed by Blake Snell, Yu Darvish, and MacKenzie Gore.  The Dodgers will counter with Mitch White, Tony Gonsolin, Tyler Anderson, and Clayton Kershaw.