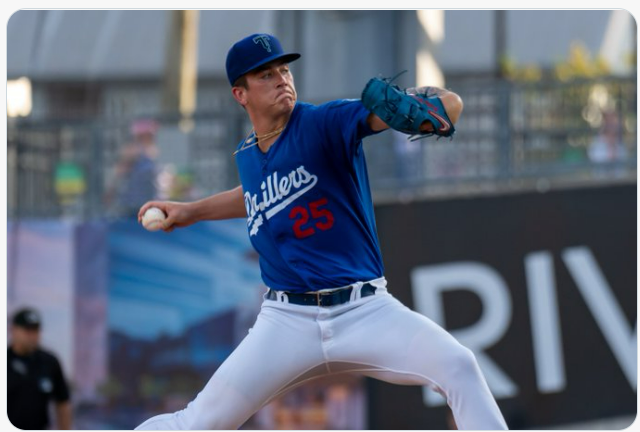 Tulsa Drillers 6 vs Northwest Arkansas Naturals (KC) 3
Bobby Miller backed up his outstanding outing in his last game, with another stellar performance to match his last one.  He retired the first 7 batters he faced, walked the next one, and got an F8 for two outs.  The next batter singled.  Miller induced a ground ball to 2B, but it was misplayed for one error.  The ball went to RF who had a throwing error for two errors on the same batted ball.  Two unearned runs scored.  He retired the order in the 4th and 5th, and his day was done.  He only threw 74 pitches, and had a 4-2 lead.
After notching a career-high 🔟 punchies his last time out, Bobby Miller fans 9⃣ for the @TulsaDrillers.

The top @Dodgers pitching prospect gave up 1 H, 0 ER, 1 BB over 5 IP. pic.twitter.com/ytXmV5ZTCe

— MLB Pipeline (@MLBPipeline) July 10, 2022
In the 8th, Austin Drury loaded the bases with BBs, and Guillermo Zuniga entered and walked the first batter he faced to force in a run.  Zuniga struck out the next 2 batters to leave the bases full.
Keegan Curtis entered the game in the 9th and immediately loaded the bases with one out.  But he got the next two batters to close out the game.
The Drillers had three HRs in this game.
Betts, Ward, Valera, and Justin Yurchak had a pair of hits apiece.
Lansing Lugnuts (KC) 4 vs. Great Lakes Loons 0
Lael Lockhart allowed all four runs (3 earned) on 8 hits in his 4.2 IP. He did not surrender a BB, and registered 6 Ks.  Three relievers followed and pitched the final 3.1 scoreless innings.  They combined to allow 2 hits, 1 walk, to go with 6 Ks.
The Loons got 5 hits and received 4 BBs.  The Loons were 0-10 WRISP.  Aldrich De Jongh went 2-3 with a walk.  The only XBH was a double (22) by Eddys Leonard.
Rancho Cucamonga Quakes 7 vs Inland Empire 66ers (LAA) 2
Peter Heubeck started and completed 1.2 innings before his 30 pitch limit was reached.  He followed his July 4 outing, with another scoreless effort.  Ronan Kopp relieved Heubeck and pitched 3.0 scoreless innings, with 2 hits, 1 walk and 3 Ks.  Adolfo Ramirez and Gabe Emmett pitched the next 3.1 innings of scoreless ball.  Unfortunately Madison Jeffrey could not complete the combined shutout giving up 2 runs in the ninth.  After Saturday's debacle, the pitching staff came through with a solid effort on Sunday.
The Quakes got their first 4 runs on HRs in the 4th.  Luis Rodriguez clubbed his 8th, a three run shot, followed by a solo shot by Yunior Garcia, his 7th.  The Quakes got an insurance run in the 6th, and used 4 singles and a walk in the 9th to get two more.
Damon Keith was 2-4, Austin Gauthier was 2-5, and Luis Yanel Diaz also went 2-4.