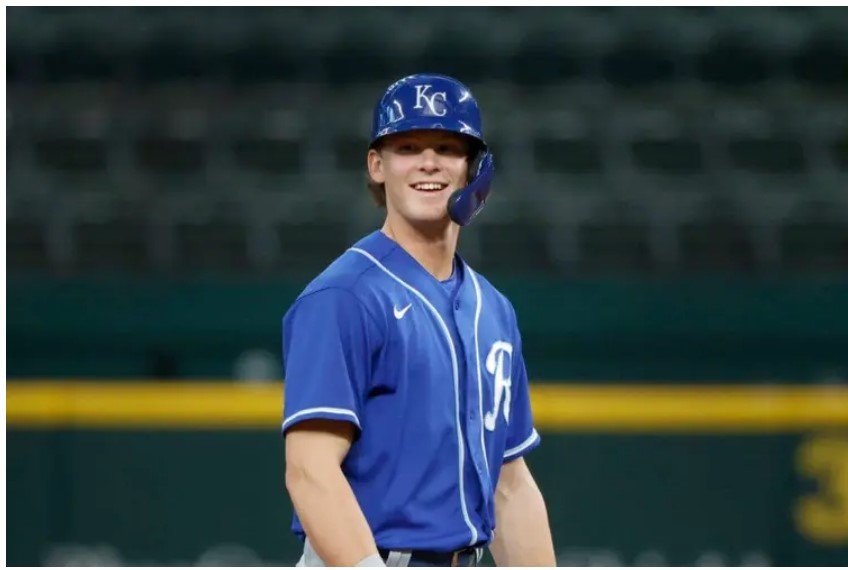 As we get ready to watch the Dodgers try to dismantle the Royals so I can have bragging rights with family in KC, and I get to watch Bobby Witt Jr. (pictured) at ML for the first time, I was contemplating what to write. I did watch Bobby Witt Jr. quite a bit while in MiLB.  He was a favorite of mine. KC is certainly not a threat, but as we learned with Pittsburgh and Washington, that does not mean that KC cannot cause problems.
Thus in contemplation as to what to post, Badger asked the question, what FA might the Dodgers be looking at?  That is an almost impossible question to answer, because nobody knows what AF is thinking.  Is it too early to look at 2023 free agents?  Of course it is, but there was no game today, Badger posed the question, and I needed to post something.
A quick review of the current roster tells me that the Dodgers will need starting pitching and a ML SS for 2023.
Below is the projected 2023 roster and options that might be available for pitchers (SP and RP) and catchers.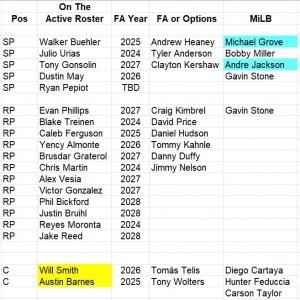 That is a very thin set of starting pitchers.  I have to believe that AF/BG is going to try and sign two of the three of Clayton Kershaw, Tyler Anderson, and Andrew Heaney.  Kershaw could retire (especially if LAD wins the WS).  There are other pitchers that AF/BG might look at, but he knows what he has with Anderson and Heaney.  One intriguing pitcher that might opt out of his current NYM deal and explore a Max Scherzer type contract is Jacob de Grom.  I think AF/BG has to look at him.
The Dodgers have a whole host of relievers they can call on.  Depending on the number of starting pitchers the Dodgers sign, there are pitchers who can take the Caleb Ferguson route to becoming a legit late inning high leverage option.  Ryan Pepiot, Gavin Stone, Michael Grove, and Bobby Miller are SP who could make their presence known as RP.  There are also other MiLB relievers that will get observed…Marshall Kasowski, Mark Washington, Carson Fulmer, Justin Hagenman.  Of course most of these pitchers will remain in OKC, but some will surprise with a great showing in ST.
Catching is not a concern for LAD.  I suspect that the Dodgers will sign a reserve catcher with MLB experience for OKC.  They do this every year.  This year they have two, Tomás Telis and Tony Wolters.  I fully expect Diego Cartaya to be protected and added to the 40 man this winter.  Hunter Feduccia and Carson Taylor should also provide adequate depth to catcher at or near the MLB level.  If something minor should happen to Smith or Barnes, I would not at all be surprised to see the Dodgers tap into Diego Cartaya next year.  If something major happens, I think the Dodgers will pull their reserve with MLB experience (Tomás Telis or Tony Wolters type).
Infielders will be in flux.  There is one for sure free agent (Trea Turner) and two veterans with team options (Justin Turner and Max Muncy).  Questions:
For those who want to move on from Trea Turner, who is going to replace the 4.4 fWAR (current).  In the NL, Turner is:
#2 Hits – 138
#3 RBIs – 81
#4 Batting Average – .308
#4 Stolen Bases – 20
#6 Doubles – 30
#10 OPS – .851
#20 HR – 18
Who replaces that ?
We already know that Turner is an All Star SS, and I believe that Gavin Lux will be an All Star 2B.  I have no clue if he can be an All Star SS.  Why break up the 1-2-3 of the lineup of Betts, Turner, Freeman?  Individually they are prolific, but together they are SPECIAL.
If AF/BG believes Miguel Vargas is ready for prime time, 3B should be his to lose.  If so, is there a reason for both JT and Max Muncy?  What about Edwin Rios?  Does he become a LH bat off the bench or get packaged in a trade?
Is Michael Busch ready to play 2B at the ML level?
The presence of CT3 makes some of the decisions a little less risky.  But how do you replace the leadership of JT. You can't.
Then what to do about Hanser Alberto?  That personality is contagious.  I think he is more than capable of being the reserve infielder and RH bat off the bench.  Trea Turner and Hanser Alberto should be the only infielders considered for free agent deals.
What this does demonstrate is just how deep the organizational depth chart is for infielders.  AF has done a masterful job of setting this infield up for success for several years down the road.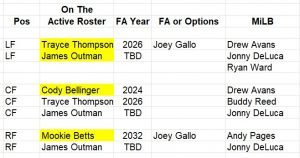 The outfield is a little more precarious, but the rise of Trayce Thompson does alleviate some of the pressure.  Per FanGraphs fWAR for Cody Bellinger, unless he gets hot, he is not going to get enough fWAR to earn his $17MM contract.  But he will be close enough that there is virtually no chance he will be non-tendered.  With Trayce Thompson, Cody Bellinger, and Mookie Betts, the outfield should be solid.  James Outman has earned a shot at the 4th OF position.  I like the idea of Joey Gallo's monstrous power in the lineup, but with Outman a LH OF is there a need for Gallo.  I would rather have JT or Max in lieu of Gallo.
Where is the depth here?  Will Andy Pages be ready to play at the ML level.  Defensively and power production does project that he could be.  But will he hit enough?
The Dodgers always go out and sign AAAA OF for OKC.  But maybe the Dodgers could use some of the pitching prospect capital to find a AA or AAA stud OF in MiLB.  Outside of Aaron Judge, I do not think there is a game changing OF that will entice a significant FA contract out of AF/BG.  They will check in on Judge, but I think they will be looking at one more year in the future for a big contract for Shohei Ohtani.
So to directly answer Badger's query, I have no clue what the Dodgers may do next year.  But they have more options than any other team, and there will be painful decisions starting with the JT and Max Muncy options that need to be decided very soon after the WS.  These issues will be delved into more detail after the season with a WS championship in hand.
Now the Dodgers need to keep the pressure on.  Don't let up on a bottom feeder team like KC.