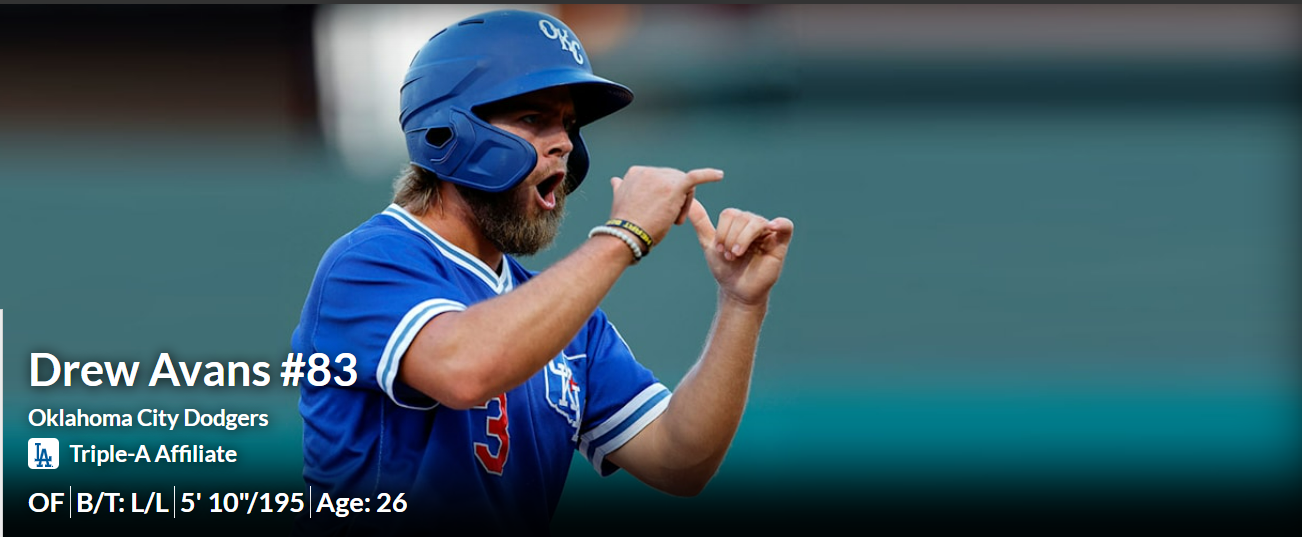 Round Rock Express (Texas) 7 vs OKC Dodgers 3
This had some good news and some bad news.  First for the bad news.  The Dodgers lost their 6th straight game.  Andre Jackson threw 85 pitches/53 strikes (21 pitches per inning).  He gave up 2 runs on 4 hits and 2 walks.  Daniel Zamora and Heath Hembree gave up a pair of 2 run HRs in their 1.0 inning.
On the good side…Blake Treinen and Brusdar Graterol both made rehab relief appearances and pitched very well.  Treinen threw 9 pitches and 7 strikes.  Graterol threw 14 pitches and 8 strikes.  He did walk a batter.  Hansel Robles pitched a perfect 9th inning on 13 pitches/9 strikes and 2 Ks.
Also on the good side, Drew Avans (pictured) extended his on-base streak to 48 games with a triple 10), and a single.
Midland RockHounds (A's) 8 vs Tulsa Drillers 2
Gavin Stone got off to a rough start giving up a 2-run jack in the first inning and a third run in the 2nd.  He did settle down and got through 5.0 innings.  He threw 104 pitches/67 strikes.  Even though it was not his finest outing, he did get 11 Ks.
Five pitchers followed Stone, but none were efficient.  Tanner Dodson made it back to Tulsa after a 2 month stint on the development list.  His control seemed to be better.  He gave up 2 hits but no walks or runs in his 1.0 inning.  Cameron Gibbens and Cole Percival allowed a 4 run 8th inning.  2 walks and a HBP by Gibbens loaded the bases for Percival.  Percival walked one run in.  Balked a second run in.  A ground out scored a third and a single brought in the 4th in the inning.
A Leonel Valera single and a double by Brandon Lewis put runners on 2nd and 3rd in the 1st inning. Abiatal Avelino singled to score Valera.  In the 3rd Valera walked and moved to third on a Justin Yurchak single and scored on a sac fly.
Leonel Valera, Justin Yurchak, and Abiatal Avelino had two hits each.
Peoria Chiefs (St. Louis) 8 vs Great Lakes Loons 11
This was not the pitching that I was expecting.  Carlos Duran got through the first two innings uneventful.  With the Loons up 5-0, the third was a bit different for Duran.  The first batter reached on an error and then Duran gave up a 2 run HR.  The next two batters were single and 2-run HR, and the Chiefs were back in the game.  He got through the 4th but allowed another unearned run.  He threw 74 pitches / 47 strikes in 4.0 innings.
Ryan Sublette (1.0 inning) and Robbie Peto (4.0 innings) finished the game but not without drama.  They allowed 3 runs on 5 hits and 2 walks.  Sublette gave up two runs in the 6th to tie the score.  The Loons bats took over from there.
In the first, Diego Cartaya drew a walk and went to third on an Imanol Vargas single.  Cartaya scored on a ground ball forceout.  In the 2nd after the first two batters made out, Luis Yanel Diaz tripled (2) and Max Hewitt walked.  Jorbit Vivas singled home Diaz and Cartaya walked to load the bases.  Imanol Vargas then unloads a grand slam, his 16th HR this season.
In the 4th, Jorbit Vivas gets HBP and Diego Cartaya slugs his 10th HR with Great Lakes and 19th overall.
In the 5th with the score now tied, after a single and walk, it was Luis Yanel Diaz's turn to unload.  He hit a 3-run shot, his 3rd with Great Lakes and 14th overall.
Luis Yanel Diaz was 3-4 and 3 RBIs.  He was a double shy of the cycle.  Imanol Vargas was 2-5 with 4 RBIs.
Rancho Cucamonga Quakes 6 vs Lake Elsinore Storm (San Diego) 4
Peter Heubeck retired the first 6 batters he faced, and then had control problems in the third.  Three walks, a run scoring ground out and a wild pitch scored a second run before Heubeck got out of the inning.
Jerming Rosario took over and pitched 5.0 scoreless innings.  He yielded 3 hits and 2 walks, and recorded 6 Ks.
Yamil Castillo was summoned to close out the game in the 9th.  He allowed a HR to the first batter he faced.  He followed that with 2 walks.  With 2 out and 2 on, Joan Valdez was asked to get the last out.  He promptly gave up a 2-run double before getting the final out.
The Quakes put up 5 runs in the 5th.  Sean McLain led off and was HBP.  Kyle Froemke followed with a single.  Taylor Young walked to load the bases.  Yeiner Fernandez hit a 1-out 2-run single.  Chris Alleyne tripled (2) home 2 more and scored on a Dalton Rushing sac fly.
In the 8th, Alleyne singled and scored on a Kyle Nevin double (4).
Every Quake reached base, with 7 of the 9 getting hits.  Chris Alleyne had 2 hits and 2 RBIs, while Kyle Froemke also had 2 hits.