Ryan Ward Named Texas League Player of the Week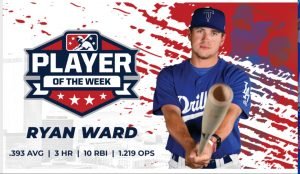 https://www.milb.com/tulsa/news/ryan-ward-named-texas-league-player-of-the-week
Outfielder Ryan Ward was named the Texas League Player of the week for August 1-7.  He was the only Dodger minor league player to be named among the 14 MiLB players selected for that week. No Dodger minor league pitcher was selected as Pitcher of the Week.
Ward had consistently hit since being selected by the Dodgers in the eighth round of the 2019 First-Year Player Draft out of Bryant University.
As he has been for much of the season, Ward was outstanding last week during the six games at Northwest Arkansas. He went 11-28 against the Naturals for a .393 batting average.
He leads all of AA in home runs in 2022 and hit three during the week  against the Naturals while driving in 10 runs. He also stole two bases and had a 1.219 OPS.
He has now hit 27 home runs during the present campaign – four more than runner up Moises  Gomez of the Springfield Cardinals – and equaling his total in 2021 with the Great Lakes Loons. He is third in the league in runs batted in with 69, four behind league leader Justin Dirdin of the Corpus Christi Hooks.
Ward is currently on the 7-day IL
Need Some Relief – Who Do You Call?
LHP Ben Harris – Great Lakes Loons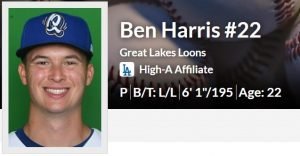 How about calling Ben Harris who was selected by the Dodgers in the eighth round of the 2021 First-Year Player Draft out of the University of Georgia.
Baseball America named Harris as one of the biggest sleepers of the 2021 draft. That assessment came as a result of what BA describes as his spin characteristics no doubt helping him to a 15.4 K/9 ratio with Georgia in 2021 prior to the draft.
This specifically from Baseball America.
"His fastball sits in the low 90s and touches 95 mph but has close to elite spin characteristics, with exceptional riding life that analytics departments should love. His fastball whiff rate stacks up with some of the more elite pitchers in the country and he gets plenty of swings and misses up in the zone. Harris also throws a slow 12-to-6 curveball. While his walk rate was well below-average this spring, scouts noted that he showed improvement in his control as the season progressed when he stopped nibbling around the zone."
Harris pitched 5.1 innings in 2021 split between the ACL Dodgers and the Rancho Cucamonga Quakes. He struck out nine but also walked five.
He began the 2022 season with the Quakes and continued to have a high strikeout rate with 59 strikeouts in 37.2 innings pitched. The kicker was that he walked 22.
The 6'1"/195 lb. left-hander debuted with the Loons on June 25.  He gave up two earned runs in his first two appearances and has nor surrendered another run since then. With the Loons, in 13 appearances, the 22-year-old Harris has pitched 16.1 innings with a 1.10 ERA and a 0.67 WHIP. He has allowed only four hits while striking out 30 and walking seven.
RHP Ryan Sublette – Great Lakes Loons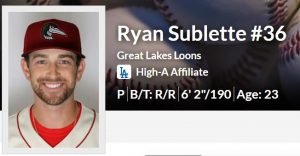 How about calling Ryan Sublette who  has turned into a late inning choice for the Loons.
He was selected in the seventh round of the 2021 draft by the Dodgers out of Texas Tech University. At that time he was considered to be one of the better relief pitchers in college baseball.  He appeared in 19 college games in 2021  posting an ERA of 2.34. In 42.1 innings, he struck out 62 while walking 17. His WHIP was 1.06.
According to Baseball America, he has a 92-95 mph above-average fastball that has late life to generate swings and misses in the strike zone.
This from Baseball America.
"His above-average mid-80s slider is effective thanks to its power and modest break because he does a good job of spotting it glove side and down on the black or just off the plate. Sublette has the stuff of a lower-leverage MLB reliever, but he will have to show he can handle the workload and usage patterns of a pro reliever. He pitched on back-to-back days only twice all season and generally worked one day a week."
The 6'2"/190 lb. right-hander pitched 9.2 innings with the Rancho Cucamonga Quakes during the 2021 season posting a 3.72 ERA and a 1.03 WHIP . He struck out 12 and walked one.
During the current season over 33 games he has pitched 45.2 innings recording eight saves. He has struck out 75 and walked 30. Over the last 28 days he has posted a 1.86 ERA and a 1.34 WHIP.
He quite often pitched two innings and did so in both of his last two appearances earning wins by pitching the last two innings without allowing any runs in either game.
On  July 10 he pitched a clean ninth inning. In the tenth with a runner on second a Loons error put runners on first and second. Two stolen bases put runners on second and third with none out. The 23-year-old Sublette then proceeded to shut down the Peoria Chiefs on two ground outs and a fly out.
Undrafted Free Agent – Lucas Wepf
Lucas Wepf was signed by the Dodgers in July following the First-Year Player Draft.
The 22-year-old right-hander was born in Toronto, Ontario in Canada. He attended Christ the King Secondary School in Halton Hills where he earned four varsity letters.
Following high school he played with the Pratt Community College Beavers before moving on to  the University of Louisiana-Monroe for three years.
Pitching primarily in relief Wepf appeared in 39 games in his Warhawk career and made his only two career starts as a senior in 2022. He threw 72 total innings in his career with a 4.88 ERA with 74 strikeouts to 39 walks.
Wepf's best season in Monroe came as a second-year junior in 2021, where he was one of the top bullpen options for ULM. He made 17 appearances, all out of the pen, firing 34.1 innings with a team-best 2.36 ERA, allowing 12 runs, nine earned, on 22 hits with 36 strikeouts and 12 walks. He picked up two wins and three saves.
He is appreciative of the coaching he received at ULM as well as the support he has received from his family and Andrew Karkoulas who runs a facility called Peak Performance in Guelph, Ontario.
"ULM has a great facility and staff that has helped me prepare for the next level," Wepf said. "I couldn't have done this without the help from everyone along the way."
The 6'6"/195 lb. Wept comes from an athletic family.
"I am lucky to be tall standing 6-foot-6. My mother (Lynn) grew up figure skating and my father (Don) swam growing up. Sister, Savannah, earned two tumbling gold medals at the national championships in Charlottetown, P.EI in 2011."
Needless to say he was delighted to be signed by the Dodgers who have acquired a favorable reputation with player development.
"My family and I are super excited," Wepf said. "It is the best feeling in the world to get a call from such a prestigious franchise. I got a call right after the draft ended and accepted an opportunity from the Dodgers."
Bits and Pieces
Shortstop Eddys Leonard leads the Midwest League with 109 hits.
First baseman Imanol Vargas leads the Midwest league with an OBP of .434 and in walks with 73.
Undrafted signee in 2021, Adam Scoggins has been released.
Left-hander Moises Brito who came to the Dodgers in the Mitch White/Alex De Jesus trade has made one appearance with the DSL Dodgers Mega pitching three innings with run on two hits while striking out four with no walks.
Third baseman Kenneth Betancourt was moved from the Quakes to the Drillers on August 9. I can't believe he is still 22.  I still think he has untapped potential.
Rancho Cucamonga Quakes released RHP Huei-Sheng Lin on Wednesday.
In a surprise move CF Ismael Alcantara has been assigned to Tulsa Drillers from the  Great Lakes Loons.