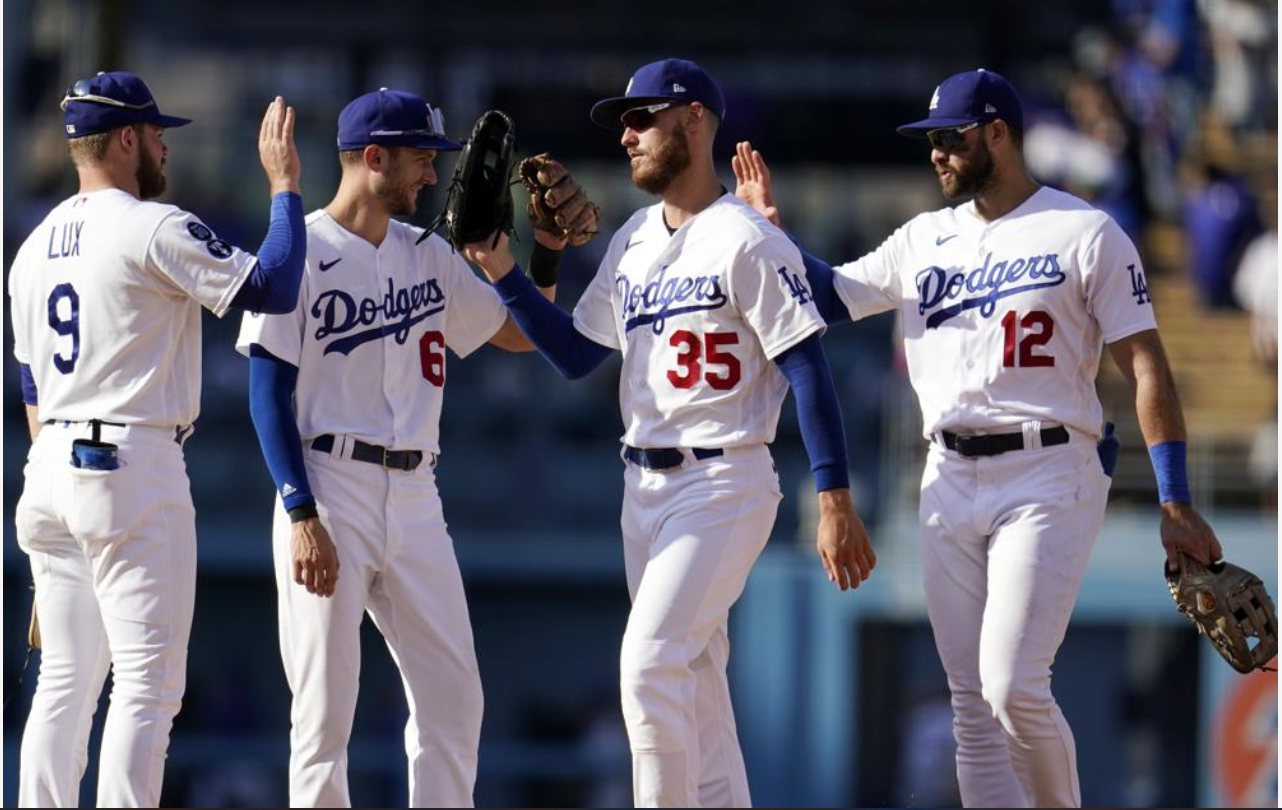 Well the 2022 regular season has come to an end.  On April 8, the Dodgers opened the season with a 5-3 win against the Rockies in Colorado.  180 days later, they wrap up the season with a win against the same Rockies, but this time in LA. The Dodgers finished their historic run with 111 wins, the most in Franchise history.  No NL team since the 1906 Chicago Cubs (116) have recorded more wins.  The 2001 Seattle Mariners team also won 116.
The 2022 Dodgers have tied the 1954 Cleveland Indians with 111 wins for 4th winningest season of all time.  The 1998 NYY won 114 for #3 overall.
The run differential of 334 tied the 1936 NYY and 1902 Pittsburgh Pirates team for 3rd best since 1900.  1939 NYY team had a 411 win differential and the 1927 NYY had 371.
Looking to buck the trend of those high win teams, the Dodgers are hoping to put a bow on this season with a WS Championship.  The 1906 Cubs lost to the crosstown Chicago White Sox 4 games to 2 in the WS.  95 years later, the 2001 Mariners beat the Cleveland Indians in the ALDS 3 games to 2, but lost to NYY 4 games to 1 in the ALCS.  The 1954 Cleveland Indians team were swept by NYY in the WS.  Of the four other winningest teams, only the 1998 NYY team won the WS when they swept the Padres.
The Dodgers will face either NYM or San Diego who start their wild card series on Friday.  All three games will be played in New York.  As I previously stated, I have no preference as to which team the Dodgers play, but I am hoping for a 3 game series.
How deserving was it for Clayton Kershaw to get the win in the final game of the regular season.  Clayton Kershaw has started 7 games since he was reinstated from the IL, he is 5-0 with a 1.54 ERA and a 0.85 WHIP.  He has 41 IP, recorded 49 Ks against 8 walks.  He has dominated since his return.  He and Julio Urías will be as formidable as any other duo they might face, and that includes Jacob deGrom and Max Scherzer.
Then there is Tyler Anderson who turned a middling career into an All-Star season.  In 2022, he has started twice against NYM.  In 13.0 IP, he has a 1.38 ERA.  He has recorded 8 strikeouts against 0 walks, and allowed 1 HR.  TA has started 4 games against San Diego.  In 24.0 IP, he has a 1.88 ERA. He has registered 16 Ks and 6 BBs.  He also allowed just 1 HR.
Tony Gonsolin said he came out of Monday's game just fine.  He threw an additional 14 bullpen pitches after being pulled.  He has a sim game on Saturday and it is expected to go 4 innings.  Right now he is slated to start one of the NLDS games.  He believes if he has his command, he can go 5.0 innings.  We will see.  It is the playoffs, but might he be a little too optimistic?  I do like the idea of having Gonsolin for 3 or 4 or 5 innings.
Dustin May and Blake Treinen are still expected to be a part of the roster discussion.  Both just threw bullpens and came out fine.  They are both expected to throw sim games this weekend, and if they come out healthy, the discussions are going to get real.
CT3 is still hurt, and his availability for the NLDS is questionable.  He got a cortisone shot in the neck, but still cannot swing.  He will undoubtedly try to swing this weekend in the sim games.
Freddie Freeman fell a hit short from a 200 hit season, and was just beat out for the batting average title by Jeff McNeil, .326 to .325.  However, both Trea Turner and Freddie both reached 100 RBIs for the season.
Where has that Craig Kimbrel been all season?
Leave it to Orel to put a positive spin on the lethargic play of late.  He points out the mental grind and strain it takes to always trying to play at an elite level every game.  Players need a mental break just as they need a physical break.  Okay I am going with that.  I do remember how the Dodgers broke out from a lethargic September in a 104 win season in the 2017 NLDS against Arizona scoring 20 runs on 31 hits.  That continued on to the NLCS against the Cubs when they scored 28 runs on 42 hits.  In 8 playoff games, the Dodgers scored 48 runs on 73 hits.
On to the Playoffs.
Finally, for 64 years, the great HOF Jaime Jarrín has announced LA Dodger games on Spanish speaking radio stations.  He is retiring at the end of the Dodgers season, and is positioned right along side Vin Scully on the Dodger Ring of Honor.  He is not only important to the Hispanic community, but also to Dodger fans everywhere.  LA has been extremely fortunate to have the best of the best as professional and college sports announcers, but Jaime Jarrín does not have to take a back seat to anyone.  Congratulations to Jaime for an extraordinary career.