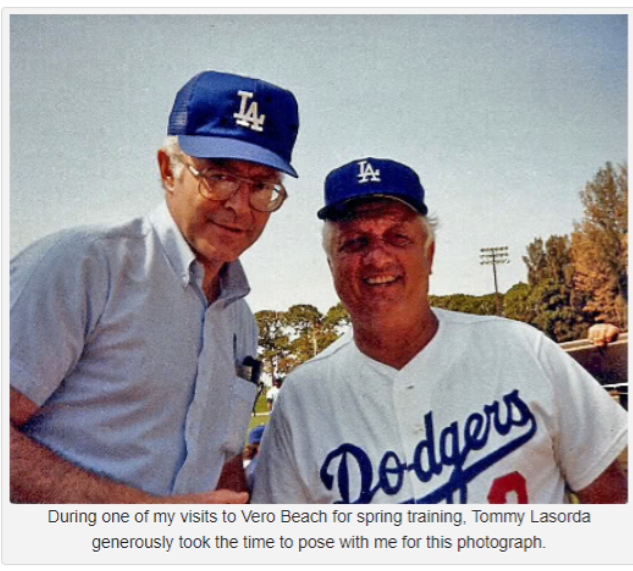 With great sadness in my heart, this post is dedicated to someone who has become a dear friend through baseball discussions since 2016, and the Great Lakes Championship run.  Tuesday I received the following email from the daughter of Harold Uhlman.
This is Harold's daughter. I am writing with not good news. Harold passed away suddenly yesterday afternoon. Just thought you should know. He so loved writing the blog and watching the games.
I am heartbroken from this news.  Harold is the kindest person I have ever communicated with on any blog.  I will forever remember our discussions on Caleb Ferguson.
I last communicated with Harold on September 25.  He had been under the weather, but felt he was getting better.  He wanted to write the final Sunday MiLB Summary for me.  He loved to help me when I needed it most.  While on vacation, he went out of his way to send me posts he had written in the past so I could publish them on LA Dodger Chronicles.
Harold was a huge family man, and commented to me about them many times.  Harold was a Jr. High School teacher and coach, and loved every bit of it.  He was very involved in his Church.  He was still volunteering in the last couple of weeks.  I will miss Harold for being a friend and helping me to launch LA Dodger Chronicles. I will miss his keen insight into the MiLB players and their personal profile.  He had a way to tell a story about the player more than his numbers.  He was a prolific writer who wrote for at least three blogs that I know of.
LA Dodger Chronicles
LA Dodger Talk
Think Blue LA (Ron Cervenka)
Here is what Harold wrote about his short bio on this site:
Harold Uhlman was born and raised in a small Canadian town in Nova Scotia. He was captured by the voice of Vin Scully and the bat of Duke Snider in 1952 and with a broken heart followed them when they moved from Brooklyn to Los Angeles for the 1958 season. His all-time favorite player on the field is still Duke Snider and the player he respects the most is Jackie Robinson. Along with his 70 years as a loyal Dodger fan he has had an unwavering passion for minor league baseball.
Harold you will be missed.  RIP my friend.  We will meet again.