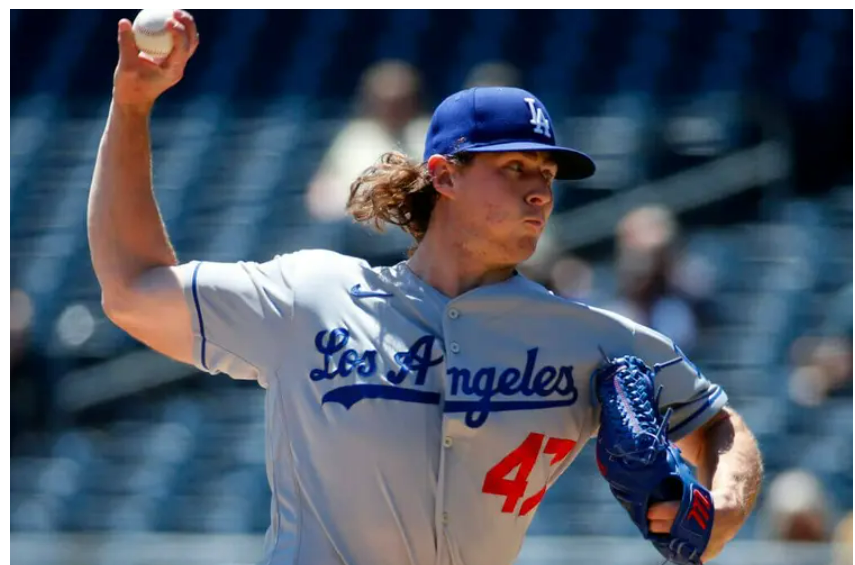 The Colorado Rockies may be 5th in the NL West standings, but they are a quality offensive team.  They are 2nd in the ML and 1st in the NL in batting average with .261.  They are 6th in the NL and 4th in the AL in OBP at .325.  So it is no easy task to stifle their bats.  But that is exactly what Ryan Pepiot did on Tuesday night.
What made this game different for Pepiot?  He attacked the batters. Ryan was not always efficient, but he stayed away from the walks.  15 of 19 first pitch strikes.  He issued one walk, and recorded six strikeouts.  He allowed four hits, three on his 4-seamer and one on his cutter.  He had 4 hits considered hard hit (95+ MPH).
Below is his pitch chart for Tuesday night.

He has a hellacious changeup.  It doesn't fool as many ML batters as MiLB batters, but it fooled enough of them and did so timely.  He got 7 swings (33%) on the change, and 5 whiffs.  He had 9 whiffs overall on 40 swings (23%).
What was also impressive for me was the number of cutters he threw.  15% of his pitches were the cutter.  His third pitch used to be a slider, but he made an adjustment, and now it acts like a cutter.  10 of the 15 cutters were strikes, with 4 being called.
His command of his 4-seamer was better on this night.     He did not get as many swings and misses, but he also did not miss the plate as many times.  He got 10 called strikes from the 45 four-seamers he threw.  What I liked to hear from him in his post game interview, was that while he was happy about the win, he acknowledged that his job as a starter is to pitch deeper in the game to save the pen.  I look for his control & command to improve even more.
Overall, Ryan Pepiot pitched a whale of a game for his first ML win.  His reward?  He will be put on a flight back to OKC.  He has now earned the right to be considered a viable spot starter for 2022, and a true opportunity to be in the rotation discussion for 2023.  Depending as to who may be retained from this year, it could be a crowded field.
Phil Bickford certainly did not dominate, but he did enough to keep the Dodgers in the lead.  Evan Phillips did dominate, and has effectively moved into that max high leverage reliever role of Blake Treinen/Daniel Hudson.  Like with Pepiot in the starting role, it is next man up.
Max Muncy and Justin Turner had good nights. Max with a big no doubter HR and a double, plus two walks.  He scored three runs.  Mookie also went deep for #18.  It was fantastic to see Max go after the first pitch he saw for the HR and double.  I like the high OBP, but I would rather see the XBH.  JT is really getting hot.  For July, he is slashing .471/.500/.647/1.147.  Max has now hit 3 HRs and 2 doubles in the last 7 games.  If both of those guys start to hit, the offense should be very good in the second half of the season.
Those of you who hate the running on contact with a runner on 3rd strategy, can give everyone the "I Told You So" speech.  Gavin Lux hits a big triple.  Mookie K'd, but Trea Turner bounced back to the pitcher and Lux broke and was caught in a rundown.  The Dodgers were 2 for 6 WRISP.  One of those was an oppo single by Trayce Thompson in the 8th to bring home Muncy for an insurance run.
Brusdar Graterol comes in the 9th to close it out, and he does just that.  He gave up a single to Ryan McMahon that Cody Bellinger might have been thinking about his 3 Ks on the line drive.  Cody Bellinger will tell you that he should have caught that line drive.  He has made waaaaaaaay tougher plays.  But Graterol got José Iglesias to chase a slider for strike 3 and got Yonathan Daza to bounce out 3-1 on the next pitch for out #3.  If Bazooka can get that slider working, his fastball will be more lethal.  Brusdar got his 2nd save in the last 10 games.  Can he keep it up?
With the win and the Padres and Giants losses, the Dodgers now have a 5.5 game lead over the Padres and 10.5 over the Giants.  The Giants are 2.0 games behind the final WC team (Phillies).
Tomorrow night Mitch White will start for LAD and José Ureña draws the start for Colorado.  While with Miami, Ureña has pitched well against the Dodgers in the past.  But he has fallen on rough times of late.
Congratulations to Ryan Pepiot for his first ML win.  It will be the first of many.