For my first foray here on Dodger Chronicles, I would like to go back to a night that I remember so very well at Dodger Stadium. September 9th, 1981. Dodgers against the San Francisco Giants. Why was this night so special? Well, I got to live a dream. Some here know the story, others might not. But let me first set it up for you.
Beginning in 1974 when I got out of the service, I eventually moved back to Los Angeles with my family. Things didn't work out and my wife and I separated. She would eventually move up to Lake Isabella with my two daughters, and I stayed in LA trying to pick up the pieces and start anew.
It was not easy. Eventually after trying many different forms of employment, a friend of mine bought a couple of big rigs, and I ended up getting my CDL. But, I had to have some kind of recreation, and for me, it was performing music.
I had met a band playing at a little club in Redondo. When they moved to a new club in Carson, "The Chat Room", I went with them. I usually sat in as a guest. But over time the club owner made me a paid guest. Got a whopping 30 bucks a night. The money was not that important, doing what I loved was. I had the opportunity to perform in front of so many people.
In 1976, the bars manager began booking country stars into the club. So now I was opening for recording artists and in many cases, I got to talk to them and learn more about reading your audience and setting up a set so it would be more entertaining.
Some of the stars we booked were well past their prime, but nonetheless, stars. Ernest Tubbs, Charlie Louvin, Red Sovine, Little Jimmy Dickens, and many others. I also got a guest star gig at a place in Long Beach called George's Round-Up.
In the spring of 1980, I went to a baseball card show in Orange County. Wes Parker was there and I got a card from him and his autograph on it. We talked for a while and I told him I was doing a show in Long Beach and I gave him a ticket to the show.
I really did not expect him to come, but he did. We got to talk baseball when I was off stage and the band leader, Danny Michaels, a huge Dodger fan himself, came over for a while too. Sometime during the conversation I told Wes that one of my dreams was to sing the anthem at Dodger Stadium.
Wes asked for my phone number and said he would check and see what the criteria for anthem singers was. We kept in touch and Wes would let me have his season seats at Dodger Stadium now and then when I wanted to go to a game. His dad would mail them from his shop in Santa Monica. Wes was working Dodger pre and post game shows on radio in those days including hosting Dodgertalk after the games.
Sometime around September he called me and told me I needed a tape of me singing the anthem with two or three different versions. He meant styles. So I made a tape and took it to his dads shop. Wes picked up and delivered it to the people in charge and I waited to see if I was accepted.
Just before the beginning of the 1981 season, I got a letter from the Dodgers saying I had been chosen to do the anthem on the 9th of September,1981. They were scheduled to play the Giants. Perfect. I get to sing the anthem before a Giant game in September that could have pennant implications. I was psyched.
September 9th also happened to be my girlfriend's birthday. The season started and I got another letter with 4 tickets for the game, a premium parking pass by the pavilion, and a field pass to go down on the elevator to field level.
There had been rumbles that the players might strike, and early on it seemed it might pass, but then on June 12th the players walked out. All I could do was wait and hope they settled soon. It kept dragging on through July. Then there was a glimmer of hope, a settlement and the season resumed on August 9th with the All-Star game and regular play resuming the day after.
Maybe a couple of days after that, I got another letter from the Dodgers confirming my Sept 9th date. I was glad the waiting was over, and I let my friends know when I was going to sing. A couple said they would try and tape it off of the radio. Tech was an infant then. Now anthem singers get a video of their performances.
On the 9th, my girlfriend Debbie and I arrived at the ballpark pretty much right as the gates opened. I had taken the afternoon off of work. Her brother and his girlfriend came with us. Wes had also given me his 4 seats, so my foster father, sister and a couple of his friends sat in those.
At 6:20 I went to the elevator and rode down to field level. Wes met me at the elevator and gave me a ball so I could get some signatures. He took me in the dugout and introduced me first to Lefty Phillips and Manny Mota. Then a few other players. I got Wes, Sax, Mota, Reuss, to sign my ball. Then about 10 minutes before I was supposed to sing, the escort took me out to centerfield, which is where they sang from back in those days.
On the way out, I encountered Bobby Castillo and Fernando coming in from the bullpen. I shook Fernando's hand and totally forgot to get him to sign my ball. When I got out to center, the maintenance guy adjusted the mic stand to my height. He asked if I wanted to warm up, I declined.
The stadium, unlike many Dodger games, was pretty full by anthem time. It is an eerie feeling standing out there all alone waiting for the music to start.
They asked everyone to rise, and announced who was singing and Helen Dell, who was the organist at the time started the intro. My first thought was Oh Crap, she is in the wrong key! But when she walked down the last step, it was exactly what it should be.
Another thing I should explain, there is a two second delay in what you hear and what you sing. So you really have to pay attention to the music when singing. I did what I came to do, sang as well as I ever had in my mind, and when I got through, I got a standing O! . Well that figures since they were all standing anyway. But a nice thought.
The guide came and took me back under the Left Field Pavilion. Then something really cool happened. The Dodgers had a fan named Frances Freidman. Frances was a Dodger Stadium institution. Frances was at every home game and sat in the same exact seat on the left field pavilion every game. She would heckle the opposing players and had pins all over her Dodger cap.
She would also twirl a bag of garlic at the opposing team whenever they got a rally going. She was trying to hex them, quite a character. Frances came down out of her seat, rushed up to me to shake my hand. And then she told me, and this is the truth, " That was the best version of the anthem I have ever heard." For a regular person like me, that was great praise from someone who had seen big stars do the anthem. Toni Tennille of the Captain and Tennille did the anthem there several times a year.
Anyway, the guide took me back into the lower entrance to the stadium, we went by the Dodger clubhouse where I got Rock Sutcliffe's signature on the ball and back to the elevator where I went back up to the field level box seats. What a rush the whole thing was.
Back in my seat, I was asked for my autograph by several fans around us. My fifteen minutes of fame. I was , of course, hard to miss, I had my Stetson hat, a red western shirt and my cowboy boots on. Plus I clipped about 360 pounds at the time. I had my picture taken with Jay Johnstone on the field before I sang. The Dodgers later sent me the 5×7 photo along with a nice letter.
Alas, none of my friends actually got the performance on tape. Hard to do in those days since the anthem was not always played on the radio prior to the game. As for the game itself, the Dodgers would eventually lose in 11 innings 6-3. Ron Cey was hit in his arm by a pitch from Tom Griffin in his second at bat. It would put him out until the playoffs.
After Jack Clark homered off of Steve Howe in the top of the 10th, Garvey homered in the bottom to tie it 3-3. Tom Niedenfuer then gave up 3 runs in the 11th to lose it. The loss gave the Dodgers a 54-33 record. They had been declared winners of the first half, so they were in the playoffs no matter what.
The oddity of the year was that the Cincinnati Reds had the best record in the National League as far as wins. They won 66 games, but did not win either half, the Astros won the second half. So they missed the playoffs. I saw Wes a few times over the years after that. He stayed a good friend and source of free tickets. I lost contact after I left California in 94. It was indeed, a night to remember.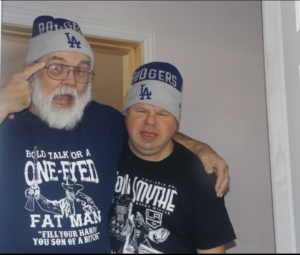 Guess who is the Bear!!