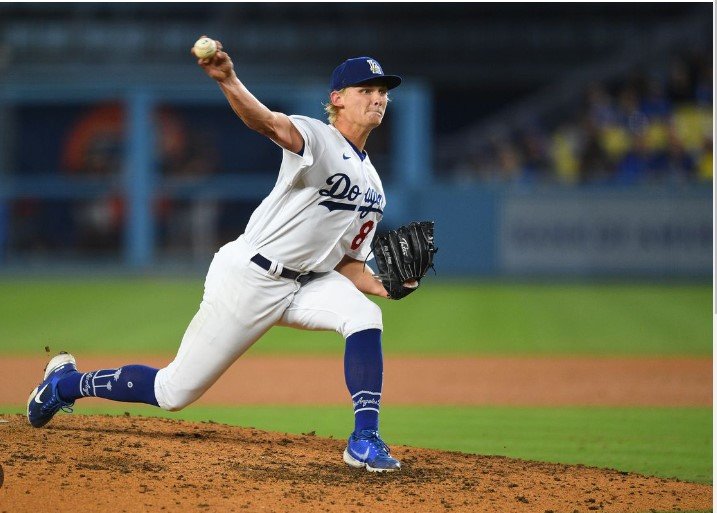 Before I get to the review I wanted to write about how the Dodgers develop and then use their pitchers at the MLB level. I'm a casual fan who has no special insight or experience to base my opinion. Sometimes I don't understand how they use these pitchers once they arrive in LA. A reliever is one thing, but a starting pitcher seems to be treated too cautiously. I see in Jeff's recaps of the Dodger minors games and it seems that a younger starting pitcher only pitches 3-4 innings. Why? Don't these players pitch seven innings all the time in high school or college? Why not back off the velocity, learn to "pitch", and build up arm strength with longer outings. And then once promoted to LA that should allow them to go deeper into games. Thus, putting less stress on the bullpen. Right now the Dodgers, as well as many other teams, grind these relievers all season long. The Dodgers have used 25 pitchers so far this season. 25! Come postseason it creates a problem. But, a subject for another time.
So, let's review how the Dodger pitching prospects have done in 2023.
Ryan Pepiot – So, this player has yet to pitch this year because of an oblique injury. Ryan is 25 years old. He has access to the top training personnel and methods and yet he has spent several months trying to get back on the mound. I don't get this. But, with the Dodgers, injury disclosures are always sketchy. I know HIPPA and all that but if it's baseball related then how about some honesty about his rehab. I liked what I saw from him last year. At least a solid bullpen piece.
Grade – Incomplete. Looks like a wasted season for Ryan.
Michael Grove – At 26 I think the Dodgers need to make a decision on how they plan to use Grove. When recently called up he had gotten his velocity up to 97-99 in his first outing. I don't know where that came from. He has good stuff and for now would be right for a spot starter (opener) or long relief role.
Grade – B-. He has the pitches, velocity, and is not afraid to challenge hitters or throw strikes.
Gavin Stone – Stone got a lot of hype in the offseason with his incredible 2022 season of catapulting through the Dodger system. He was successful enough in AAA to get called up to the Dodgers. I watched him with the anticipation of maybe being the next pitching star for the Dodgers. What a disappointment. He basically had two pitches and neither seemed to be MLB ready. With only a fastball and changeup it has to be difficult to get hitters out unless you have bullseye accuracy with both pitches. And he didn't. Unless he develops another pitch I don't see him as a MLB starter. The Dodgers could use him in a trade piece or move him to the bullpen.
Grade – D. This grade was based on all the hype and the letdown when he did get his chance. He will be a major league pitcher. The questions are with what team and in what role?
Bobby Miller – I have been very impressed with the first couple of starts. I missed seeing his last two starts. Miller definitely has big league stuff and the physical stature to become an innings eater as well. Right now it appears he has some emotional issues when things don't go his way during a game. This should be addressed ASAP. He is too talented to let this continue. Walker Buehler had these same problems his first couple of years. He could be a good source for Miller to access and learn from. I would like to see him back off his velocity a bit and become a better pitcher as opposed to trying to throw the ball through a wall approach. By continuing to try to throw 100 MPH just screams TJ surgery down the road.
Grade – B+. If Miller can harness his emotions on the mound and learn to pitch smart he could be the next Dodger ace.
Emmet Sheehan – First off, the Dodgers should have a player named Emmet. It rings of the Brooklyn days. He had an incredible first outing going six innings of no hit ball. He seems composed on the mound and is not afraid to attack the hitters. To have a sixth round 23 year old make the jump from AA to the show and do what he has done in his three starts is impressive.
Grade – A. To grade him after only three starts is silly, but the grade is based on how he made the jump from AA and how he responded when given the chance. I hope he can finish the season with the Dodgers.
Nick Robertson – Nick was chosen in the 2019 draft and like all minor leaguers lost the 2020 season to Covid. So, he has two minor league seasons to develop as a reliever. When called up this June his first outing went well. Unfortunately, three of the next five appearances didn't go very well. He allowed six earned runs in five innings with the opposition hitting .364 with a 2.09 WHIP during his short stint with the team. He's now back in AAA. For a college pitcher who was drafted to relieve and two years' experience as a pro this doesn't display successful development on his part nor the Dodgers. I believe AF drafted multiple high round college pitchers in 2019 to fast track to the Dodgers as relievers. Where are they?
Grade – C-. Nick had a couple of nice appearances so he did have some success. Maybe with this experience and some more work at OKC will help him get another callup at the end of the season. He has the tools.
Landon Knack – The headline possibilities with Knack for a last name are going to be fun if he becomes a success in MLB. He's having a very nice season with Tulsa and now OKC. At 25 he deserves a shot with the Dodgers. Looking forward to seeing him sometime this year.
So, many of the above grades are for prospects who have somewhat or very limited time with the Dodgers. Are they fair? Probably not. But they were mainly based on how the prospect performed and how I think they will do in the future. The team hasn't had a starting pitching prospect come up and really excel since Walker Buehler. Dustin May looked like he was going to be that guy, but injuries have crippled his career so far. Julio Urias had the look of an ace in the making too. But, this year injuries and his pending free agency is going to probably derail that scenario. My next pick to take the mantle from Kershaw for ace status is Bobby Miller. We'll see what happens.
07-02-2023 MiLB Game Summary Reports
(by Jeff Dominique)
OKC Dodgers 8 – Sugar Land Space Cowboys (Houston) 2
Matt Andriese started a game that was originally set for Gavin Stone.  Is Gavin Stone in LA looking to start Monday's game?  Matt completed 6.0 innings.  The sole run he did allow was a solo HR.  He surrendered three additional hits, no BB, and 8 K.  Gus Varland pitched two perfect innings with a K.  Wander Suero pitched the final inning, allowing a run on 2 hits.
OKC got on the board in the first.  Drew Avans drew a BB that was followed by a Michael Busch single.  Bryson Brigham reached on an error to load the bases.  Kole Calhoun walked to force in one run, and Ryan Ward singled to plate the second.  After five OKC batters, the score was 2-0.
Justin Yurchak homered (3) to lead off the 2nd.  Ryan Ward (8) and Hunter Feduccia (7) hit solo HRs in the 3rd.
Ryan Ward hit a 2nd HR (9) in the 6th.  OKC scored single runs in the 7th and 8th.  Devin Mann hit his PCL leading 28th double for the run in the 8th.
Ryan Ward – 3-5, 3 runs, 3 RBI, 2 HR (9)
Michael Busch – 2-4, 2 BB, triple (3)
Kole Calhoun – 2-4
Justin Yurchak – 2-4, HR (3)
Hunter Feduccia – HR (7)
Devin Mann – Double (28)
Tulsa Drillers – Amarillo Sod Poodles (Arizona)
Game five of a six-game series between the Tulsa Drillers and the Amarillo Sod Poodles, that was scheduled to be played Sunday night, was postponed by rain.
The game will now be made up as part of a doubleheader on Monday.
Great Lakes Loons 4 – Lansing Lugnuts (A's) 2
RHP Hyun-il Choi had a nice 3.0 scoreless inning start.  He was followed by 5 pitchers to complete the bullpen game.
In the 5th, Luis Yanel Diaz doubled (12), and Chris Newell drew a walk.  Chris Alleyne doubled (12) home both runners, and GL had a 2-0 lead.  In the 7th,  Diaz singled, stole 2nd, Griffin Lockwood-Powell walked and Chris Alleyne tripled (3) them both home.
Lansing scored a run in the 8th (unearned) and 9th.
Luis Yanel Diaz – 2-2, 2 runs, double (12)
Chris Alleyne – 2-2, HBP, 4 RBIs, double (12), triple (3)
Visalia Rawhide (Arizona) 3 – Rancho Cucamonga Quakes 2
Despite getting badly out-hit and committing four errors, the Visalia Rawhide managed a 3-2 win over the Rancho Cucamonga.
The RC offense produced ten hits, while Visalia collected just three, but the Rawhide made them count, as they slugged a pair of solo home runs and used an RBI double from Juan Corniel to win their second straight game in the series and for the third time in five days.
Kristian Robinson (3) and Riquelmin Cabral (2) each blasted a solo homer, as the Rawhide took a 2-0 lead over Rancho starter Gabe Emmett.
The Quakes fought back against Visalia starter Ricardo Yan, getting one in the fourth and then tying the game with a Jesus Galiz RBI hit in the fifth, knotting the game at 2-2.
In the seventh, Quakes' reliever Jon Edwards (1-1) walked the leadoff man and then gave up a two-out RBI double to Juan Corniel, giving Visalia the lead for good at 3-2.
Rancho had chances throughout, but left 12 men stranded over their first eight innings. In the ninth, they'd go in order against closer Juan Morillo.
Josue De Paula – 2-5, double (7)
Kenneth Bettencourt – 2-5
Simon Reid – 2-4, double (1)