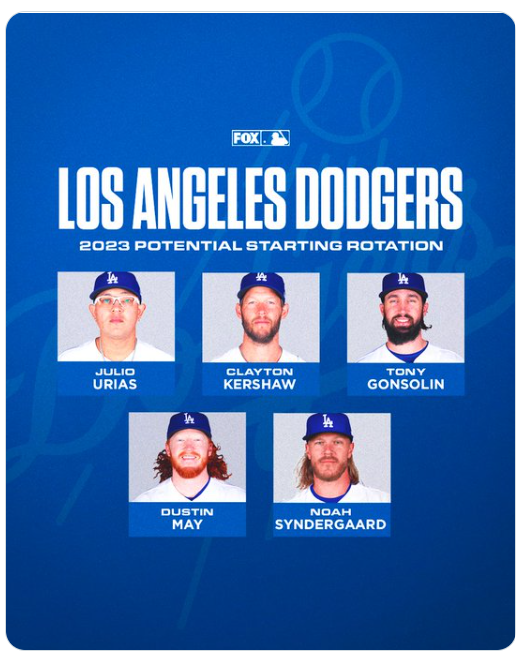 My Assessment of the Dodgers First Half – 2 of 2 (Pitchers) 
For this exercise I am going to continue with my grades of Exceed Expectations, As Expected, Below Expectations, Well Below Expectations.
Below is the comparison of the 2023 metrics compared to 2022 for Overall, Starters, and Relievers.

Based on the above chart, I do not see how you cannot grade the overall pitching, starting pitching, and relief pitching as anything but Below Expectations.
Starters
Yes, there are reasons for the starting pitching problems.  Injuries have been in abundance.
Ryan Pepiot – Before the season – Still out
Tony Gonsolin – Before the season – Missed 4 or 5 starts at the beginning of the season. Not the same pitcher.
Dustin May – Exited game after 1.0 IP on May 17. Strained flexor or forearm strain depending as to which report you want to believe.  He has missed 7 starts.
Noah Syndergaard – Exited game after 3.0 IP on June 7 due to blisters (?). He has missed 4 starts.  I am not sure that is a negative in this exercise.
Julio Urías – Exited game after 3.0 IP on May 18 due to hamstring strain. He has missed 6 starts.
Four rookies have started for the Dodgers:
Bobby Miller 7 GS
Michael Grove 7 GS – Out a month due to groin strain
Emmet Sheehan 3 GS
Gavin Stone 3 GS
Clayton Kershaw was the last SP not to have been placed on the IL.  He has a cranky shoulder, but feels like he could have started if needed.  Too much of the season left to take that chance.  He can come off the IL on July 15 in the series with NYM.
Outside of CK, not one established LAD starter has met expectations.
Clayton Kershaw – 16 starts, 95.1 IP, 2.55 ERA, 1.05 WHIP, .216 BAA, 105 K, 24 BB
CK is currently 31.0 IP less than his 2022 total.  If he does start on Monday, how long before he has to sit down for a game or two.  Does anyone expect him to pitch 180+ innings? Kershaw is a 1st ballot HOF, so the numbers (outside of IP) were expected.
Therefore IMO, Clayton Kershaw has Met Expectations.
Noah Syndergaard – 12 starts, 55.1 IP, 7.16 ERA, 1.45 WHIP, .313 BAA, 39 K, 9 BB
Noah was supposed to be the new miracle project of the vaunted LAD pitching gurus.  He heard all about how pitchers came to LAD and were transformed.  Last year it was Tyler Anderson and Andrew Heaney.  IMO, the problem was Noah believed they could resurrect his 100 MPH 4-Seamer.  They could not, and apparently, Noah did not want to adjust or could not.  He was sent to the IL with blisters.  The blisters were a recurring issue, but that is not why Syndergaard remains on the IL.  He is being retained on the IL so he can work out his problems, mechanically and psychologically.
In addition to his poor pitching, Syndergaard remained as The WORST pitcher at keeping base runners from stealing bases.
IMO, Noah Syndergaard pitched Well Below Expectations.
Julio Urías – 10 starts, 55.1 IP, 4.39 ERA, 1.16 WHIP, .250 BAA, 53 K, 11 BB
After two seasons where he received top 7 CY Award votes, he was rewarded as the opening day starting pitcher.  After 4 starts, Julio was among the league's best.  23.2 IP, 1.90 ERA, 1.01 WHIP, 26 K/3BB, 3 HR allowed.
In his next 6 starts, things did not go as well.  In 31.2 IP, Julio's ERA was 6.25, and his WHIP was 1.232. His strikeouts were at 27 and BB at 8.  But his HR total was 11.  That is 1 per 2.85 IP.  Not all of that can be explained by a hamstring strain.  We kept hearing…"We need to pitch better."  Thank you Captain Obvious.  And yet they are not.  Can we ask why and still be loyal LAD fans?
Urías was hit up for 5 runs before there were 2 outs in the first inning in his first game back.  Yes, most were soft contact hits.  Gee, isn't that what hitters are supposed to do when trying to make contact?  The batted balls found grass.  Isn't this just as much of a indictment that Urías does not have that consistent swing and miss pitch and leaves the pitch in a location where it could be hit?
Since Julio Urías was considered a viable preseason CY candidate, IMO he has pitched Below Expectations, bordering on Well Below Expectations. 
Tony Gonsolin – 11 starts, 57.1 IP, 3.30 ERA, 1.03 WHIP, .177 BAA, 46 K, 22 BB
Tony was absolutely the best pitcher on the planet (yes even better than Sandy Alcantara) the first half of 2022.  He suffered a forearm strain and was placed on the IL.  He has not pitched like a front of the rotation starting pitcher since mid-July 2022.
He started the season on the IL with a sprained ankle.  He made his 1st start April 26 against Pittsburgh.  It was probably earlier than the team wanted, but they needed him to come back due to Michael Grove's groin injury.
On May 19, Gonsolin had a miniscule ERA of 1.13.  In his last 6 games, he has allowed 22 earned runs in 37 IP.  His ERA over those 6 games is 5.35.  In his last 4 games, Gonsolin has allowed 18 earned runs in 25.1 IP for a 6.40 ERA.  What is the reason for this decline?  Or is it he just needs to pitch better?  I am not saying that Gonsolin or Urías are hurt in any way.  I have no evidence one way of the other.  But there has to be a reason, or is this really the true Tony Gonsolin and Julio Urías?
IMO, Tony Gonsolin has pitched Below Expectations. 
Dustin May – 9 starts, 48.0 IP, 2.63 ERA, 0.94 WHIP, .173 BAA, 34 K, 16 BB
I was hoping for a big recovery year from Dustin.  In his 1st three games, Dustin was brilliant.  In 18.1 IP, his ERA was 1.47, his WHIP was 0.76, and his BAA was .115.  He had a very rough outing in his start against NYM (5 earned runs in 5.2IP).  His ERA blossomed to 3.00.
In his next four starts, 23.0 IP with a 2.35 ERA, his ERA settled at 2.68.  At times, May looked like a very top of the rotation SP.  His injury came at a horrible time (if there is ever a good time).  It was diagnosed as a Flexor Strain.  Later reported as forearm strain.  I have not seen any medicals (not that I could read them), so let's just say his right elbow is in pain.  He got a PRP injection.  There was an early report that Dustin was ahead of schedule and playing catch.  That has been corrected. His six weeks since  the PRP injection will be July 3 (Monday).  Will he pick up a ball this week?
Correction: #Dodgers Dave Roberts said he misspoke yesterday. Dustin May has not started playing catch. Still rehabbing from flexor pronator mass injury and PRP injection 6 weeks ago.

— Bill Plunkett (@billplunkettocr) June 29, 2023
I cannot see Dustin being back in the rotation until mid-August (if he is coming back).  Before I get accused of saying Dustin is more injured than is being reported, I am harkening back to 2022 when Walker Buehler went out about the same time, was expected back shortly after the All Star break, had a PRP injection, and shortly after he was supposed to start his rehab, he had his 2nd TJ surgery.
I also remember Dustin saying he probably came back and tried to throw too hard too early in 2022.  Could that have been the cause of his current problem?
Can the Dodgers really count on Dustin being a top of the rotation pitcher he was thought to be?  Can they win without him or someone similar.
BTW, when I say win, I am using the NL pennant as the bar.  Getting a wild card and getting bounced early is not winning, IMO.
IMO, Dustin May Exceeded Expectations before the injury.  Subsequently, there is still too much unknown about his participation left in the season.  Therefore, I have to add another grade…Incomplete.  
Bobby Miller – 7 starts, 38.1 IP, 4.23 ERA, 1.25 WHIP, .234 BAA, 35 K, 14 BB 
Bobby started in MLB career in fine fashion.  After his first four starts, Miller had 23.0 IP with a 0.78 ERA and a 0.83 WHIP, and .150 BAA.  At one point, he had 20.0 consecutive scoreless innings.  His four opponents were Atlanta, Washington, NYY, and Philadelphia.
Miller is a five pitch pitcher:
Sinker – 226 pitches – 98.8 MPH, 12.9 Whiff %, 17.4 Put Away %
Slider – 149 pitches – 90.7 MPH, 33.8 Whiff %, 18.9 Put Away %
Change – 97 pitches – 88.9 MPH, 41.5 Whiff %, 16.7 Put Away %
4-Seam Fastball – 88 pitches – 99.3 MPH, 10.9 Whiff %, 8.0 Put Away %
Curve – 76 pitchers – 81.3 MPH, 35.7 Whiff %, 27.8 Put Away %
His 4-seamer and change are primarily thrown to LHB, and the slider is primarily thrown to RHB.  His slider is his best strikeout pitch.
He has run into some tough outings of late, and seems to let his emotions take control.  That absolutely needs to change.  In his last three starts, 15.1 IP, his ERA is 9.39 and his WHIP is 1.89, with a slash line .339/.419/.508/.927.
He needs to stay in the rotation for a while, so he should have multiple starts to get back on track.  He has shown an ability to dominate, but the hitters seem to have adjusted to him, and now he needs to readjust.  Work on his command.  We know he can hit 100, but he needs to make sure he can master his secondary pitches.
Since I did not honestly expect Bobby Miller to pitch MLB this season, maybe not LAD or many of you fans, for me Bobby Miller has Exceeded Expectations.
Emmet Sheehan – 3GS, 17.0 IP, 2.65 ERA, 0.82 WHIP, .172 BAA, 12 K, 4 BB
Emmet Sheehan has come of out nowhere to become a current top of the rotation starting pitcher.  It is hard to believe he will stay there, but then again…
He is a 3-pitch pitcher (4-seam fastball, slider, change).
4 Seam Fastball – 175 Pitches – Avg velo 95.6 – 16.1 Whiff %, K% 7.9, Put Away% 7.3
Slider – 60 Pitches – Avg velo 87.2 – 27.6 Whiff %, K% 21.4, Put Away % 16.7 – Thrown primarily to RH Batters
Changeup – 29 Pitches – Avg velo 82.2 – 36.4 Whiff %, K% 54.5, Put Away % 46.2 Thrown primarily to LH Batters
He dominated SF.  Outside of a pair of solo HRs, he dominated Houston.  And he survived Colorado.  His composure seems to set him apart from two pitchers believed to have better stuff, Bobby Miller and Gavin Stone.
After only three starts, I like what I have seen thus far.  My biggest takeaway is his composure.  Of course, like Miller, I never expected Sheehan to be in MLB so he has Exceeded Expectations.  But after only three starts, IMO Emmet Sheehan's 1st half grade is Incomplete.
Gavin Stone – 3 GS, 10.0 IP, 14.40 ERA, 3.00 WHIP, .451 BAA, 5 K, 7 BB
After a phenomenal 2022 campaign, much was anticipated from Gavin.  The anticipation did not grow to expectations level.  Unfortunately Gavin did not pitch up that anticipation.
4 Seam Fastball – 96 Pitches – Avg velo 93.7 – 26.2 Whiff %, Put Away % 0.0
Changeup – 83 Pitches – Avg velo 85.5 – 32.0 Whiff %, Put Away % 7.7 – Thrown primarily to LH Batters
Slider – 34 Pitches – Avg velo 85.9 – 42.1 Whiff %, Put Away % 30 – Thrown primarily to RH Batters
It is clear that Gavin's strikeout pitch is not his 4-seamer, so far.  His anticipated top pitch, his changeup, has not generated much of a put away.  His best put away pitch is his slider, but he throws that just 16% of the time.  Gavin was sent back to OKC at the end of May after two poor starts for LAD.  In his 4 June starts, he seemed to go backwards…4 GS, 18.0 IP, 12.00 ERA, 2.39 WHIP, .381 BAA.  Can he turn it around?  He is going to have to show it at OKC before he gets another legit shot at MLB.
After only three starts, I was disappointed in Gavin's performance.  But like with Sheehan, 3.0 GS (and only 10.0 IP), IMO Gavin Stone's 1st half grade is Incomplete.
Michael Grove – 7 GS, 31.0 IP, 7.84 ERA, 1.61 WHIP, .310 BAA, 31 K, 10 BB
I have always thought that Michael Grove is the perfect RH version of Andrew Miller.  With Daniel Hudson as the closer, Michael Grove and Evan Phillips could be used in high leverage non closer situations.  Mix and match.
However he wanted to start, and he deserved the chance to start.  Results have not been there for him as a starter.  Although at times he was very good.  Two bad pitches against NYY.  A bunch of soft contact singles.  He will continue to start as long as the Dodgers need one.  He will be more in the Ross Stripling and Mitch White role.  But long term, I think he is a high leverage reliever.
He is primarily a 3 pitch pitcher, but has thrown a 4th pitcher ever so slightly.
Slider – 260 pitches – 86.0 MPH, 32.2 K%, 39.9 Whiff %, 17.4 Put Away %
4-Seamer – 260 pitches – 94.8 MPH, 8.2 K%, 8.0 Whiff %, 9.1 Put Away %
Curve – 108 pitches – 78.7 MPH, 5.9 K%, 4.9 Whiff %, 5.9 Put Away %
Change – 4 pitches – 88.0 MPH, 0 K%, 0 Whiff %, 0 Put Away %
Grove's slider is his best pitch, but he needs his 4-seamer to be productive, and it just hasn't been so far.  Hitters are hitting .393 (BA), .750 (SLG), .502 (wOBA).  Showing the fastball up at the top of the zone and then dominating with that slider for an inning will work exceptionally well (IMO).
I never expected Grove to be a mid-rotation starting pitcher.  Maybe #5.  IMO, Michael Grove has Met Expectations. 
Relievers
There are really no Exceeded Exceptions for relievers.  Met Expectations, Below Expectations, and Well Below Expectations are the only reliever grades.
Met Expectations:
Brusdar Graterol – 35 G, 33.0 IP, 2.18 ERA, 1.24 WHIP, .289 BAA, 24 K, 4 BB
Evan Phillips – 33 G, 32.0 IP, 1.97 ERA, 0.75 WHIP, .157 BAA, 37 K, 7 BB
Shelby Miller – 25 G, 30.0 IP, 2.40 ERA, 1.00 WHIP, .121 BAA, 31 K, 18 BB
Caleb Ferguson – 33 G, 29.0 IP, 2.79 ERA, 1.17 WHIP, .215 BAA, 31 K, 11 BB
Justin Bruihl – 16 G, 19.1 IP, 3.72 ERA, 1.24 WHIP, .284 BAA, 15 K, 3 BB
Below Expectations:
Yency Almonte – 36 G, 34.2 IP, 5.45 ERA, 1.38 WHIP, .250 BAA, 32 K, 15 BB
Phil Bickford – 26 G, 30.2 IP, 6.46 ERA, 1.57 WHIP, .252 BAA, 44 K, 18 BB
Victor González – 23 G, 21.2 IP, 4.57 ERA, 1.11 WHIP, .238 BAA, 21 K, 5 BB
Well Below Expectations:
Alex Vesia – 23 G, 19.0 IP, 7.58 ERA, 2.42 WHIP, .382 BAA, 30 K, 12 BB
Andre Jackson – 7 G, 17.2 IP, 6.62 ERA, 1.42 WHIP, .289 BAA, 16 K, 3 BB
Incomplete:
Nick Robertson – 6 G, 7.2 IP, 7.04 ERA, 2.09 WHIP, .364 BAA, 8 K, 4 BB
Ryan Brasier – 4 G, 4.1 IP, 2.08 ERA, 0.92 WHIP, .200 BAA, 3 K, 1 BB