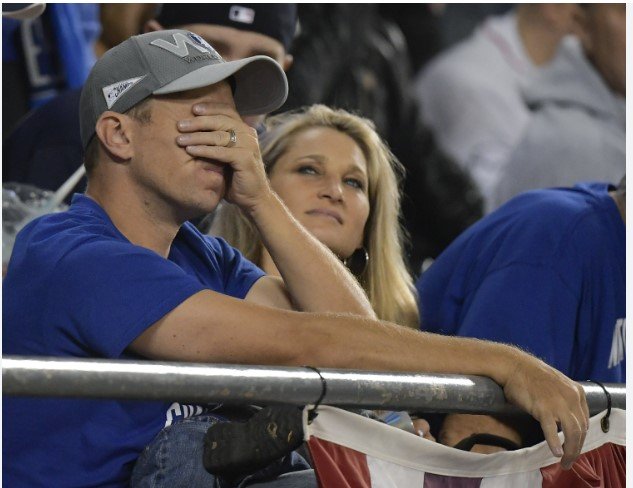 Baseball is a game of streaks and slumps. It is also a game where things can turn either way on a single play. This last month, Dodger baseball for the most part has been unwatchable. They were 12-12 in June. Not what the fans expected at the beginning of spring training. They start July 1-1. Losing a series to the woeful Kansas City Royals.
What made it worse was the fact that the Royals, who as a team are at the bottom of the AL offensively, scored 18 runs over the three games and won two despite LA scoring 16 runs. And they did it by exposing what I consider to be the Dodgers biggest weakness, controlling the running game.
Also they stifled the Dodgers vaunted power by simply getting clutch hits from the bottom of their order. Granted, the Dodgers pitchers on Saturday and Sunday did not help much. Urías and Gonsolin were very pedestrian. Julio looked out of shape and rusty.
The bullpen, which did a decent job on Friday and Saturday, imploded yesterday. At least Gonzalez did. Ferguson is the only reliable left-handed arm down there.
So here we are, 6 games left before the All-Star break, 3 games back of Arizona and .5 games in front of the Giants. The trading deadline is less than a month away.
Does AF strike early like he did in 2018 getting Manny Machado right after the break, or do they wait it out? One reliever has already been moved. Chapman going to the Rangers who are making a serious run at dislodging the Astros as West division leaders in the AL.
The Dodgers biggest need is obviously starting pitching. A bullpen arm or two would not hurt, but with Hudson coming back, not as big of a need. They need something from Max Muncy who has seriously lost his mojo. They need more from Vargas if he is going to be out there every day.
James Outman, while cutting down his K's some, has not hit a homer since May. Peralta and Heyward have definitely upped their game and both are contributing nicely. Taylor is going to be out until after the All-Star game, and what they get from him when he does come back, no one can foretell that.
Mookie and Martinez are providing the power from the right side with 41 homers between them so far. Freddie is Freddie. I am pretty sure he will get red hot again. Barnes needs to provide at least some offense when he is in there, because Smith is a vital player in that three hole and one of their better clutch hitters. Smitty is in a little slump right now.
But the starting pitching is in shambles. Gonsolin is definitely at this point, not pitching well. We can take some solace that Urías is back, but which Julio are we getting? He does not look like the pitcher he has been the last two years. Walk year jitters? Could be.
Kershaw's shoulder is cranky, and if he goes down for any length of time, this team has serious issues. May is out until who knows when. Stone flopped in his debut and has stunk up the joint at AAA. His star has faded some.
I like Sheehan. He seems to be one of those kids who gets it. He does not get flustered out there and probably due to the injuries, will be sticking around a while. Bobby Miller's stuff is impressive. His lack of composure when in a jam is not. But he is learning. He controls that anger, and he can be a huge difference maker.
Thor is supposed to be getting closer to a rehab assignment. His blister problem may or may not be solved. But you know the guy has a desire to get at least close to what he once was. Can he? Huge question.
No pitcher at AAA seems like they would be much help. Of course they will no doubt bring Grove back for a start or ten. His stuff is not that impressive, but he does not get flustered easily either.
Pepiot is not throwing off of a mound yet. My guess, he is not going to make it back this season. At AA (now AAA), Knack is pitching very well and might be the next whiz kid called up to see what he can do.
So, that leaves the trade route as the best way to improve the pitching staff. Myself, I would like to see them get a RH power bat off of the bench, but who is going to be available?
Arenado would fix 3rd base nicely and the Cardinals are terrible this year. But I would rather trade for Flaherty. Arenado has over 100 mil remaining on his deal, so the chances AF trades for Nolan are slim.
Goldschmidt's name is being tossed around by some as trade bait. But he is strictly a first baseman, and we have an All-Star there. No one at this point knows who is going to be on the market.
Dreamers on many Dodger sites want Ohtani. He would definitely fix part of the pitching problem, but Ohtani is primarily a DH. So what do you do with JD? Besides, as long as the Angels are not totally out of the race in the AL West, he is not going to be traded and Moreno would never trade him to the Dodgers, Angel fans would revolt.
We will have to wait and see who is on the market come the end of July. But, if the White Sox made him available, I would target Giolito. Local boy comes home. He would immediately make the rotation that much better. But also, they need to work on holding runners better. That deficiency will get exploited in the playoffs.
07-04-2023 – MiLB Game Summary Reports
OKC Dodgers 7 – Albuquerque Isotopes (Colorado) 4
Justin Hagenman started and competed 5.0 innings, allowing only an inside the park HR.  Justin gave up a total of 5 hits, but only the one run.
OKC scored 2 in the 1st to take the lead they would never relinquish.  With 2 outs, Pat Valaika got his first OKC hit in his first OKC PA.  Ryan Ward drew a walk, and Devin Mann hit a 2 run-double.
Michael Busch hit a solo HR (9) in the 5th for a 3-1 lead.  In the 6th, OKC scored 3 unearned runs thanks to a bases loaded scoring throwing error allowing 2 and a SF for the third.
Jimmy Nelson pitched a scoreless 6th.  Gus Varland and Nick Robertson let Albuquerque back into the game with three runs allowed.  After a Steven Duggar solo HR (5) in the 8th for an insurance run, Wander Suero came in for a clean 9th inning and the save.
Michael Busch – 2-4, 1 run, 1 RBI, double (17), HR (9)
Pat Valaika – 2-3, 1 run, 1 BB
Devin Mann – 3-4, 1 run, 2 RBI, 2 doubles (30)
Steven Duggar – 1-4, HR (5)
-The Dodgers have won six consecutive games for their longest winning streak since a season-best 10-game winning streak May 9-19…They improved to 56-24 overall and have the most wins in all of the Minors.
-Michael Busch went 2-for-4 with a double and home run. In his first five games since his most recent option to Triple-A, Busch is 7-for-19 with five extra-base hits, six RBI and has reached base in 14 of 24 plate appearances.
-The Dodgers hit two homers and have now homered in five straight games…Michael Busch homered for the second time in four games and he has six homers over his last 11 Triple-A games.
-The Dodgers have allowed four runs or less in seven consecutive games, in nine of their last 11 games and in 10 of the last 13 games…The pitching staff recorded 10 or more strikeouts in a fifth straight game tying their longest stretch of double-digit strikeout games this season April 18-22.
-Mann increased his league-leading doubles total to 30 on the season and the total ranks tied for the most in all of the Minors…Mann has hit safely in seven straight games (12×29), in nine of his last 10 games (15×42) and in 12 of his last 14 games (21×53)…Mann's 43 extra-base hits this season lead the PCL.
Tulsa Drillers 5 – Wichita Winds Surge (Minnesota) 4 – 11 innings
River Ryan started but surrendered 3 runs in his 5.0 IP.  4 singles, a pair of walks, and a WP were the reason for the three runs.
Antonio Knowles, Tanner Dodson, and Jordan Leasure followed Ryan with four scoreless innings.
The Drillers score a run in the 1st on a single, 2 walks, and a WP.  They were kept off the board until the 8th.  Austin Gauthier opened the inning with a double and José Ramos hit a game tying 2-run HR.
Both teams scored a run in the 10th.  With Imanol Vargas starting at 2B, he moved to third on a PB, and scored easily on an Eddys Leonard single for the walk off win.
Jorbit Vivas – 2-5
José Ramos – 2-4, 3 RBI, HR (16)
Austin Gauthier – Double (6)
Great Lakes Loons 6 – Dayton Dragons (Reds) 5
Ronan Kopp pitched 3.0 innings to start the game.  He allowed 2 runs in the second on a BB, double, and single.
The Loons were held scoreless until the 6th.  Dalton Rushing singled to open the inning and scored on Yeiner Fernandez's double.  Luis Yanel Diaz singled and Fernandez moved to 2B.  Damon Keith doubled for the 4th straight hit, and the score was tied, and runners on 2nd and 3rd with nobody out.  With one out, Chris Newell doubled (4) both runners home, and GL took a 4-2 lead.
After Carlos De Los Santos pitched a pair of scoreless innings, Jack Dryer came on in relief in the 6th.  2 walks, WP and a single scored the tying runs.
GL went back up in the 7th on a Luis Yanel Diaz 2 run HR (5).
Benony Robles entered the 9th for the save.  With one out, he allowed a walk and 2 singles, allowing a run and putting runners on 1st and 3rd.  Robles struck out the next two batters for the save.
Yeiner Fernandez – 3-5, 2 runs, 1 RBI, double (11)
Luis Yanel Diaz – 2-4, 2 runs, 2 RBI, HR (5)
Damon Keith – 3-4, 1 run, 1 RBI, double (14)
Chris Newell – 1-4, 2 RBI, double (4)
Inland Empire 66ers (LAA) 2 – Rancho Cucamonga Quakes 1
The Inland Empire 66ers pulled off a come-from-behind victory on Tuesday night, grabbing a 2-1 win over the Quakes.
Down to their last strike in the ninth against Kelvin Bautista, IE's Ronaldo Flores doubled home Jadiel Sanchez, tying the game at 1-1.
Their first batter of extras won the game for the 66ers, as Mike Peabody's RBI single off Brandon Neeck (0-1) brought home Johan Macias to send the Quakes to their fourth straight loss.
Rancho's lone run was an unearned run in the seventh, as Jorge Puerta doubled and scored with two outs, when Dayton Dooney's pop-up on the infield was mishandled, making it 1-0.
Jared Karros started and allowed one hit over four scoreless, before turning it over to Roque Gutierrez, who also allowed one hit over three scoreless innings.
Josue De Paula had a big game for RC. He went 3-4 with a triple (2).
Jorge Puerta – double (12)