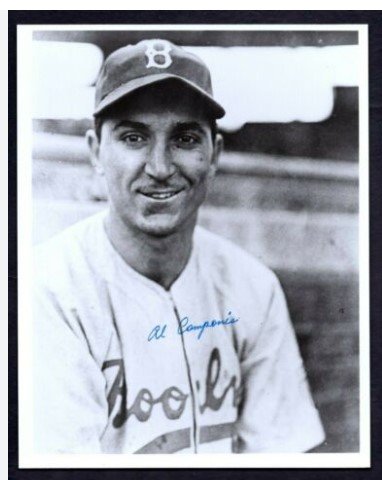 Alexander Sebastian Campanis was a career baseball man. He was born to Greek speaking parents on Kos, a small island in the Dodecanese Islands on November 2, 1916. Kos has been a part of Greece since 1947, but at the time of his birth, it was a part of Italy. They are in the Aegean Sea.
His birth name was Alessandro Campani. His mother, Aphrodite Hazzis, was an island girl who fell in love with an Italian Army captain, Giuseppe Campani. When she brought their son to Italy, the wealthy, aristocratic Campani family rejected her because she was a foreigner.
According to one source, the family even had her committed to an asylum for the insane. But she escaped and took 5-year-old Alessandro to the United States in 1922. Campanis is the Greek version of his surname.
They went to New York where they lived with his mother's brother. According to Campanis, his mother worked very hard to support the two of them. Every now and then she would buy a few pennies worth of lentils and make soup from them. " We ate soup because we were poor, but my friends would come around and beg for some of that soup."
They lived in a neighborhood in Manhattan where there were many Puerto Rican immigrants. Al learned to speak Spanish while speaking English at school and Greek at home. After he graduated from high school he was offered a professional baseball contract and an athletic scholarship to NYU. His mother chose for him, He was a speedy half-back on the football team and played second and third on the baseball team and captained both teams.
When Al graduated in 1940, he presented his diploma to his mother and she gave her blessing for him to sign with the Dodgers. At the end of his first season at Class-B Macon, he married Basiliki Georgiades, another Greek immigrant who was called Bessie. Three years later, he hit only .207 at Montreal, where he learned his fourth language, French. But he got called up due to the wartime player shortages.
He got into 7 games and went 2-20. He was then drafted into the Navy in October of 1943 with his wife expecting their first child. He spent the next two years playing ball and conducting physical training at various bases in the US. He became a naturalized citizen in 1944.
Back as a civilian at age 29, he knew his chances of playing for Brooklyn were slim. He wanted to manage in the Dodger system, but Rickey sent him back to Montreal to play SS alongside Jackie Robinson. Campanis would later recall that he helped Robinson on the pivot. Robinson, hearing this many years later, commented that he could have worked it out on his own, and go ahead and tell Al that. Then he changed his mind and said do not tell him. He was a good guy and very good on integration when it counted. Robinson passed in 1972, so he would not be there to defend Al when he would have needed it most.
Campanis played one more season at Montreal and then managed for three years at the lower rungs of Brooklyn's system. Then in 1950, Rickey, thinking he had the makings of a GM, moved him into the front office. He then sent him to Mexico to use his Spanish and search for prospects.
He began making yearly trips to Latin America where he first found Sandy Amoros, in Cuba, and Roberto Clemente, in Puerto Rico. In the summer he scouted in New York City, where he found a young lefty named Koufax.
He went away from the norm in his manner of scouting as he wanted to see the desire to compete on the face of the kids he was scouting. He also found it helpful to find out which parent or adult was controlling the kids future. He told the story of how he stole Tommy Davis from the Yankees by cultivating his mother, although a phone call from Jackie Robinson to the high schooler did not hurt. He also integrated himself with Koufax's stepdad, a lawyer, and signed him for 14,000.
Except for Koufax and Clemente, the Dodgers shied away from signing the so-called Bonus Baby's because of the stipulation that they had to spend their first two years on the major league roster. They would lose Clemente in the rule 5 draft when they tried to hide him at AAA Montreal, but a former Dodger scout and player, Clyde Sukeforth, alerted Rickey that the Pirates should pick the kid.
Campanis' method for rating prospects also became the standard for most scouts. 70 was major league average. Campanis' scouts would sign Hall of Famers, Don Drysdale and Don Sutton, five rookies of the year and countless All-Stars. Conversely, for every whale, the team handed out contracts to hundreds of big fish in small ponds who sank without a ripple when tossed into larger lakes.
Campanis was in a sense, the front offices' utility man. He wore many hats. He evaluated talent at spring training, he also held tryouts for a movie called Big Leaguer in 1953. Edward G Robinson was the star. He would scout the Yankees prior to the World Series. No wonder his nickname was Chief. On the road, Al roomed with Vin Scully.
In 1954 he wrote and had a book published called, " The Dodgers Way to Play Baseball." I used to have a copy of it many years ago. It was all about fundamentals . The Dodgers back in those days stressed fundamentals. He and his wife were also accomplished ballroom dancers. They were favorites at O'Malley's parties. On the golf course though, his only distinction was for the highest score ever recorded.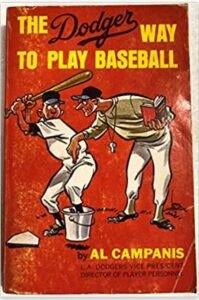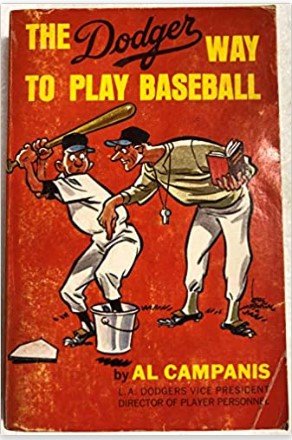 Once his son, Jimmy, did a presentation about Jackie Robinson at school. The man himself walked in as the show in Show and Tell, a favor to Jimmy's dad. When the Dodgers move to the west coast became common knowledge in 1957, O'Malley offered Campanis a job that would keep him at home in New York, he turned it down and O'Malley formally made him Director of Scouting, a job he had held for a while without the title.
His bosses were Bavasi, and Farm Director, Fresco Thompson. Together over the next 10 years they would make the Dodgers one of the most profitable and model franchises in the majors. O'Malley had guessed right, thinking they would strike gold in California.
Over the next three years after the move, Walt authorized the spending of over 2 million dollars to sign amateur players. The bonus baby rule was gone, so they could be sent to the minors. They spent $75,000 on Ron Fairly and $108,000 on Frank Howard. They signed over 100 players during the spree.
By 1962, Fairly and Howard joined the lineup. Howard had been the Rookie of the Year in 1960. The first of many for the Dodgers in LA. Those early 60's teams were anchored by home grown players, Koufax, Drysdale, Podres, Gilliam, Roseboro, Tommy Davis, Willie Davis and Maury Wills. It would also mark the end to an era as the draft came about in 1965 and scouts became less of a need. The Dodgers opposed the draft especially since California was a hotbed of baseball talent.
They picked 8th in the inaugural draft. Despite the favorable slot, the draft was for them a bust. Only two of their 32 picks went on to significant major-league careers. Alan Foster pitched for five different teams in a 10 year career. Their #10 pick got away as Tom Seaver refused to sign and went to USC instead, Adding to the bad taste was the fact that the #1 pick, Rick Monday had turned down 20,000 dollars when he was a senior at Santa Monica, just 14 miles from Dodger Stadium.
Three years later though, the story was totally different as Campanis and his scouts hit the jackpot. The 1968 draft was the most bountiful in history. Garvey, Cey, Lopes, Zahn, Valentine, Ferguson, Buckner, Paciorek, and Alexander would all reach the major leagues.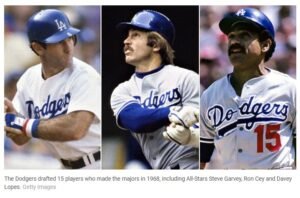 After the 1968 draft, things changed in the front office rapidly. Bavasi left to become the GM and part owner of the expansion San Diego Padres. Thompson was elevated to his position, but died of cancer just 5 months later. Campanis took over the job, and O'Malley announced that his son, Peter would take over as President of the team, with Walt remaining as chairman of the board. Campanis' first move as GM was to trade his son, Jimmy to the Kansas City Royals. He said he did it for his own good, he was afraid his teammates would think he was his dads spy in the clubhouse.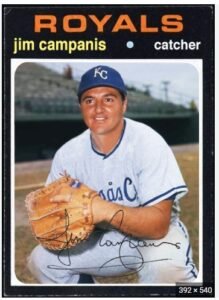 Campanis had inherited a mess. With Koufax's retirement in 66, the trades of Tommy Davis and Maury Wills, he inherited a team with the first back to back losing seasons in 30 years.
O'Malley told him not to be afraid to be bold. Bavasi had liked to build from within. But by 1968, the farm system had shrunk from over 30 to just seven teams. Campanis had to become an active trader. After failing to make the postseason in 1970 for the fourth straight year, he traded for controversial slugger, Dick Allen. " I am not going to paint this guy as an angel, but his checkouts with his former teammates were solid."
Allen delivered 23 homers and a 151 OPS+ as the Dodgers took the race down to the wire before finishing second to the Giants in 71. But manager Walter Alston never talked to him. "Maybe today he will talk to me." Allen remarked to Bobby Valentine. But he never did. Allen was well liked by his teammates according to Bill Singer, but Allen was the sort of free spirit who drove a manager nuts.
Siding with Alston, he sent Allen to the Sox for Tommy John, then made an even bigger deal bringing Frank Robinson to LA. But the two time MVP and Alston did not get along, and he also was dispatched after one unhappy year in LA.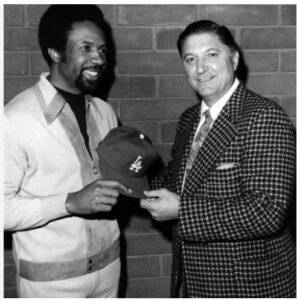 Al was patching holes with vets while waiting for the new batch of kids to be ready. In 1973 it started to happen as Steve Garvey, a scatter armed third baseman was moved to first and teamed with Cey, Lopes and Russell, to form an infield that would stay together for 8 1/2 years.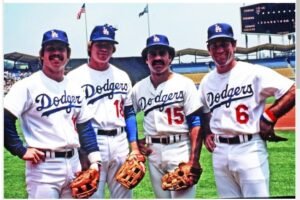 Looking for a power bat to support his pitching staff, he brought in Jimmy Wynn from Houston and Mike Marshall to bolster his bullpen. The result was the Dodgers first pennant in 7 years in 1974. They would lose the series to the three time champion A's. But the foundation of the team from this point on was solid.
Alston stepped down after the 76 season and Tommy Lasorda took over. LA had been bulldozed down to second in 75-76 by the Big Red Machine in Cincinnati. Lasorda, a rah rah type of manager, totally 180 degrees different from Alston, changed the atmosphere in the clubhouse and on the field.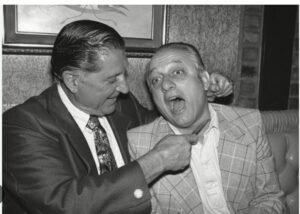 Players had felt Alston was slipping. But some felt he was pushed out because the Dodgers were afraid of losing 3rd base coach Lasorda. He did have offers on the table to manage elsewhere. No matter, he was a master bull slinger. He always was thanking the Great Dodger in the Sky. And he pushed his players to be better.
The 1977 team was a throwback to the old Boys of Summer. They bludgeoned you. Reggie Smith, Steve Garvey, Ron Cey and Dusty Baker all hit 30 or more homers. Rick Monday came on board in 77. The team was loaded with star power. They would lose to the Yankees in the series. But the team was on a solid footing to contend into the near future.
They won the pennant again in 78 and faced those Yanks one more time. After winning the first two games, another World Series loss. They set MLB attendance records in 77 and 78. But the loss was a bitter pill to swallow. Campanis not only had to work to improve the team, he had to deal with a lot of off the field issues too.
Allen's insubordination, a clubhouse fight between Garvey and Sutton, Howe's cocaine addiction, Steve Sax and his yips. He also confronted a situation that none had faced before. Glenn Burke, a young outfielder once compared to Rickey Henderson, was known by many of his teammates as being gay. Campanis offered him a bonus to get married to a woman. When Burke refused, the image conscious Dodgers traded him to the Oakland A's. This was before players openly proclaimed their sexuality.
With down years in 79 and 80, although in 80 they lost a one game playoff with the Astros, the farm system continued to be productive as they would produce 4 consecutive rookies of the year, Sizemore, Sutcliffe, Sax and Valenzuela. They reached the series in the strike year of 81, and this time they beat the Yankees.
Those drafts in the late 70's and early 80's were somewhat reminiscent of the drafts they have now since their draft position in most years was not favorable.
Al's first championship would also be his last. After the 81 series, the infield began to break up. Lopes was traded to Oakland for a minor leaguer. Cey left a year later when traded to the Cubs. The biggest shock was allowing Steve Garvey to leave via free agency after the 1982 season. Even though the Dodgers won the division championship without them in 83, Cey and Garvey would help their new teams win their divisions in 1984. The Padres would go on to the 84 series.
More damaging was that their replacements did not do the job. Greg Brock and Franklin Stubbs were not the answer at first, and Pedro Guerrero had to be moved to third base where his reaction was, please do not hit the ball to me. So Al was forced to bring in veterans like Bill Madlock, Enos Cabell and Al Oliver, who were all reaching the end. The result was a losing season in 1986, and the 87 roster looked no better. 1985 had been the sole bright spot, but a loss to the Cardinals in the NLCS spoiled that.
The fall from grace came on April 6th, 1987. Campanis was scheduled to appear on Nightline, to commemorate the 40th anniversary of Jackie Robinson's debut in the majors. Also scheduled to appear was Roger Kahn, author of " The Boys of Summer" and a friend of Robinson. Former teammate Don Newcombe was also scheduled to appear, but his plane was delayed. With the host, ABC's Ted Koppel in Washington and Kahn in New York, Campanis was sitting behind the backstop in a darkened Astrodome where the Dodgers had played that night.
Koppel expected some rather bland cliches about one of the great men who played the game. He started out with some softball questions. Koppel, a foreign affairs reporter who was British born and knew nothing about the game, then using a Rachel Robinson interview in which she said Jackie would deplore the lack of Blacks in managerial and front office positions, asked Campanis why that was.
His first answer was that many great black players would not prefer to go to the minors and manage and work their way up through the system, which many managers at the time did. Koppel replied that was baloney, many great black players would just love the chance to manage.
At that point, Campanis said the 8 words that would end his career in baseball. " they may not have the necessities to be, let's say, a field manager in baseball. Actually that is 15, but an entire career would be washed down the drain.  Koppel kept trying to get him to change his answer, but he just dug a deeper hole as the interview went on. You can see the interview on YouTube.
After the interview, Vin Scully, who had not seen it, found Campanis shaking and pale. I think I screwed up, he said. The next day he issued an apology, saying his remarks had been taken out of context. But the damage was done and the reaction was brutal. Hank Aaron was extremely upset saying " Baseball cannot eliminate prejudice because people like Campanis are around.
"He just said what a lot of people around baseball have been thinking for years, I am glad it is out in the open so we can address it". Those words were spoken by the first black manager in baseball, Frank Robinson. Many spoke up to defend him, including Maury Wills. Campanis was not a racist, what he most was guilty of was not really thinking before he spoke.
Two days later, O'Malley forced him to resign. I have no choice, Peter said. Al understood. He tried to explain what he really meant during an interview with Jim Murray of the LA Times. "What I meant was the blacks did not have the necessary experience to manage". But the damage was done, he had rambled on after the initial statement.
Some felt it was typical Campanis. He had a way of butchering the language. There was even a rumor that he was drunk. that was rebuked by Bud Furillo, who was sitting next to him in the Astrodome press box that night. He was drinking "Coke". Fred Claire took over as the GM. His take was that the 70-year old Campanis was worn out after a long day.
Over the next several years many changes came to the game, along with MLB's policy that there be at least one minority candidate for any managing or front office job. Campanis never got a job in organized ball again. He did become the GM of an independent league team, the Palm Springs Suns. The Dodgers did not shun him. He regularly visited with Fred Claire and they would discuss baseball.
Tommy Lasorda said they hung an innocent man. He wrote an autobiography, but no one would publish it. When he heard that Ted Koppel was in LA, they got together over coffee. There are a lot of genuine bigots in this country, I do not think Al is one of them he said.
Through it all, Campanis handled it with class. Al passed away on June 21, 1998, after a series of strokes. He was 81 years old. A true baseball man through and through.