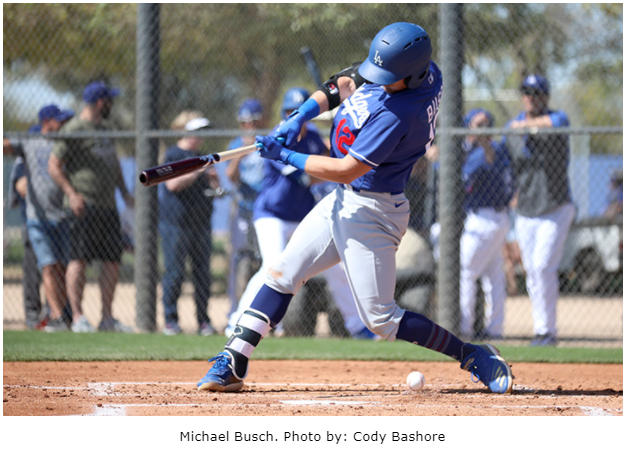 Now that my appetite for HOF stories has been satisfied, it is now time to try and write more Dodger related posts.  Because there is so much going on.
One of my favorite Dodger prospects has been Michael Busch.  I was never too enamored with Kody Hoese, and got into multiple verbal scuffles with those who thought he was going to be the starting 3B for LAD no later than 2022.  Both Hoese (#25) and Busch (#31) were 1st round picks in the 2019 draft, and the talent evaluators agreed with their first round status.  While I was hoping for Gunnar Henderson with the 25th pick, I cannot fault the Dodgers for going with a RH seemingly power hitting 3B.
I admit I am a College Conference snob.  The SEC, Atlantic Coast Conference (ACC), and PAC12 are the top baseball conferences in NCAA Division 1. The Big West with Cal St. Fullerton and Long Beach State are in the next tier with the Big 12 and Big 10.
Michael Busch played for North Carolina, one of the perennial top teams in the ACC.  Kody Hoese played for Tulane in the American Athletic Conference, a conference that has produced no NCAA Division 1 World Series championships, and very few participants.  Wichita State did win a D1 World Series, but not while in the American Athletic Conference.  When hitters can put up big numbers with the pitchers that come out of the ACC or SEC or Pac 12, I put more stock in that production.  They are facing much better pitching.
Busch College stats – .282/.429/.492/.921 – 101K vs 143 BB, 32 HR, 142 RBI
Busch Cape Cod (111 PA) – .322/.451/.567/1.017 – 17 K vs 19 BB, 6 HR, 17 RBI
Hoese College stats – .316/.402/.541/.943 – 92 K vs 73 BB, 28 HR, 105 RBI
Hoese New England Collegiate (173 PA) – .283/.370/.493/.863 – 37 K vs 17 BB, 7 HR, 25 RBI
Busch Pro Stats – .267/.374/.493/.867 – 301 K vs 151 BB, 52 HR, 177 RBI
Busch AFL (22 PA) – .231/.546/.462/1.007 – 9 BB vs 4 K, 1 HR, 1 RBI
Hoese Pro Stats – .234/.291/.339/.629 – 164 K vs 55 BB, 13 HR, 85 RBI
Hoese AFL (60 PA) – .200/.250/.327/.577 – 17 K vs 3 BB, 2 HR, 5 RBI
Note – Of the 28 college HR hit by Hoese, 23 were hit in his final season.  Kody had a fantastic final season at Tulane which skyrocketed his draft status.
Busch has been highly regarded for several years professionally.  He has been a Top 100 prospect in:
Baseball America – pre-2021 (#87), pre-2022 (#76), pre-2023 (#54)
MLB – pre-2022 (#67), pre-2023 has not been selected as of this post, but he is expected to be so ranked
Baseball Prospectus – pre-2021 (#91), pre-2023 (#59)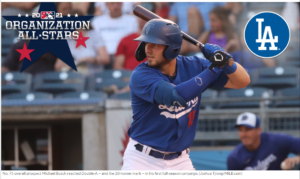 Hoese has not appeared on any Top 100 lists.
Busch had more walks than strikeouts in college, and not by a small margin. He has a tremendous discerning eye at the plate, with quick hands that he could barrel up and hit to all fields.  When I saw video of him on the day of the draft, I was impressed.  He was a hitter.
It really was not difficult for me to predict who would become a better professional player.  I am not smarter than those who participated in the draft.  Nowhere close.  As I said, I am a college conference snob.  And I read some scouting reports that said that Hoese had a long swing with slow bat, and would have real problems catching up to high velo up in the zone.  LAD development team obviously believed they could fix that flaw.
Busch will make his MLB debut at some point this year.  The problem for Busch is that he has no position.  He played 2B in an era that did not require quickness because of the shift.  Is he a legit MLB 2B?  His bat would seem to say that he is.  But his glove?
Busch has just been named the 2nd best 2B prospect by MLB.  He is an extremely hard worker, and has fashioned himself into an adequate 2B per MLB (and other scouting reports – See below).
Miguel Vargas appears to be the chosen prospect that will get the longest runway.  I have no problem with that.  I think he has the potential to be a .800+ OPS player.  But can he play an adequate defensive 3B?  I think we are going to find out.
Busch has been compared favorably to Max Muncy.  Offensively, I think he can get there.  Defensively?   Muncy made his MLB debut with Oakland as a 24 year old, but did not play significant innings until he was 27 with the Dodgers.  Busch is 25 this year.  Both Busch and Muncy are patient at the plate…some say too patient.
Baseball America Scouting Report:
Busch's exceptional plate discipline is the foundation of his success. He exudes calm in the batter's box and rarely chases outside the strike zone, putting together high-quality at-bats and forcing pitchers to throw the ball over the plate. Busch unloads on balls with a short, balanced swing from the left side and drives them hard in the air from left-center to right-center field. He occasionally gets underneath fastballs at the top of the zone, but he has the strength, hand-eye coordination and feel for the barrel to do damage against all types of pitches. Busch can be too passive at times, leading to too many strikeouts looking, but he has improved his aggressiveness and projects to be an average hitter with plus power as he further refines his approach. A first baseman in college, Busch transitioned to second base as a pro and remains a work in progress defensively. He's a fringe-average runner with limited mobility and isn't particularly smooth, but he tends to make the plays even if it isn't always pretty. He projects to be a fringy but playable second baseman with a below-average arm.
MLB Pipeline Scouting Report:
With his sweet left-handed stroke, patient approach with good balance, uncanny hand-eye coordination, bat speed and strength, Busch is equipped to hit for both average and power. He focused more on the latter in 2022, more aggressively attacking pitches early in counts and driving the ball with authority to all fields. He continued to draw walks and present an offensive profile similar to Max Muncy's, though Busch is a better pure hitter.   

Though Busch has fringy speed and arm strength, he has worked hard to improve his quickness and arm since turning pro. Evaluators inside and outside of the organization are impressed at how he has transformed himself into an adequate defender at second base. He's still best suited for first base and began seeing action last season in left field, where he could be passable with more experience. 
Baseball Prospectus Scouting Report:
He spent the 2022 season at the two highest levels of the Dodgers' farm system, slashing a combined .274/.365/.516 with 70 extra-base hits—38 doubles and 32 homers. While he's prone to striking out, whiffing 167 times at a 26% clip last season, he also sees nearly four pitches per at-bat and posted a 12% walk rate. While he crowds the plate (nine HBP in '22) and employs a slight pull bias in his approach, Busch is a well-rounded offensive contributor, capable of driving the ball to all fields and contributing from any spot in the lineup. 

His versatility also extends to the defensive side, where the second baseman by trade manned left field and first base at times last season. While he's not flashy with the leather, his athleticism and baseball IQ allow him to provide adequate defense at multiple positions. Busch may be most valuable as a super-utility player, capable of spelling teammates across the diamond while providing some offensive firepower.
I am comfortable with the scouting reports as they basically say the same thing.  Now where does he fit in the LAD depth chart.  He is going to get a chance at 2B in ST.  Without knowing if there will be other roster changes, I would project that he will be optioned to OKC during ST.  Vargas and then Outman will get the youth movement treatment.
I remain a Michael Busch fan, and believe he will be a MLB hitter.  I only hope that he does so as a Dodger.  I think Busch will be up and down during the season, but will replace Muncy on the roster next year as a 2B/LF/DH.
My fear is that Busch is the perfect trade option for a specific need at the ML level, and I do believe that the Dodgers will rue the day they trade him, as he could go on to become another Yordan Álvarez.  Okay, maybe that is a stretch (and my bias is showing), but he will be a ML hitter.  He is a grinder…the proverbial junk yard dog.  He has the same personality on the baseball field as did Chase Utley.  He will do anything to win.  Busch is not someone that you throw in as an additional prospect. His underlying attributes are special.
Busch has a ceiling as an All Star at 2B, and a floor of a MLB utility/DH.
I am a Green Bay Packers fan, so my season has been over for a while.  I am indifferent to the 49ers.  But I am a HUGE Christian McCaffrey fan since his Stanford days.  To me, he is a FOOTBALL PLAYER.  That is how I feel about Michael Busch.  He is a BASEBALL PLAYER.