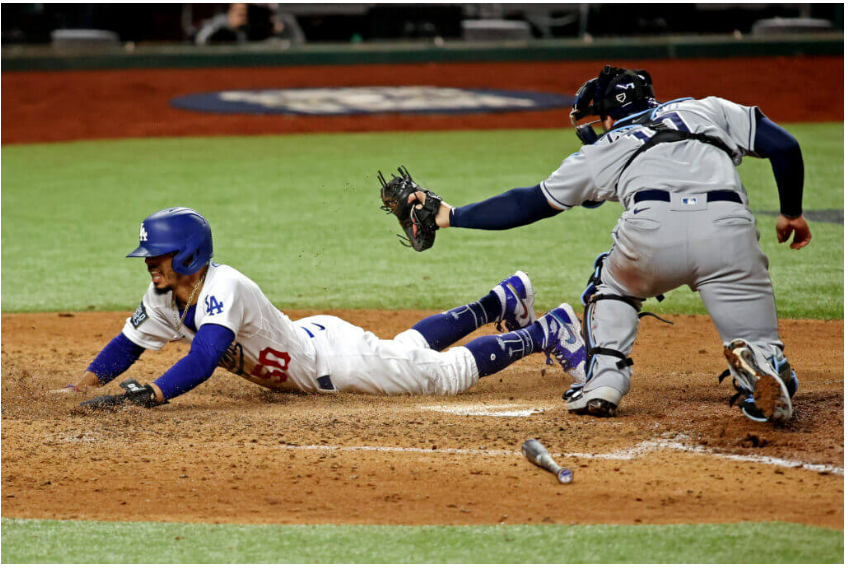 "Three inches. The difference in a World Series." — Mike Roberts, Longtime coach, organizational baserunning coach and author of two books on baserunning.
"It was a World Series-winning play." — Dave Roberts, manager of the 2020 world champion Los Angeles Dodgers (and owner of 243 regular-season steals in his 10-year career, plus one in Game 4 of the 2004 ALCS that landed him in the Red Sox Hall of Fame.).
Peter Gammons is one of the best baseball journalists in our time.  He is biased towards Boston, but for some of us, that is not always a bad thing.  Like many of us, Gammons longs for the game "pre three outcome" approach. One of the lost foundations from those earlier times was baserunning.  In a recent The Athletic article,   Gammons was writing about a lost art of baserunning, and reminding everyone how important it is by reliving the 2020 WS Game 6 throw to the plate from Ji-Man Choi who was playing up, that Mookie Betts beat to score a run and a 2-1 lead.  As Mike Roberts said…by three inches.  Yes Betts was a Dodger at the time, but he was drafted by and developed by Boston.
"Watch that Betts play and what you see is the result of great concentration and anticipation." — Hall of Famer Jeff Bagwell, one of the best baserunners of his era.
"It was the product of visualization." — George Lombard, baserunning coach on the 2020 Dodgers, bench coach of the 2021-22 Tigers.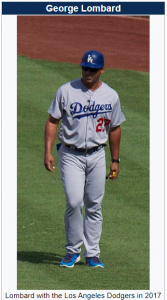 The Dodgers are running more this year, and it has not gone unnoticed by the W-L record of the best team in baseball.  Not just stealing bases.  But reading the situation and being in a position to take the extra base.  How many times has Freddie Freeman taken the extra base?  Mookie?  Trea Turner?  Of course Turner is fast, but he is an instinctive base runner.  Gavin Lux is fast, but he is not yet an instinctive base runner, except when he hits triples.  He is currently tied with Amed Rosario (Cleveland) for most triples in ML (7) thus far in 2022.
Great baserunners don't have to have great speed. No one will watch Freddie Freeman in a foot race and believe he possess great speed.  However, Dave Roberts watches Freddie and notices;
"his constant intent to get every base he can. Great baserunners hit what they know is a single, and think double. They hit what they know is a double and they think getting to third. That's Freddie."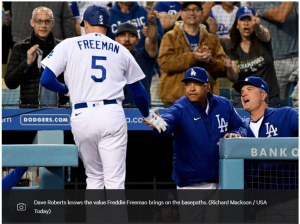 Terry Francona is old school baseball.  In the 2022 season, through August 20, 22.2 percent of nine-inning major league games were decided by one run, and another 8.5 percent were decided in extra innings, which means around 30 percent were essentially one-run games. "How many of those games can be decided by running down the line on a groundball at sprint speed?" asks Sandy Alomar Jr., who Francona has in charge of the Guardians' baserunning.
"Terry Francona preaches practicing and playing with full speed baserunning," says Alomar Jr. "Take batting practice? You're expected to run hard around the bases. Practice at full speed, turn bases at full speed."
This concept is being delivered all the way down to the Arizona Complex League for Cleveland.  A scout who recently took in the Guardians' Arizona Complex League team says their younger farmhands have to run base to base after their turns in the cage, at top speed.
How many runs were scored by LAD with Freddie, Mookie, and Trea taking the extra base.  Freddie Freeman has been an example of sheer baseball IQ, by going oppo when the pitch calls for it, or by taking a bit off the swing when a single is all that is needed to get the run, instead of a swing from the heels.  Lux is already catching on.  When Max Muncy is good, he is hitting into left center.  Will Belli catch on?
But it isn't just his hit placement that players should emulate.  He knows how to run the bases.  From the crack of the bat, he knows if he can get that extra base, whether on the bases or at the plate.  It has already registered in his mind.
But for all these examples of fundamental focus and baserunning excellence exhibited by the Dodgers and the Guardians, they stand out as more as exceptions than rules. Every one of the more than 20 general managers, managers, coaches and scouts interviewed by Gammons on baserunning traced that to the way young players are brought up today.
"It's all about home runs, exit velocity and swinging as hard as you can in the programs and showcases, travel teams, even the minor leagues," says Buck Showalter.
This is the complaint that many of us have about today's game.  It is taught all the way down to Little League.  The kids want that high trajectory max exit velo, because they want to emulate the ML players.  Make no mistake, the Dodgers preach high trajectory and max exit velo as well.  But it does not end there.  They preach scoring runs.  The more runs, the better the chance at winning games.  Isn't that the ultimate goal?  And baserunning leads to more runs.
"We'd better get Tony Gwynn, Wade Boggs and Rod Carew out of the Hall of Fame," Don Mattingly once joked. "They didn't have the big exit velocity numbers."
While Derek Jeter ran the business side of the Miami Marlins operation, baseball ops were handed to former Yankee coach Gary Denbo. His young, mainly analytics-focused aides were tools/exit velo enthusiasts rather than scouting eye disciples. They do not have one position player remaining from dealing off Giancarlo Stanton, J.T. Realmuto and Christian Yelich. Apparently the Braves were dangling Austin Riley in a package for Yelich.  I bet they are glad the Marlins flinched on that one.  With this approach, is it any wonder the Marlins are always outside the playoffs?
It is a lesson that teams have to learn when trading ML players for prospects.
"The gap between the analytics-heavy general managers and those, like the Dodgers, who have very good analytics, but the personnel and development decisions are made by baseball people" is significant, says one American League general manager.
Per Peter Gammons, in the Andrew Friedman–Brandon Gomes regime, there is a circle of a dozen respected baseball people who gather for trade deadline meetings, and every one of them has a voice. They meticulously scout their own organization, major and minor leagues and all parts international. One of their top scouts was sent to Spain for a tournament last winter.
Dave Roberts, Jeff Bagwell, and Chase Utley talk incessantly about the unselfishness involved in baserunning. One of the impressions many LAD fans had about Chase Utley was that he ALWAYS played at breakneck speed, but he also talked of the importance of going hard from base to base. 
"If I'm on first with a runner on second and one out," Utley used to say, "I have to go as hard as possible into second to break up the double play — that's a run. It may force an errant throw so I'm safe, or the batter can get to second. It's all about winning. If the infielder in the middle of the play doesn't know the speed of the runner, that's not the runner's fault."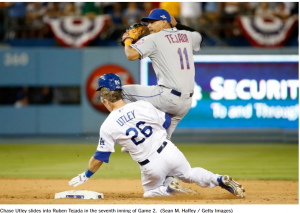 Bagwell, who played the game like Utley, says the new rules around the second base bag "make it easier to be bad."
Gammons continues "showcase baseball makes it a selfish game, "all about me" baseball."
 Bagwell believes baserunning has to include intense concentration. Which is the term he used when describing Mookie's baserunning exploits in WS Game 6.
"When you're on base, you have to be aware of where the infielders and outfielders are playing," he says. "You have to think, 'my job is to score a run, I have to try to eliminate an out.' Baserunners have to try to force the pitcher to get 29 or 30 outs. If the shortstop's playing towards the hole and I'm on first base, can I beat him to the bag? It gives your teammate a hit, may produce a run for the team. Run with anger, like Hal McRae and George Brett back in their time." 
The people who run baseball have to look at the development system they have encouraged to grow, where the game is exit velocity and distance, with little encouragement to make contact with a runner on third and less than two out or use baserunning to create defensive mistakes or force the opposition — and its pitchers — to get outs beyond the analytical 27 needed in nine innings.  The Dodgers seemingly look for players with this skill, which goes back to the conversation on FV.  Skills sets are one thing, but using them to be able to score runs is another.  Maybe that is why players with 40, 45, 45+ overall FV play in the LAD organization that consistently is one of the best 5 teams in MLB every year (at least since 2013, and for several years to come).
Gammons noted that when Chase Utley reached Triple A, one club's analytics staff predicted he would never start 100 games in the majors. I guess we know that staff member really had no clue as to the type of ballplayer Chase Utley was.  IMO Chase Utley is going to Cooperstown. The largest chunk of Chase's pregame routine each night was to work on ways to help his team win.
Mookie and Freddie are current LAD examples of this type of player…with the bat, with the glove, and with their legs.
 "The way baseball is trending, we will see fewer and fewer like him (Mookie) as time goes on."
Gammons' focal point was on the Game 6 WS run scored by Mookie, but he could have summed it all up with players like Freddie, Jeff Bagwell and Chase.
MiLB Game Summaries
AAA – OKC Dodgers beat El Paso Chihuahuas (San Diego) 7-4
James Outman hit for the cycle. He went 5-5 with a walk off 3-run HR (7), 2 triples (4), 1 double (6), and 6 RBIs.
Miguel Vargas went 2-4 with a double. He is now batting .300 with an .894 OPS.
Bobby Miller started and pitched 7.0 innings. He allowed 2 runs on 5 hits and 1 walk.  He recorded 7 Ks.  He threw 92 pitches, 64 for strikes.
Blake Treinen had another rehab game, and this one did not go well. In 0.1 IP he allowed 2 runs on 3 hits and 1 walk.
Victor Gonzalez also had another rehab game, and he did well. He pitched a scoreless inning, but did allow a hit and walk.
AA – Tulsa Drillers lost to Arkansas Travelers (Seattle) 10-4
Jon Rooney could not get out of the first inning. It went downhill from there.
Andy Pages went 2-3 with a HR (23) and 2 RBIs
Justin Yurchak went 2-3
A+ – Great Lakes Loons beat Fort Wayne TinCaps (San Diego) 5-2
Emmet Sheehan pitched the first four innings allowing 2 runs on 2 hits and 2 walks, with 8 K's.
Jeff Belge (2.0), Aldry Acosta (1.0), Ryan Sublette (1.0) and Ben Harris (1.0) pitched 5.0 scoreless innings. Ben Harris continued his outstanding relief work with 2 Ks in his 1.0 IP on 11 pitches.
Damon Keith hit a 2-run HR (5)
Luis Yanel Diaz solo HR (5)
Ismael Alcantara solo HR (4)
José Ramos solo HR (19)
A – Rancho Cucamonga Quakes beat Visalia Rawhide (Arizona) 5-1
Danny Duffy started in a rehab start and completed 1.0 perfect inning with 2 Ks.
Justin Wrobleski made his RC debut and pitched 3 scoreless innings
Orlando Ortiz-Mayr struck out 8 in 4.0 IP
Jacob Meadow made his RC debut with a perfect 1.0 inning with a K.
Yeiner Fernandez went 3-3 with a double (10)
Griffin Lockwood-Powell went 2-4