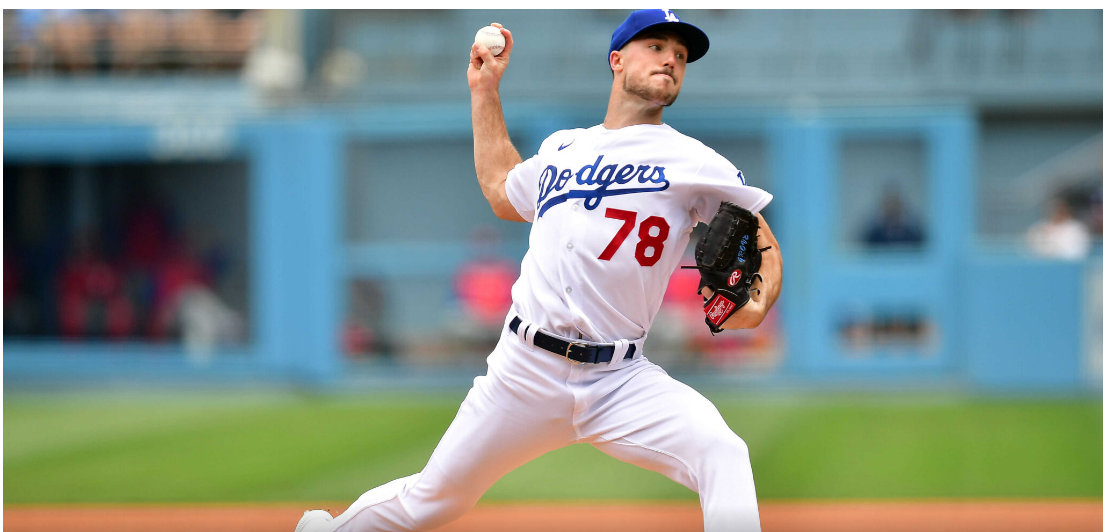 Before I forget, I think last night's game had the worst plate umpire that I can remember.  And for both sides.  Mark Carlson was incredibly bad.  He does have a reputation for making some horrendous calls behind the plate.
Yesterday, Sam Oyed brought up the change in approach to Miguel Rojas, and the lack of SB.  While others were justifiably blaming the players, Sam pointed to a more important concern (at least for me); how the Dodgers seem to approach the current game.
After a tough opening series against a team the Dodgers should have beat into submission, they ended up splitting.  The DBacks do have some pop in the lineup, but they are built on speed…offensively and defensively.  They have a team full of potential GG players.  Christian Walker (already a GG), Ketel Marte, Nick Ahmed (former GG) or Gerardo Perdomo, and all three OF.  At the end of the 2023 season, they should be at or near the top in SB, and probably at the top in SB%.
I recognize that many do not consider Arizona to be much competition, but IMO, they are the third best team in the NL West and should be at least 81-81 in 2023.  They were 22 games better in 2022 than they were in 2021.  They were 74 and 88 last year, and the way they are built they are at least 7 games better in 2023.
The DBacks forced the Dodgers to make plays, and they could not.  4 stolen bases and a perfectly executed run scoring (game winning) bunt single by one of fastest runners in MLB; Jake McCarthy.  Two of the Corbin Carroll SB were against Noah Syndergaard, the worst pitcher at holding runners on.  Smith never attempted to throw as Carroll clearly stole the bases off Noah.  For most of the game, Noah was outstanding on keeping the Snakes off the bases.
The Dodgers attempted 3 steals over the weekend series.  David Peralta and Freddie Freeman were thrown out in their attempts.  Not the two I would have chosen to get the running game going, but they at least forced the Snakes to make a play, and they were both originally called safe.  So they were close. But they are not playing horseshoes.
JDM attempted to go from 1st to 3rd on a single into LF and was thrown out by a bunch.  I have no objection to trying to force the opposition into mistakes.  But why try to force the team to make a play with JDM as a baserunner?
James outman has an OBP of .545 with 2 hits, 3 BB, 1HBP in 11 PA.  One of those hits was a HR, but with the other 5 times he reached base, he only attempted 1 SB, and was easily safe.  In the 2nd inning of Sunday's game, James is HBP with 2 outs and nobody on base.  CT3 gets 6 pitches with the slow pitching RHP Zach Davies on the bump, and Outman does not make an attempt.  Why?  Were they waiting for CT3 to accidentally run into a pitch for a HR?
For the last two years, Miguel Vargas is 27-5 in SB attempts.  He is not Corbin Carroll, but I expect he has a better chance than Peralta or Freeman.  In 13 PA, Miggy has reached base on 10 of those.  And still he has yet to attempt a steal.
The Dodgers lost two of the fastest runners in MLB (Trea and Belli) and replaced them with the lumbering JDM, David Peralta, Miguel Rojas, and Jason Heyward.  Of that foursome, only Rojas figures to be able to have more SB than CS, if given the opportunity.
Everybody knew that there would be more baserunning in 2023, and yet the Dodgers ignored that strategy.  Arizona exploited their strengths as well as the Dodgers weaknesses.  That is how you get a split against a superior team.
I was prepared to get on my bandbox and rant about the Dodgers apparent affinity with the Three Outcome Approach as their offensive strategy.  Be patient at the plate and hit HRs.  Strikeouts do not matter.  The three outcome approach was on full display over the 4-game series.  After the weekend, they were tied for the MLB lead in HRs with 7 (with Baltimore and NYY), and BB (23), and were tied for 5th in strikeouts (39) with 4 teams tied with 2 Ks ahead of them: Giants, Marlins, Rockies, and Astros.  The only surprise is the Astros.
Above I alluded to the CT3 AB whereby Outman did not attempt to steal 2nd in the 2nd inning,  and I sheepishly stated that perhaps the Dodgers were waiting for CT3 to accidentally run into a 2-run HR.  I guess that makes sense since for the last three games of the weekend, the Dodgers scored 12 runs, and 11 of them were directly due to HRs.   They lost two of them but they did hit 6 HRs, walked 18 times and struck out 27 times.  So they worked their approach.  The team was 3-19 in the last three games WRISP.
It started again for the first 4.2 innings of LAD offense.  They had 2 runs, but they were a result of a CT3 HR.  Then with two outs in the 5th and the Dodgers down 4-2, Freddie hit a double.  Rockies pitcher, Ryan Feltner, then walked Will Smith and Max Muncy, and he was gone.
Jake Bird relieved Feltner and the first batter he would face was JDM.  On the first pitch, JDM hit a long fly to right that the wind blew foul.  On the second pitch, the hitting WRISP drought was over as JDM singled home a pair to tie the score.  On a 2-0 pitch, James Outman crushed a ball to the RF wall for a triple, and the Dodgers had the lead.  Miguel Vargas followed with a single for another run.
While Vargas was not in scoring position, he came home to score on a Jason Heyward HR.  The Dodgers scored 7 runs in the 5th all after 2 outs, with only two a result of a HR.
In the 7th, JDM led off with a double, and Outman got another hit WRISP with his 2nd triple.  He came home on a productive out; a sac fly by Jason Heyward.
The team went back to the HR route with a two run shot by Will Smith.  Will Smith can get his hands to the ball so well on the inside pitch.  He has quick hands, and is strong.
Freddie had three hits and a BB, Outman two hits (both triples), a double and single for JDM, and a single and HR for J Hey.
LAD scored 13 runs on 13 hits, 5 BBs, 11 K, and 3HRs.  They still lead MLB in HRs and BBs, and moved up to #3 in Ks.  The team went 4-9 WRISP.
For 4.0 innings, Michael Grove was money.  4.0 IP and 46 pitches.  The 5th will look like he ran out of gas, but Mark Carlson stole a strike out throw em out DP.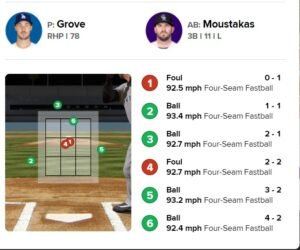 Pitch 6 was clearly a strike.
He seemed to lose concentration after that.  Doc also said that Grove was under the weather for the game, and ran out of gas.  He was robbed, but he has to learn to let it go.  He will learn.  He pitched an outstanding game.
Alex Vesia redeemed himself with a very good 6th inning.  I think the announcers made a good observation about Vesia and the pitch clock.  Vesia is known for walking around the mound after an out to collect his thoughts.  He can no longer do that.  Did that have an effect on him against Arizona?
Bickford strikes out the side in the 7th.  Shelby Miller finishes up the final two innings, while striking out the side in the 9th.
I know there will be those who will point to run differential (+20) and tell us how great the offense is.  For me, they are 3-2 and won all three in blowout fashion, and lost the two low scoring games.
Great win for LAD.  Let's see if they can finish off Colorado and head out on the road.
How many miss this speed?