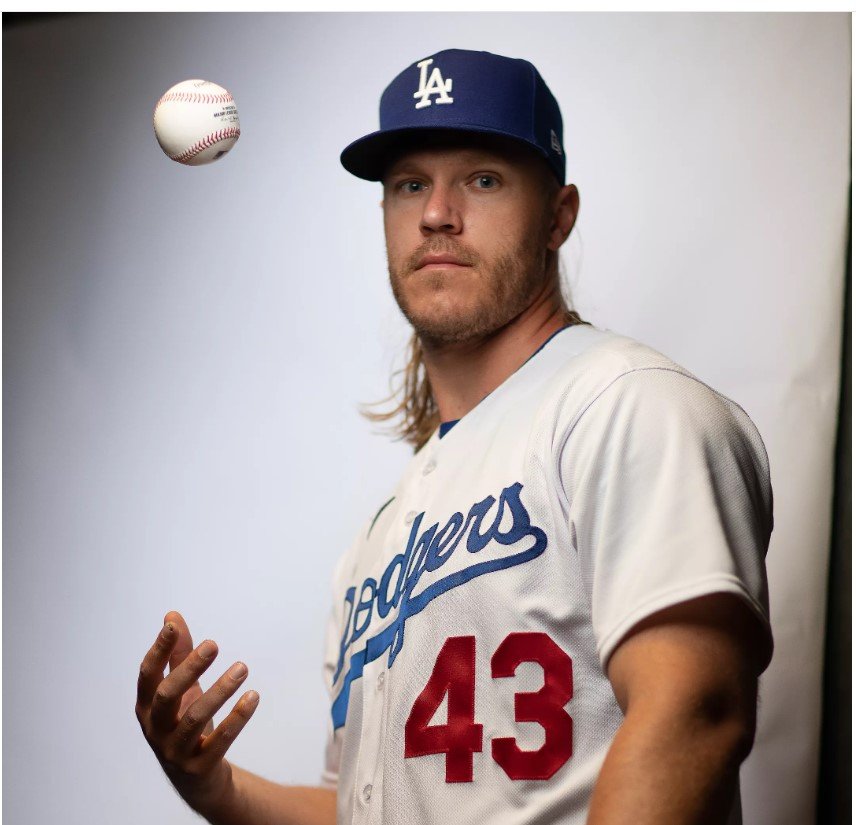 After losing a pair of 2-1 games, the Dodgers split the opening series 2 games apiece.  I do not need to hear about the run differential to distinguish the haves and have nots.  The Dodgers scored 13 more runs than did Arizona, and they still split the series and are tied with 2-2 records.
For the second game in the series, the Dodgers wasted a gem from a starting pitcher.  Noah Syndergaard pitched extremely well for the 6.0 IP + 1 batter in the 7th.
Outside of last year, Zach Davies has owned the Dodgers.  They have a hard time with that change.  d
For the two 2-1 losses, the Dodgers got solo HRs for their only runs.  Mookie in game 2, and Will Smith in game 4.  The Snakes use a 2-run HR for the Game 2 win, but used their feet for the Game 4 victory.
Corbin Carroll got 2 stolen bases on consecutive pitches without a throw, and scored on a Geraldo Perdomo bloop double.  Carroll easily scored from 3rd, but with his speed, he might have been able to score from 1st on the double.
Caleb Ferguson inherited a runner in the 7th but got out of the inning with no damage.  Evan Phillips allowed a single but he was erased on a DP, and held the Snakes scoreless in the 8th.
Brusdar Graterol entered the 9th, and did not show very well.  Ketel Marte was 1-14 when he walked to the plate in the 9th.  He promptly crushed a ball (103.8 MPH) down the left field line for a leadoff double.  Lourdes Gurriel Jr. followed with a single into RF.  Mookie charged from the onset of the hit and fired a strike on a fly to Will Smith to throw Marte out at home.  The play was challenged by Arizona, but the umpires said there was a tag and Smith did not block home.
Gurriel inexplicably stayed at 1B. Christian Walker then singled up the middle for the DBacks third consecutive hit off Graterol.  Corbin Carroll grounded a ball up the middle, but Miguel Rojas got the ball and beat Walker to 2B, but could not double up Corbin Carroll.  Carroll stole 2B.
With runners on 2nd and 3rd, Jake McCarthy laid down a perfect bunt for an RBI single.  It was his first hit of the year.  Graterol made a valiant effort, but even if he had fielded it cleanly, McCarthy would probably have still beat it out.  Once again, speed kills.
Later in the game, James Outman stole the first LAD base of 2023.  LAD has 1 for 4 games, Carroll gets three.
The game was tied at 1-1 in the 9th with Graterol taking the mound.  Nobody warming up…just in case.  This is a constant criticism of Doc.  He believes in his players so much that he has a tendency to leave some in too long.  He needs to show them confidence. This was a common occurrence with Kenley Jansen.  Pedro Baez and Chris Hatcher were also left in too long when they ran into trouble, and those were all before the 3 batter rule.
Brusdar is not a swing and miss type pitcher.  Batters usually make contact.  Why not have someone in the bullpen warming up…just in case?  I was not the only one thinking this.  Both Joe and Orel made comments to that point at least twice in the inning.  After three consecutive hits, two north of 100+MPH exit velo, and the third at 96.5, it was clear that Brusdar did not have it on this day.  Because of Mookie's arm, the Dodgers were still tied.
I have zero problem with Graterol getting the call for the 9th, but there should have been someone backing him up.  Every reliever except for Andre Jackson should have been available.  Yency Almonte, Shelby Miller, Phil Bickford, and Alex Vesia should all have been available.  The first three were outstanding in the first game.
It wasn't the pitching that did the Dodgers in.  It was the lack of hitting WRISP that beat the Dodgers.  In games 1 and 3, both LAD wins the Dodgers were 5-11 and 3-6.  In games 2 and 4, both LAD losses, the Dodgers were 0-6 and 0-7.  Shades of NLDS???
The starting pitching was brilliant.  Noah Syndergaard was fantastic for 6.0 IP.  4 hits, zero walks, and 6 Ks. He was losing velo as the game went on, but he was still hitting spots.  I think he has erased some doubts at least for one game.
4 games started and 4 quality starts.  25 IP, 4 runs, 15 hits, 1 walk, 1 HBP, 25 Ks.  Three SP had WHIPs of 0.67, while Dustin May had a WHIP of 0.57.  Outside of two relievers, the relief was excellent.  Even with those two relievers, if the Dodger batters were more successful hitting WRISP, those two pitchers would not have been scrutinized as much.
The Dodgers were 1-2 after their first series in 2022, and they went on to win 111 games. They were 2-2 after the first 4 games.  What does that mean?  Absolutely nothing.
The Dodgers entertain the Rockies for the next two games.  The Rockies are coming off a split in a 4 game series in San Diego.  Michael Grove gets the start for the home team LAD.  He has tough coattails to follow.