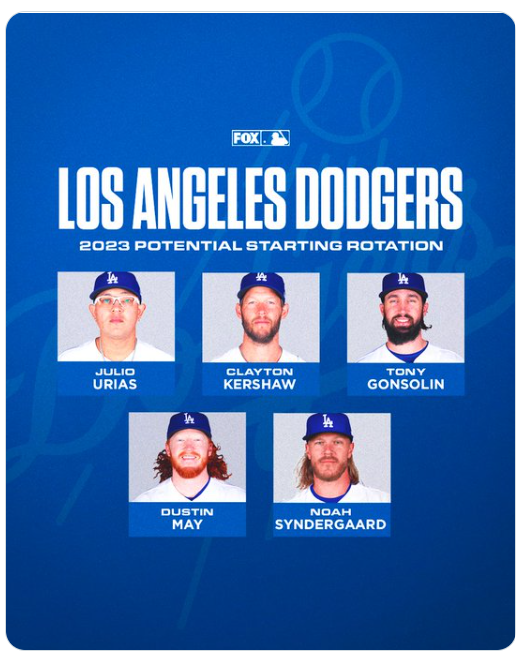 The 2022 season has come to an end, and we Dodgers fans are going to have a while before we forget the ending.  The 2023 season cannot come soon enough to help salve the wounds of 2022.  But as soon as ST begin, the sooner we can begin to look forward to 2023.
The first LAD spring training game will be Saturday, February 25 against Milwaukee.  We still do not know the final makeup of the projected position players for the LAD 26 man roster.  Will the team go all in with the youth movement, or will they make a trade to get a SS or CF?  I have remained consistent that I believe that AF/BG have gone all in on giving Gavin Lux his full runway to prove he is a ML SS (or not).
My biggest concern is not Lux, but Max Muncy (or Michael Busch) at 2B, and Miguel Vargas at 3B.  Like Lux, Vargas is going to get a full runway to prove he is more than a DH (or not).
CF (or LF) is still up in the air.  As projected, Trayce Thompson looks to be the CF and James Outman the LF, or vice versa.  Is CT3 going to be the platoon partner with Outman?  Is Jason Heyward going to be the platoon partner for Thompson.  Or Steven Duggar?  Or Bradley Zimmer?  Heyward is already working out a Dodger Stadium and has been issued a number. He figures to be one of the 26.
While the position players seem to be in flux, the pitching seems to be more set.
Julio Urias (L)
Clayton Kershaw (L)
Tony Gonsolin (R)
Dustin May (R)
Noah Syndergaard (R)
Ryan Pepiot (R)
Bobby Miller (R)
Gavin Stone (R)
Michael Grove (R)
Andre Jackson (R)
Sure it is easy to speculate that Clayton Kershaw, Tony Gonsolin, and Dustin May cannot make it through the season without visiting the IL. The odds are better than not that all three will visit the IL at least once.  If the Dodgers need another SP at the deadline, I do believe they will go out and get one, regardless of where they are in relation to the CBT threshold. I truly believe that AF/BG believe the offense will still score runs, so the key to the playoffs will be the strength of the pitching…principally starting pitching.
Let's review the starting pitching for the other NL contenders:
NY Mets
Justin Verlander (R)
Max Scherzer (R)
Kodai Senga (R)
Carlos Carrasco (R)
José Quintana (L)
Scherzer's IP has gone from 179.1 (2019), to 67.1 (2020), 179.1 )2021), and 145.1 (2022).  He could not answer the bell in the 2021 playoffs, and his IP regressed due to injury in 2022.  You are concerned about Kershaw, but not Scherzer?  Nobody knows anything about Senga, but neither Carrasco nor Quintana put the fear into the hitter.  Good?  Certainly, but not elite.
NYM's depth is Tyler Megill (R), Joey Lucchesi (L), and Jose Butto (R).  I like LAD's depth more than NYM's
San Diego Padres
Yu Darvish (R)
Joe Musgrove (R)
Blake Snell (L)
Nick Martinez (R)
Seth Lugo (R)
I do not need to determine who the Padres depth is, as their #4 and #5 pitcher are nothing more than depth themselves.  Although, their top 3 are formidable.
Atlanta Braves
Max Fried (L)
Kyle Wright (R)
Charlie Morton (R)
Spencer Strider (R)
Mike Soroka (R)
Ian Anderson (R)
Bryce Elder (R)
Kolby Allard (L)
St. Louis Cardinals
Adam Wainwright (R)
Miles Mikolas (R)
Jordan Montgomery (L)
Jack Flaherty (R)
Steven Matz (L)
Matthew Liberatore (L)
Zack Thompson (L)
Philadelphia Phillies
Aaron Nola (R)
Zack Wheeler (R)
Taijuan Walker (R)
Ranger Suarez (L)
Bailey Falter (L)
Milwaukee Brewers
Corbin Burnes
Brandon Woodruff
Freddy Peralta
Eric Lauer
Wade Miley
Wade Miley is the depth, but their first four seem to be the toughest rotation the Dodgers would face.
San Francisco Giants
Logan Webb
Alex Cobb
Sean Manaea
Ross Stripling
Alex Wood
The Dodgers had no problem with Manaea, and with Alex Cobb as the #2, I do not think the Giants rotation will be a huge deterrent.  I do think the Giants will be calling on LHSP prospect Kyle Harrison at some point in the season.  Jakob Junis and Sean Hjelle will also get calls.
Outside of possibly Milwaukee, I do not believe there is a better rotation than the Dodgers.  And I think that while the Brewers may challenge the Dodgers, I do not believe they are better.
With Mookie, Freddie, Will Smith, Gavin Lux, JDM, and a fully rehabbed Max Muncy (and CT3) would provide enough offense to make up for any potential shortfalls from Miguel Vargas, James Outman, and Trayce Thompson.  The Dodgers scored more runs than any other team in 2022 without any meaningful production from Cody Bellinger, Max Muncy, or CT3 (or Joey Gallo).  What if Trayce Thompson mirrors his 2022 production, and either Miguel Vargas and James Outman actually produce positive offense?
While the 2023 team is not even remotely built to reach 111 wins, I can certainly understand why BetMGM has made LAD co-favorites with NYM to win the NL Pennant.
I still believe there will be changes.  Will it be Bryan Reynolds, Dylan Carlson, Jarred Kelenic, Willie Adames, Amed Rosario, Royce Lewis, Jordan Westburg…?  There is still 2 ½ months before the beginning of the regular season and 6 weeks before Game 1 of the 2023 ST.