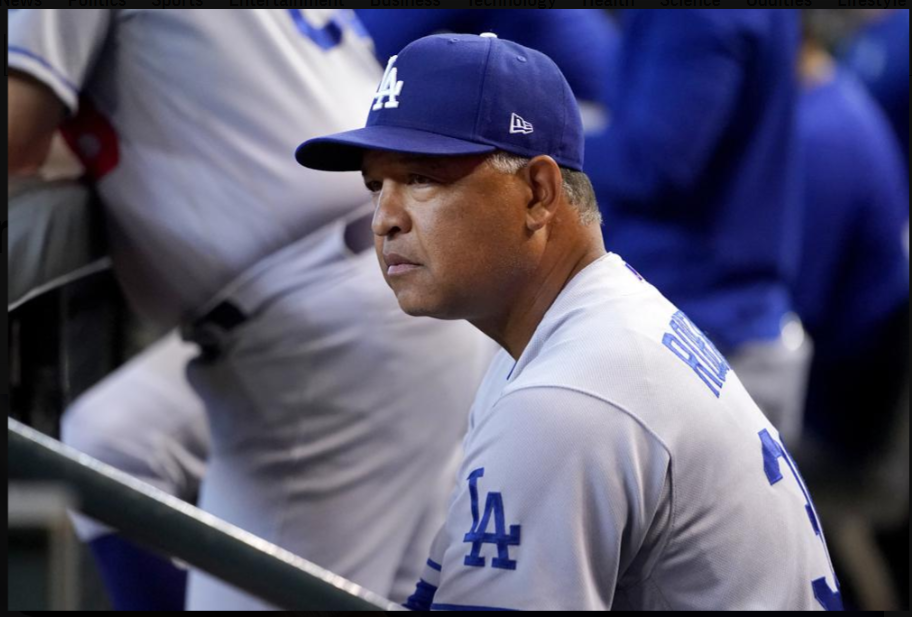 Ask ten Dodger fans their opinion of Dave Roberts and you will most likely get ten different takes. Some love him, some hate him, some think he is absolutely the wrong guy managing the Dodgers.
Myself, I have mixed feelings about Dave. On one hand, he is a great communicator. As indicated by the fact that he has reassured Miguel Vargas, who many feel needs some more time at AAA to get his head right, that he is part of the plan.
On the other hand, I can point to numerous times when I have felt he was out-managed by the opposition. I do not believe that Roberts is a very good baseball tactician. In WWII, there was little doubt amongst anyone that George Patton was a tactical genius. He could play out battle scenarios in his head before they happened and his planning was pretty flawless.
Roberts is not that kind of manager. Bochy, even though his career winning pct is nowhere close to Roberts, is considered a better tactician. Bochy is in fact under .500 for his career as a manager. But his Rangers may get him above that sometime this season.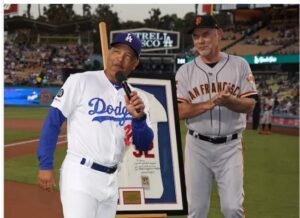 Right now Bruce sits 11 games under. The Rangers are surprise leaders in the AL West. Another knock on Roberts is the fact that he has had really good players. So his teams are expected to win and to dominate the division. If the Dodgers do not win the division, it will only be the second time since 2013.
Roberts has had one thing going for him. He has had very talented teams right from the first game he managed. After Mattingly left by mutual agreement after the 2015 season, The front office conducted a pretty intensive search for his replacement. And Roberts was not really the top candidate.
Many felt the job would go to Gabe Kapler. But it was later said that Roberts ACED his interview with LA. Which means, as most successful interviews do, that he said exactly what his future bosses wanted to hear. And he got the job.
They did surround him with experienced coaches. And he kept the current pitching coach, Rick Honeycutt as part of his staff. Bob Geren, a former MLB manager, was brought in as his bench coach.
And like AF loading up on former GM's in the front office, Dave's coaches had a ton of experience. That only changed some when Von Scoyoc replaced Turner Ward as the hitting coach.
Now Dodger fans can argue a lot of things, but they cannot argue with the results. Over .600 winning percentage, and division titles in all but one of his seasons at the helm. Granted, he has had the teams with the most depth and talent, and therein lies the rub for most Dodger fans.
With the talent he has had on the field, they believe there should be more than just one Championship, and the fact that it came in the pandemic shortened season is even more fodder for the more irritated fan.
Most feel they were cheated in 2017. Most probably true. In 18, the Sox were clearly the superior team. In '16, Dave's team was defeated by a Cubs team that seemed to be a team of destiny. Just like the Red Sox team that finally ended the Curse of the Bambino.
2019, they had a great team. They dominated the NL, but when they came up against DC in the NLDS, their pitching was just a little short against DC's two aces. But there also were some moves by Roberts in the decisive game 5 that angered most fans, and in some eyes, caused the loss.
The first was sending Kershaw back out for a second inning of relief. The second was not pulling him after he gave up the first homer. Then of course, sending Kelly back out for a second inning of relief himself which ended up disastrous with Kendricks grand slam to win it all.
In 2020 Roberts had few mistakes. And his team was driven to redeem itself. Down 3-1 to the Braves, they made a dramatic comeback. Then went on to finally break the drought by beating the Rays in six.
In 21, they chased the resurgent Giants all year, and still almost caught them. Having to beat the Cardinals in a one game play-in, they won on a dramatic walk off homer by Chris Taylor.
Cody Bellinger made up for a lousy regular season by singling home what turned out to be the winning run in the top of the 9th inning. Max Scherzer then saved it.
But they could not climb out of the 3-1 hole they had to the Braves this time. Even after game 5 when they got 5 bombs from Taylor and Pollock for a huge win. They went to Atlanta and meekly lost game six.
2022 was supposed to be their year. Probably the most talented and deepest Dodger team ever. And they won 111 games, besting by 5, their best win total ever. My take has always been that the five day layoff was the biggest reason they did not beat the Padres. Excuse or not, coming out of that break, the team was flat.
Even though they won the first game at home. The offense just never got going. And all of a sudden, their bullpen gave up vital runs.
Now Roberts is in the midst of perhaps his toughest year as a manager. With all the injuries, new faces in the lineup and inconsistent contributions from a couple of key players, the Dodgers find themselves not playing as well as most thought they might. But do not expect management to fire Dave.
Nope, he is about as safe as any manager might be. But the question will still remain in the minds of most Dodger fans, is he the right guy to win more championships.