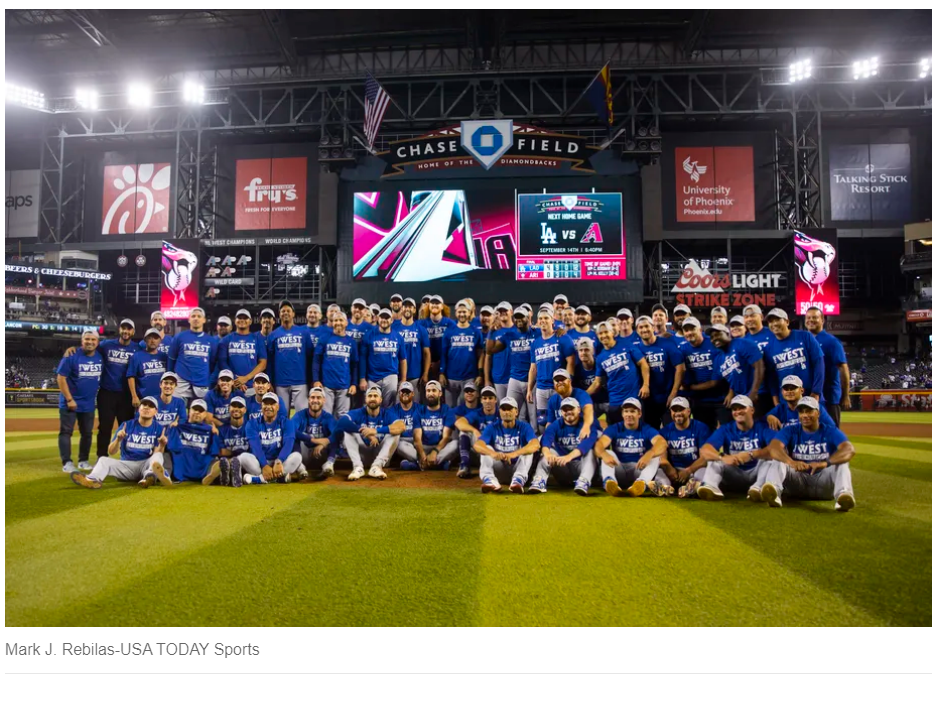 I started this post with the anticipation that the Dodgers were going to clinch the Division title.  And why not?  The Dodgers are 10-2 against Arizona this season.  It is the HOF LHSP, Clayton Kershaw, against a pitcher that did not make his MLB debut until he was 30, RHSP Merrill Kelly.
For his career, Kelly has started 10 games and has 52.1 IP.  He has a career ERA of 5.85 and a career WHIP of 1.567.  He has 43 strikeouts vs 17 walks.  While this has been an otherwise career year for Kelly, this year has been even more troublesome against LAD.  In 3 starts and 13.0 IP, he has an ERA of 9.69 and a WHIP of 2.077, with 11 strikeouts and 8 walks.
Even though Arizona is not Kershaw's favorite team, especially at Chase, he is still head and shoulders in a better position to succeed that Kelly.
While Kelly was not his 9.69 ERA self, he was still touched by loud bats.  He allowed 5 hits, but 2 were hard hit doubles (CT3 and Trea Turner), and 2 were monster HRs; Joey Gallo 2-run (438 feet) and Freddie Freeman solo HR (442 feet).  Joe Davis and Eric Karros called them majestic, and that is certainly an apt description.  What do you think?
Joey Gallo strikes out a lot.  But every time he comes to bat he is a HR waiting to explode.  He is just one powerful bat who is fun to watch.  I can absolutely see Joey taking control of a playoff series.  I can also see him pulling a 2019 NLDS AJ Pollock.  Hopefully he can be the WS MVP.
On the other side, Clayton Kershaw flat out dominated. 7.0 shutout innings on 2 hits and 1 walk with 5 Ks.  82 pitches/55 strikes.  Not one DBack runner got into scoring position against Clayton.  He got his fastball up to 93.3 MPH against his nemesis Christian Walker in the 1st inning.  I do not know any other way than to describe the game as dominating and truly magical.
While Caleb Ferguson did issue a walk and a ground ball single to the first two batters he faced in the 8th, he got Geraldo Perdomo on a K and induced Carson Kelly to ground into a 5-4-3 DP, the 4th DP in the 2 games.  Besides the DP, the Dodgers showed off the leather with a couple of web-gems.  One by Trea Turner:
and one unbelievable play by Mookie in RF.  It even impressed Mookie.
When Craig Kimbrel got the final out, it marked the second consecutive shutout against a team that has averaged 5.4/game for the last month.  That is some elite pitching.
Max Muncy added his 20th HR off RHRP Taylor Widener.
Max is now the 5th LAD hitter to hit 20 HRs in 2022.
Mookie Betts – 34
Will Smith – 21
Freddie Freeman – 20
Trea Turner – 20
Max Muncy – 20
Cody Bellinger has 17, so he can certainly join the club.
With that HR, Max Muncy is now batting .201.  What a climb out of the hole he was in.  On July 23, he was hitting .157.
The season started on April 8 in Colorado with a win, and now 97 additional wins later, they are 98-43 with 21 games to go.  After 2 hours and 54 minutes, the Dodgers pitched their 2nd consecutive shutout and have now reclaimed their rightful throne atop the NL West. It was their 9th NL West Title in the last 10 years.  It was 141st game.  No team has ever clinched a division before the 141st game.  It seems fairly evident that the Dodgers are going to blow by the franchise record for team wins of 106.
How fitting was it for Clayton Kershaw to be THE GUY on Division Championship Tuesday?  This looks to perhaps be a very special year for Clayton.  He pitched 7.0 perfect innings before getting pulled on his 1st start of 2022 in a cold afternoon in Minnesota.  He started the 2022 All Star Game at Dodger Stadium.  And on Tuesday he was the winning pitcher clinching the NL West Division…with 7.0 shutout innings.  Is this a prelude to more special nights?
To the best of my knowledge, this is the first Division Championship celebration for:
Andrew Heaney
Tyler Anderson
Phil Bickford
Evan Phillips
Yency Almonte
Justin Bruihl
Andre Jackson
Miguel Vargas
It all starts for real 4 weeks from Tuesday night.  The NLDS will start on October 11 with a team that still needs to be determined. They need 11 wins from October 11 The 2018 Boston Red Sox were as dominant of a team as I can remember, winning 108 games.  They went on to win the WS by beating LAD.  With Mookie now on LAD, Freddie, Kersh, JT, and all of the others, this team can be extremely special.  They have proven they are the best team in MLB, now they have to bring home the trophy.  It is the countdown for 11 wins beginning on October 11.  I know the team will not accept anything less.
For the 9th time in 10 seasons, the @Dodgers are NL West champs! #CLINCHED pic.twitter.com/mXhOYbj1ow

— MLB (@MLB) September 14, 2022