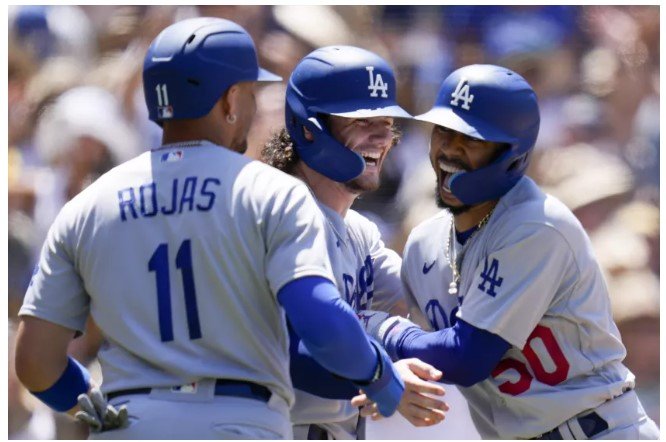 On August 14, 2022, I wrote a post about the Dodgers team being relentless.
re·lent·less
/rəˈlen(t)ləs/
adjective
oppressively constant; incessant
In just about a year, I find the adjective again defines the current version of the Dodgers.  I wrote that last year's LAD team epitomized the above definition.  They are oppressively constant.  The Dodgers do not believe they can be beat.  Somebody gets hurt, and somebody takes their place.  Their confidence is sky high.
But this year's team seems to be even more defined by this word.  They have had even more injuries than last year, and while they will not have a 111 win season, they will win their division, a very competitive division, for the 10th time in 11 years.
Last year both the offense and pitching was relentless.  This year the offense is relentless while the pitching is resilient.  Last year, Kershaw went out for a month on August 4, and returned September 9.  This year he has been out since June 27, but should be back this week.  Last year the Dodgers lost a
Just like last year, and 2017 (my favorite team), another game, another hero.  Sure Mookie and Freddie are superstars, but like last year with Gavin Lux at the bottom of the order, this year's team is again getting timely hitting from the bottom of the order.  Every batter believes they will get a hit.
Since the All-Star break, the team has scored 143 runs in 22 games, or a 6.5 runs per game, and are 14-8 over those 22 games.  Since the trade deadline, the team has scored 59 runs or 8.4 runs per game.  Is it any wonder they are 6-1 in those 7 games?  They scored 7 or more runs in 6 of those games.  The one game they scored less than 7, they lost.
It was not just against a bad Oakland pitching staff.  Going into the 4-game series, San Diego had the best team ERA in MLB at 3.66.  After the 4-game series, in which the Dodgers scored 34 earned runs, SD is now #7 in team ERA at 3.84.
Miggy Rojas can hit .222 as long as he continues to make the defensive plays that he is making.
James Outman might still be striking out too much, but since July, he has become a new threat.
July – .309/.434/.471/.905
August – .444/.600/.722/1.322
July and August – .337/.472/.523/.996
David Peralta and Jason Heyward continue to clutch up with big hits.
Mookie has 31 HRs and is one of 6 Dodgers with an OPS of at least .800, and one at .799.
Freddie – 1.013
Mookie – .966
JD Martinez – .870
Will Smith – .858
Max Muncy – .812
Jason Heyward – .807
James Outman – .799
It does not take much to tear apart an AB, a start, a relief appearance, one game, or even a week.  Be patient and this team will find a way.  I try not to look at comments during a game. I am too busy watching the game. After the game, I saw where some were almost giving up after Gonsolin was torched for 5.  However, this team has the players that want to win and seemingly know how to.  On get-away day, a game situation they have been failing with, they found themselves down by 5 runs after 3.0 innings, but came roaring back.
Seth Lugo was sailing along and looked very much like the pitcher that had pitched 7.0 innings his last two games, and could get to the back end of the bullpen, including Josh Hader.  He's had 3 straight quality starts, and 5 out of 6.  In this one, it started out simple enough with a single and fly out.  Then 7 straight batters reached, culminating in a grand slam by Mookie. In 0.1 inning, the Dodgers turned it around from 0-5 to 8-5.  Seth Lugo and San Diego were for all practical purposes done for.
When Gonsolin came back out in the 4th with a 3-run lead, while he did not dominate, he was efficient. He gave up a single in the 4th, 2 in the 5th (one erased in a DP), and a double and single for a run in the 6th.  By that time he had an 8 run lead (7 after the run in the 6th).  But he got through 6 on 84 pitches, which apparently is his game max.
The Dodgers would only need two relievers in this one.  Joe Kelly was masterful in striking out all three batters he faced on 13 pitches, including Tatis, Jr.  Bryan Hudson came in to relieve in the 8th, and did what a reliever with a 7 run lead should do…he threw strikes.  He may be auditioning for one of the LHRP needed for the playoffs.  He did give up a Luis Campusano HR in the 9th.  Campusano had 4 hits on the day, so he was not to be denied.
The Dodgers won the game, the series, and have now won the first three 2023 series with San Diego.  They are 8-2 against the Padres, and own them…in the regular season.
On August 4, the Dodgers traded RHP Aldrin Batista (20) and RHP Maximo Martinez (19) to CWS for International Signing Bonus Slot Money, the speculation began.  Who do the Dodgers have their eye on.  We have since learned that LAD is favored to land pitching prospect Hyun-suk Jang. The 19-year-old pitching phenom out of Masan Yongma High School in Changwon, South Korea, announced that he would forego the KBO draft in favor of pursuing his MLB career.
According to KBO insider Daniel Kim, Hyun-suk Jang's MLB career may begin with the Dodgers. Kim stated online that several experts believe that the Dodgers are nearing an agreement with the lauded high school pitcher. This announcement may happen sooner rather than later as prospects need to declare themselves for the KBO Draft by August 15th.
According to several industry sources, #Dodgers are on the verge of signing highly touted pitching prospect Hyun-suk Jang. Jang recently announced that he is NOT entering #KBO draft this year and that he intends to sign w/ #MLB org.

— Daniel Kim 대니얼 김 (@DanielKimW) August 7, 2023