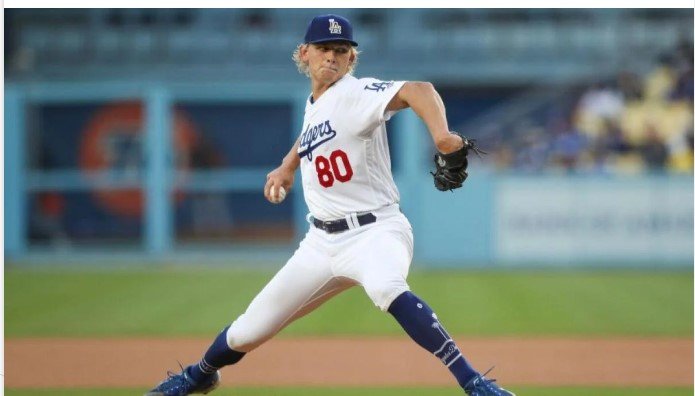 This had to be a tough game for fans who seemingly quit on certain players after some bad performances. And yes I know that everyone here is a Dodger fan, no matter the complaints.  Some fans are glass half full, while others are half empty. I think we all have a tendency to get disappointed in losses and then hold specific players accountable.  We have no control over any of the outcome, so we can only react in a way that we are most comfortable.  It's has to be somebody's fault.  But sometimes, the other team is just better on that given night.  S*** happens!
Last night we had some fans give up on Bobby Miller after only the 1st inning.  He then reeled off 4.0 excellent scoreless innings. Bobby Miller is arguably the second best starter in the LAD rotation.  I believe that has something to say about the state of the rotation.
After two quality starts to begin his MLB debut, Emmet Sheehan had four not so good (okay just plain bad) consecutive games.  His last four games he completed 17.1 innings.     He gave up 20 runs (all earned), 24 hits, 12 BB, 15 K.  He had a 10.38 ERA and a 5.13 FIP.  Many said he was not ready and needed to be sent down.  Fortunately, AF/BG and Doc did not agree with those fans, and Emmet started and pitched 5.0 scoreless 2-hit innings.  1 BB and 5 K.  He probably wasn't ready, but the Dodgers needed a SP, and Emmet has tried to fill in.  So often rookies are thrust into a MLB game and just not ready.  They have to fight through the adversity and continue to develop at the MLB level.
What was the big difference?  Per all those commenting during and after the game, he was attacking hitters.  Max Muncy thought that he was guiding his pitches against Texas.  On this night at least, he trusted his fastball, especially in the zone.  That is his best pitch, and he seemed to make up his mind, that if he is going to get beat, it is going to be with his best pitch.
In the game against Texas, Sheehan threw 58% 4-seamers, 20% changeups, 14 % sliders, and 8% sweepers.  In the game against the Reds, Emmet went away from the change and increased his 4-seamer usage to 72% and change at 9%.
With Lance Lynn joining the rotation, and Clayton Kershaw seemingly ready to rejoin the rotation, it seems that Emmet Sheehan will indeed be heading back to OKC.  But if he does go back to OKC, he is going to go with a much better mental makeup than if he had gone back after his Texas outing.
Good for Emmet to come out and take charge.  He will continue to learn, and those growing pains will probably include games like he had with Texas.
Max Muncy has been maligned, but they have been muted lately.  He has not heard any DFA comments.  Move him down to #6 in the lineup is one that has been made and made often..  Don't let him hit against LHP.  Okay, I agreed with that one.  James Outman is better offensively against LHP.  On this night, the Dodgers were facing a RHSP (Luke Weaver) and managed 2 hits.  Both hits were HRs by Max Muncy accounting for all three runs.
Max is crediting getting his hands in the proper position.  Hitting a baseball is difficult, and if everything is not working in synch, positive results are difficult.
Kiké Hernández and Amed Rosario had positive results in their LAD debuts (Kiké reunion).  Unfortunately while they may have played well, their performances did not produce a win.  On Friday, Joe Kelly made his reunion debut, and pitched well enough for the win.  With runners on 1st and 2nd in a tie game, he came in to a rousing and rowdy celebration from the LAD faithful.  He promptly threw one of his patented wild pitches to the backstop.  Walked a batter, and then struck out a batter to end the threat.  Typical Joe Kelly outing.  Always walking a tight rope, and the crowd loved every pitch.
And they won this one without Mookie.
The 4th new Dodger, Lance Lynn, will assuredly get his first LAD start at home against Oakland.  Will there be others?  We will have to wait and see.
07-29-2023 – MiLB Game Summary Report
Reno Aces (Arizona) 8 – OKC Dodgers 3
Reno scored three runs in both the 6th and 7th innings.  The 3 in the 7th were unearned.  With Gus Varland pitching, one runner reached on a BB  With two out, Yonny Hernández's  fielding error kept the inning going.  Next batter a 3-run HR.
On 4 inning Saturday, Gavin Stone completed 4.0 innings on 68 pitches (17 batters faced). Two runs, two hits, 2 BB, and 3 K.
Key Performers:
Michael Busch – 2-5, 1 RBI
Miguel Vargas – 2-5
Ryan Ward – 2-4, 1 run, 1 RBI, HR (12)
Devin Mann – 2-4, 1 run
Doubles – Drew Avans (20) and Hernández (12)
Tulsa Drillers 4 – Springfield Cardinals 2
River Ryan started and completed 4.0 scoreless innings.  2 hits, 2 walks, and 6 K.  60 (39 strikes), 15 batters faced.  My question.  This is the end of July.  If the goal is for a starter to go deep into the game, why is a SP who has 4.0 scoreless innings, only thrown 60 pitches. and not getting thru the lineup twice, getting lifted?  Tulsa scored 4 in the 7th to take a 4-2 lead, and held on for the 4-3 win.
Austin Gauthier – 2-4, 1 RBI, double (10)
Diego Cartaya – 1-3, 2 RBI, HR (13)
Imanol Vargas – 1-4, 1 RBI, double (18)
Dayton Dragons (Reds) 5 – Great Lakes Loons 2
Just like River Ryan at Tulsa, Justin Wrobleski pitches 4.0 scoreless innings on 1 hit, 2 BB, and 7 K.  59 pitches (34 strikes).  15 batters faced.  Same question for Wrobleski as with Ryan.  This is the end of July.  If the goal is for a starter to go deep into the game, why is a SP who has 4.0 scoreless innings, only thrown 59 pitches. and not getting thru the lineup twice, getting lifted?
Key Performer:
Taylor Young – 3-4, 2 runs, 1 RBI, HR (3)
Rancho Cucamonga Quakes 5 – San Jose Giants 3
20 year old RHP, Christian Romero completed 5.0 innings allowing 3 runs (1 earned).
Sauryn Lao and Kelvin Ramirez pitched the final 4.0 scoreless innings to get the victory.  RC scored single runs in the 7th and 8th for the final victory.
Key Performers:
Josue De Paula – 2-3, 2 BB, 1 RBI
Wilman Diaz – 2-4
Simon Reid – double (10)
Jose Izarra – triple (3)