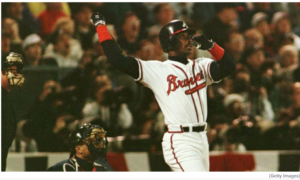 The sixteen member Baseball Contemporary Era met and voted on 8 different players who were not voted on by the BBWAA, but have credentials to be elected.  Many of the nominees have warts attached.  Barry Bonds, Roger Clemens, and Rafael Palmeiro have been accused of using PEDs.  Curt Schilling can't keep his mouth or social media accounts shut.  The other four may not have controversy, but of Fred McGriff, Don Mattingly, Dale Murphy, and Albert Belle, IMO, only Fred McGriff have legit HOF credentials.
Deservingly, McGriff was elected with a unanimous vote.  All 16 committee members named him on their ballot.
Fred McGriff's career bating line is .284/.377/.509/.886.  McGriff had an OPS+ of 140 or more 9 times in his career.
Yes, McGriff's career bWAR is a tweener at 52.6.  However, that does rank higher than Ted Simmons (50.3), Orlando Cepeda (50.1) and Jim Rice (47.7).
McGriff slugged 493 HRs in his 19 year career.  In 10 seasons he hit at least 30 HRs.  He hit 30 HRs in a year for 5 of the 6 teams he played for.  The only team he did not achieve that mark was with the Dodgers in 2003.
It used to be that 500 career HRs was the standard for automatic inclusion.  If it were not for the 1994 strike, and cancellation of games after August 11, there is little doubt that McGriff would have topped 500, and he would not have had to wait for the Baseball Contemporary Era Committee to be elected.
He is one of only four MLB players (along with Mark McGwire, Sam Crawford and Buck Freeman) to win the home run title in both leagues.
There are a couple of other comparisons to HOF inductees.  His career OBP was .377 which is greater than Tony Perez (.341), Orlando Cepeda (.350), Eddie Murray (.359), and Harmon Killebrew (.376).
His career seasonal average HRs, RBIs, and SLG were also comparable to the same four.
McGriff – 32 HR, 102 RBI, .509 SLG
Perez – 22 HR, 96 RBI, .463 SLG
Murray – 27 HR, 103 RBI, .476 SLG
Killebrew – 38 HR, 105 RBI, .509 SLG.
He was not just a terrific regular season player.  In 5 post seasons, McGriff played in 50 games, 218 PA, and hit .303/.385/.532/.917 with 10 home runs, 37 RBIs.
Nobody is questioning that Fred McGriff was not a 1st ballot HOF.  But to garner a max 39% vote is incredulous.
Congratulations to the Crime Dog.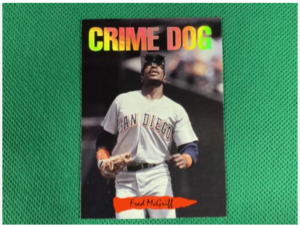 Following McGriff were:
Don Mattingly – 8 votes
Curt Schilling – 7 votes
Dale Murphy – 6 votes
All others < 4 votes
The committee will meet again in 3 years.  How many of Mattingly, Schilling, Murphy, Bonds, Clemens, Palmeiro, and Belle will be nominated in 2025.  At some point, the players will lose their eligibility for the Contemporary Era and that will leave the Classic Baseball ERA (1980 – Present) to elect them.
How do you feel about a MLB Hall Of Fame without:
MLB Hits Leader – Pete Rose
MLB HR Leader – Barry Bonds
MLB Cy Young Winner Leader – Roger Clemens (7)
Hitter with most 60+ HRs – Sammy Sosa (3)
1 of 16 Pitchers with 3,000 K and Top 7 career SO/W – Curt Schilling
Schilling is also arguably the best post season pitcher, ever.  He pitched in 5 must win games and won all of them.  His ERA in those games was sub 1.50.  He has been on 3 World Series winners (2001, 2004, 2007).
Today during the Winter Meetings, we will learn the All MLB Team.
The Aaron Judge decision is supposedly coming soon.  The current NYY offer is 8 years at around $300MM, but are expected to go 9 years in the $330MM range.  Some are predicting the Giants will go 10 years.  At some point, Judge and his agent will say enough and agree with one of the two teams.  Yes, I have heard that there is a surprise team in the discussion.  I just do not think they are serious.  The Dodgers would never go 9 years for Judge.
The Dodgers are still "involved" in the Justin Verlander discussions.  I just cannot see them going 3 years for Verlander.
Bob Nightengale who does not have a good track record in his predictions is "hearing" baseball execs expect Carlos Correa to sign with LAD.  Not buying it for Correa or any of the 4.  But I will accept being wrong on any of the SS.
Monday will be the first full day at the Meetings.  Is Sean Murphy getting moved today?
Me and several others will update on the Meeting transactions and interesting rumors.