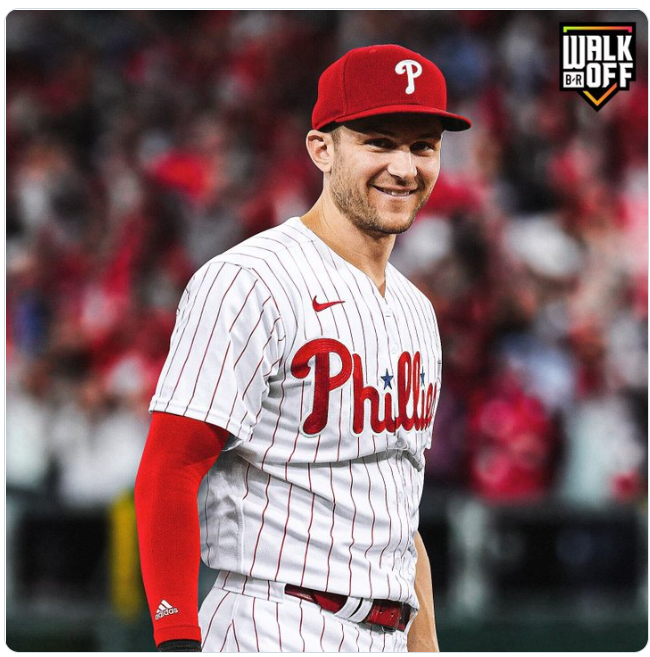 Oh shoot, the Dodgers lost another chance for a reclamation project when Rick Porcello retired.
I know many of us have looked at pitching.  Maybe that is because of the Justin Verlander rumors, but as I have been saying for some time, the Dodgers are flush with depth pitching and do not seem inclined to pay the going rate for an Ace.  So they will need for Gonsolin, May, Miller, Stone, and Pepiot to become plus SP for 2023 and beyond.  With Urias being a client of Scott Boras, it is doubtful that he would entertain an extension, and the Dodgers are probably not going to pay what the Urias going rate will be for 2024. If Carlos  Rodón is asking 6 years $180MM, what will Julio be asking.  Both are represented by Scott Boras.    They will have Buehler for one year before he hits FA, but what are the chances he returns to his Ace status after two TJ surgeries.  For three recent double TJ surgery survivors, Mike Clevinger certainly has not, and while Nathan Eovaldi may be considered an Ace for Boston, he is not an Ace for a contender.  Jameson Taillon had his 2nd TJ surgery August 2019, and was out the rest of 2019 and all of 2020.  He pitched 144.1 innings in 2021 with NYY to a 4.30 ERA.  He improved in 2022 to become a mid-tiered SP in FA.
Nevertheless, LAD has enough future starting pitching depth that they can backfill the rotation rather than look for up front starting rotation talent.
Trea Turner and his 6.3 fWAR has landed in Philadelphia.  No longer will we be seeing this in a LAD uniform.
Thanks, Trea. We'll always have the slide seen 'round the world

— Doug McKain (@DMAC_LA) December 5, 2022
Now what?
So while I do not believe it will happen, I agree with Badger and others that the Dodgers DO need to find a long-term SS solution.  If not this year, then when?  Gavin Lux can be a terrific All Star 2B for the long-term, but I do not think he is the answer for SS. Forget what AF says.  What is he supposed to say?  "We cannot win with Lux at SS".   If not Lux, then who?  Even if they go out and get a stopgap SS, who do the Dodgers have in the pipeline?
Jacob Amaya
Eddys Leonard
Wilman Diaz
Jacob Amaya is not ready, and most evaluators do not think he will be a regular everyday SS, because of his 45 hitting skill and 40 power skill.  He could become a good defensive utility infielder.  Will he ever hit enough to be a regular?
Eddys Leonard primarily played SS last year, but in 2021 he started games at 2B (25), 3B (23) and CF (11), besides SS (35).  He has a plus arm, and has enough speed to be a average SS.  But he could be a plus defensive 2B.
Wilman Diaz has had a rough start to his career, and his prospect status has been dropping like a rock.  Okay maybe rough start is way too kind.  Horrendous start?  But he is only 19, much too young to give up on. But if everything turns around for him, it will be at least three years before he is remotely ready. The Dodgers cannot wait that long.
Jorbit Vivas is limited to 2B.
That's it.  No other projectable SS in the pipeline.  How did this happen?
So do the Dodgers find a stopgap SS or stopgap 2B (with Lux at SS) until Leonard is ready for his shot?  Or do the Dodgers go out and sign one of the remaining elite 3.
If the Dodgers gamble and wait this year, will they be able to later find an elite SS?  While there is no such thing as a can't miss prospect, the Dodgers' prospects have a ways to go to even be considered a legit everyday SS.  Possible?  Sure.  Probable?  I have my doubts.
Let's take a look at the Dodgers position players on the 40 man.  The Dodgers currently have a total of 37 players on the 40 man.  Position players include:
Catchers – 3
Infielders – 8
Outfielders – 6
Thus, they have 17 position players.  At least 4 of them have no chance of making the team out of Spring Training…Diego Cartaya, Jonny DeLuca, Eddys Leonard, and Jorbit Vivas.
That would leave a current 13 man position player roster of:
C – Will Smith – (R)
1B – Freddie Freeman – (L)
2B – Chris Taylor – (R)
3B – Miguel Vargas – (R)
SS – Gavin Lux – (L)
LF – James Outman – (L)
CF – Trayce Thompson – (R)
RF – Mookie Betts – (R)
DH – Max Muncy – (L)
Bench
C – Austin Barnes – (R)
SS – Jacob Amaya – (R)
2B/LF/DH/PH – Michael Busch – (L) – Edwin Rios replacement
OF – Andy Pages – (R)
The depth would have to come from the AAAA players signed to MiLB contracts.  This cannot possibly be how the Dodgers break camp, can it?
They can interchange Vargas and Muncy, Vargas and Outman, Muncy and CT3.  They can switch CT3 and Lux.  CT3 says he is more comfortable at SS.  This is how the Dodgers like to operate…a plethora of lineup changes. But is this a World Series Championship team?
The Dodgers currently have $46MM before they reach the CBT threshold. The Dodgers can afford to splurge on a SS.  But will they?  An elite SS could make everything else workable.  The Astros gambled and struck gold with Jeremy Peña.  The Braves may try the same with 22 year old Vaughn Grissom.  With the Trea Turner signing, Dansby Swanson's asking price just increased and could be out of Atlanta's comfort zone.  They were looking at $100MM, and we all know that is not going to be near enough to keep Swanson.  With a current $221MM AAV payroll, letting him go may be the plan.
Or can LAD stretch $46MM out for multiple holes.  A mid tiered middle infielder, a mid tiered OF, a mid to late rotation SP, and another middle reliever.  The problem with mid tiered players is that if you rely on too many average players, you could end up with an average team.  With their pitching, it could be good enough to contend for the NL West or at least a Wild Card, and then hope to get hot at the right time.  I think that is how many out there believes it works.  Dave Roberts has difficulty getting an elite team across the finish line, how do you think he would do with the above roster?
They can garner those players this via FA or via trade. The problem with a trade, is that they do not have a lot of MLB ready players they can afford to lose that teams will want.  Plus, they could lose 2-4 Rule 5 draftees.  That loss, with any trade, could hurt their MiLB system.
Ryan Noda – Some have said he is already better than 10 MLB 1B.
Carlos Duran – I can see several teams that might take Duran. He can remain on the IL for the full season.
José Ramos – It will really take a non-competitive team to keep him on their 26 man for the full season.
Justin Yurchak – Less likely, but some are predicting he will be selected.
It looks like JT could be a possible late signing, but with the Dodgers?
Other news out of the Winter Meetings is that the All MLB Teams were named:
First Team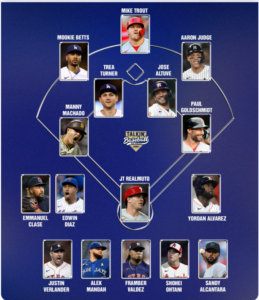 Second Team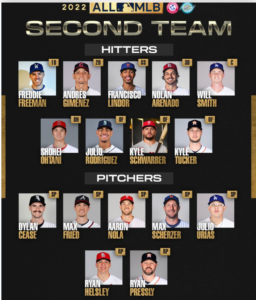 The Dodgers' total of five 1st and 2nd team players were the most in the NL, and only trailed Houston's six.
Baseball's inaugural draft lottery will be held Tuesday, with reverse order of the standings no longer determining who picks first through sixth. MLB Network will air the lottery at 5:30 p.m. (PDT).
The Nationals, Athletics and Pirates have the best odds of claiming the first selection, at 16.5 percent.
Just in case Carlos Correa finds an offer from AF/BG too good to turn down, I found this article, FWIW.
https://www.click2houston.com/sports/2020/02/16/carlos-correa-opens-up-about-sign-stealing-scandal/