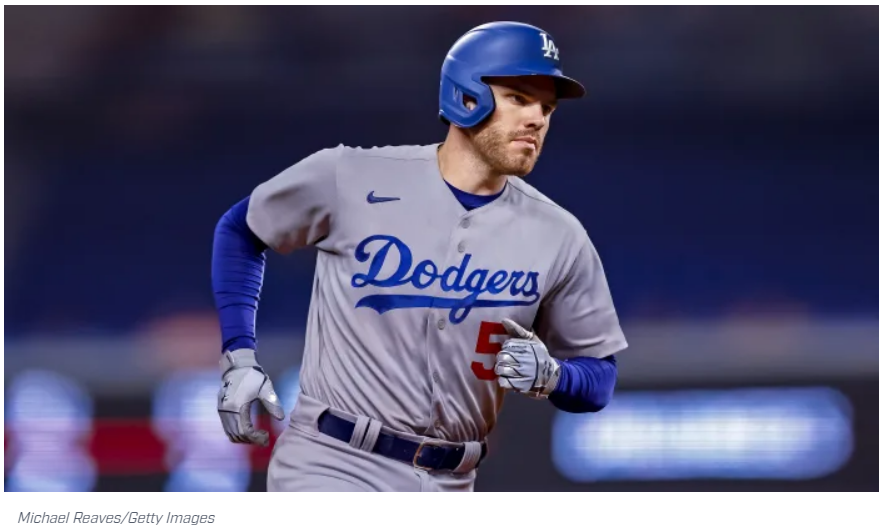 Cincinnati is a nice elixir for the Dodgers.  Again tonight, the starting pitcher, Tyler Anderson, was just not as sharp as he usually has been.  Did the 123 pitch previous game have something to do with his sub-standard outing?  You know Tyler is not going to use his last game as an excuse.  Regardless, the Dodger bats picked him up, and while he did not get the win, he did keep them in the game.  He is still a perfect 8-0.
The Dodgers saw two of the pitchers that they will be looking to potentially acquire: Tyler Mahle and Luis Castillo.  Neither pitcher pitched their best game.  Was it the Dodger bats or the pitcher being off?
After an 8 run, 17 hit attack on Tuesday, the Dodgers scored 8 runs again, but this time with only 9 hits.  The key to the night might have been in the 5th.  With the Dodgers down 3-1, Gavin Lux legged a double on a ball most will simply accept as single.  Lux hit the ball in the gap but not past the fielders.  He took off from the hit and slid safely into second with a leadoff double.  Trea Turner bounced a ball up the middle and Lux easily moved to 3rd.  With one out, Freddie Freeman, did not try to do too much but simply stroked a line drive up the middle for a single to score Lux.  With Lux's legs and Freeman approach and situational hitting, the Dodgers moved to within 1.
Will Smith looks to be getting comfortable in that #3 spot in the lineup.  After going 1-10 in his first two games in that spot, he has since gone 7-12.  In that critical 5th, Smith hit his second of three singles and moved Freeman to 2nd.  Max Muncy then does what he does best…walked to load the bases.  Chris Taylor was HBP to force in the tying run.   Justin Turner did his job with a sac fly and the lead.
Anderson could not hold the lead as he surrendered a game tying HR to Albert Almora Jr. who hit a HR in his second consecutive game.  But now it was down to a bullpen game.  The Dodgers have the second best bullpen ERA in the NL while Cincinnati was last.  You can guess what happened.
For the second consecutive game. 4 LAD relievers went to the bump, and none allowed a runner to cross the plate.  The key…not one base on balls allowed by the relievers.  Three hits and 9 Ks.  All eight LAD relievers pitched and all 8 had less than 20 pitches.  All eight should be available for Thursday's AM game.
Trayce Thompson did something today that we have not seen Max Muncy, or Cody Bellinger do in some time.  With runners on 1st and 2nd, on a 1-2 pitch Thompson bangs a two run double into right-center.  He moves to 3rd on a Gavin Lux 2 strike deep drive to CF and scored on a sac fly by Trea Turner.  That was the second sac fly on the night for the Dodgers, after going nearly 20 games without one.
Cody Bellinger looked like he was starting to come out of his slump.  He hit in three straight, the last two games he had two hits.  But in his last three games he is 0-13 with 1 walk.
The other big hit was a Freddie Freeman HR who absolutely crushed his 6th of the year.
It was my contention when the Dodgers reacquired Thompson, that if he was given Muncy's ABs, he would be more productive.  Muncy has now gone 10 games without an RBI, and he is still in the #4 spot?
One negative comment was that the Dodgers were 3-13 WRISP.
The Reds have been good for the Dodgers.  Now on to Game 3 of the series for the sweep.