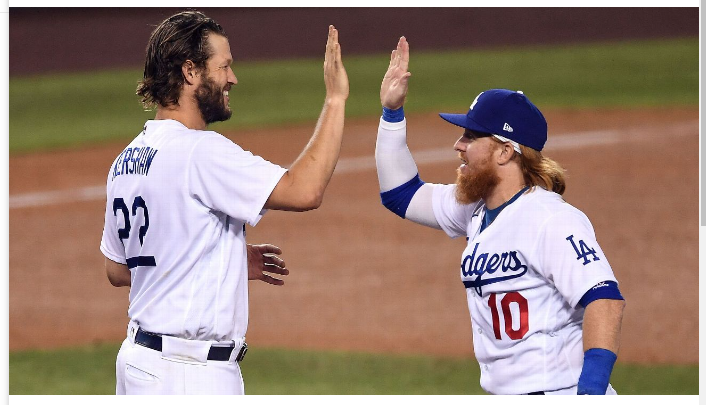 All good things come to an end, and the Los Angeles Dodgers reminded us again that owning and operating an MLB team is a business.  Most of us cannot even begin to think about Clayton Kershaw leaving the Dodgers.  And most of us felt the same way about Justin Turner.  The Big Red Head who went to Mayfair HS in Lakewood, and then moved down to Cal State Fullerton.  He was a 7th round pick by the Cincinnati Reds and moved to Baltimore and NYM before the Dodgers signed him on February 6, 2014.
JT would soon become one of the most popular players with LAD, both in the clubhouse and in the community.  He was the official unofficial captain of the Dodgers.  He also won the prestigious Clemente Award.  Most know his Twitter handle: @redturn2.  I never believed that JT would ever wear another uniform other than LAD, and yet this year (and maybe next year) he will be wearing a Boston Red Sox uniform.  It is a fantastic organization in a fantastic city.  I am glad that the Dodgers will not have to face him in the NL or NL West (as it was rumored he could sign with Arizona).  I do follow Boston, so I will be able to keep up with JT without even trying to remember where he is playing.
In scouring the internet, I found these quotes from Kershaw about JT's departure.
"This has been the most turnover that I've seen in an offseason in a while for us. Our position player group has pretty much been the same for a long time and now with JT and Belli both leaving, it's going to be weird, it really is. You know JT is such a cornerstone of the franchise and has meant so much to me personally in everything that he does on and off the field. … "We're going to miss him. I'm going to miss him. It's going to be so weird to not have him in the clubhouse. I hope he has fun in Boston, just not too much fun."
"I texted him this, but he just always gave me the thought that we were going to win the game. You just see him and his mannerisms and demeanor every day, you just go to the ballpark thinking that you're going to win the game when you see him. That's the compliment that I can't give to everybody."
With the departure of JT, the LAD players who have the longest tenures (5+ years) to share with Clayton Kershaw is dwindling.  The player and the year that player first played with LAD:
Austin Barnes – 2015
Chris Taylor – 2016
Julio Urias – 2016
Walker Buehler – 2017
The next two are:
Max Muncy – 2018
Caleb Ferguson – 2018
Was it the two year deal he may have sought that sent JT packing?  You will note that not one FA signed by the Dodgers this year has been for more than 1 year.  I do not think that was done by happenstance.
My newest concern is what will happen next year if Kersh still wants to play another year?  It is not the same organization he grew with.  Gone are Joc, Seags, Belli, KJ, and now the noblest of all, Justin Turner.  Will Kersh feel empowered to re-sign with LAD?  Or will his Dallas home be the deciding factor next year, thus ending his HOF career with the Texas Rangers?
I have often thought, and I have written it before…NYY signs every player they want to finish their career with the team…Don Mattingly, Bernie Williams, Jorge Posada, Mariano Rivera, and Derek Jeter, all since 1995.  This year it was Aaron Judge (who cannot be traded).  As a lifelong LAD fan, I grew up hating NYY, but you have to respect a team that holds their stars in such high esteem that they would do anything and everything to make sure they stay with NYY their entire career.
The last Dodger to spend his entire career with and then retire as a Dodger?  It was Mike Scioscia, and before that, Bill Russell. These are the only two players to start their careers with LAD and retire as a Dodger. I would count Andre Ethier, but he was originally signed by Oakland and came to the Dodgers in a trade for Milton Bradley before he started his MLB career.
The Dodgers have had 6 other players start their career in Brooklyn and end their career with LAD:
Don Drysdale
Carl Erskine
Carl Furillo
Jim Gilliam
Sandy Koufax
Pee Wee Reese
Two started and ended their careers with Brooklyn:
Roy Campanella
Jackie Robinson
Two who started and played their entire career with Brooklyn Superbas/Dodgers/Robins:
That is 13 Dodgers in total, with only three since coming to LA, and one since 2000 (if counting Andre Ethier).  NYY has 23 in total.
———————————————————————————————————————————————————————
ESPN has announced their Sunday Night Baseball calendar for the first part of 2023.
April 2: Phillies at Rangers (also on ESPN2)
April 9: Padres at Braves
April 16: Rangers at Astros
April 23: Mets at Giants (also on ESPN2)
April 30: Phillies at Astros
May 28: Phillies at Braves (ESPN or ESPN2)
June 4: Yankees at Dodgers
June 18: Yankees at Red Sox
August 20: Phillies vs. Nationals at Williamsport (Little League Classic)
That is four games with Philadelphia on Sunday Night Baseball, followed by Texas (2), Atlanta (2), Houston (2), NYY (2), and one each for San Diego, NYM, SFG, LAD, Boston, and Washington.  That is 11 East Coast teams, 4 in Texas,  and 3 California teams.  Not too much East Coast bias with ESPN!  I bet those AL and NL Central teams are feeling the love!