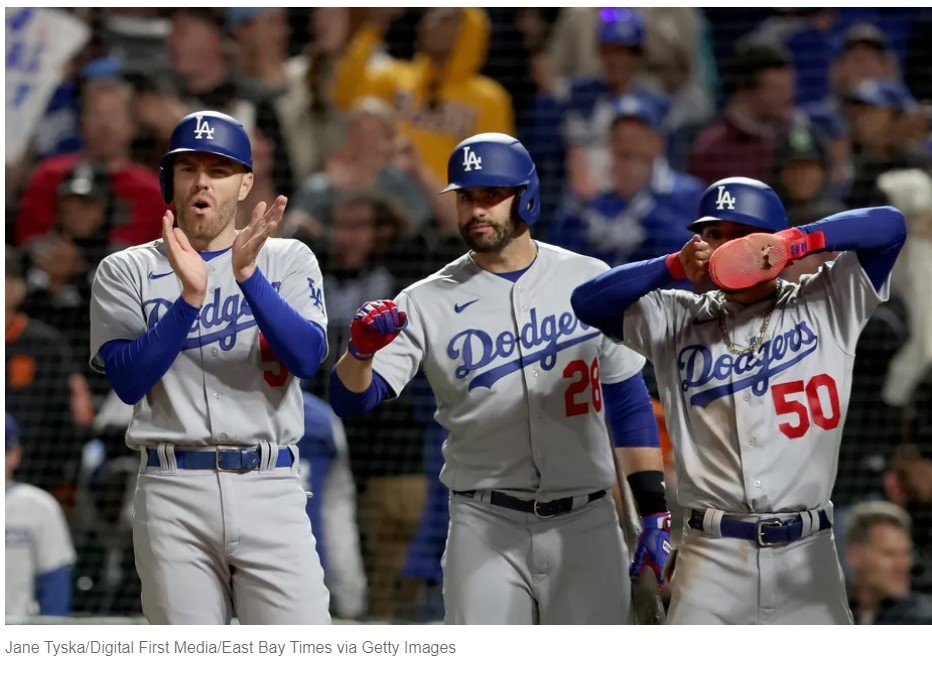 The game was delayed an hour and 50 minutes due to a hail storm.  But that did not deter the Dodger bats in the series finale on Thursday.  14 runs on 18 hits, including 5 doubles, a triple and a HR.
The offense was led by the three Dodgers starting in the All Star game.
Mookie Betts was 2-2 with a BB and sac fly. Both hits were doubles (17).  Mookie scored 3 times with 1 RBI.
Freddie Freeman was 2-3 with a HBP, 1 run, and 3 RBIs
JD Martinez was 4-6 with 2 runs, 4 RBIs, and a HR (19).
Combined, the three All Stars went 8-11, 6 runs scored, 8 RBIs, reached base on 10 times with a sac fly.  I know Badger will not count JDM's first hit, but I will.
Max Muncy had a 2-6 night, with a double (6) off the wall and a sharp single to right.  He got 3 RBIs to break out of his month plus long slump.  He was 3-42 before that double, dating back to May 31.
Miguel Vargas also got a key triple.  It was his team leading 4th on the season.  He was 2-46 before the triple.  Will Max and Miggy continue the hits in KC?  Stay tuned.
Jason Heyward was 3-5 with 2 doubles (11), 2 runs and a RBI.  Jonny DeLuca was 1-2 with a run scoring single.  James Outman was 1-4 with 2 runs scored, and a nice running catch on a wet outfield in the 1st inning.  David Peralta was 1-4 to continue his hot June – .367/.406/.567/.973 (64 PA).
The one hitter that did not get a hit was Austin Barnes.  But he navigated Emmet Sheehan through his first road game, and one being at Coors.  As every one of the pitchers note, Sheehan loved pitching to Barnes.
Emmet did not let the weather delay affect him.  Jurickson Profar got the leadoff single.  He got Ezequiel Tovar did hit into a force out, but Ryan McMahon singled and moved Tovar to 3rd where he scored on the Elias Díaz 407 foot sac fly to Outman.
Sheehan retired the side in order in the 2nd with 2 Ks.  In the 3rd, Profar had the only contact on Sheehan's change on the night with a 105 MPH single.  Tovar and Díaz later had soft contact singles, with Díaz bringing home 2.  Tovar's hit was 73.4 MPH and Díaz's was 72.2.  But they all count.
Emmet finished off the 4th and 5th with one single.  For the night, Sheehan allowed 3 runs on 7 hits, 0 walks, and 6 Ks.  He threw 88 pitches in 5.0 IP.  He got his first taste of Coors, and Barnes called for the changeup at the right times.
Sheehan's pitch repertoire:
4-Seam Fastball – 60 pitches – 6 whiffs
Sliders – 17 pitches – 1 whiff
Changeup – 11 pitches – 4 whiffs out of 5 swings. The change works better in the higher altitude of Denver, and Sheehan kept the pitch down with late dive.
The bullpen has been getting a lot of heat this season.  They were on a little bit of a roll, and then got beat up on Wednesday.  However, on Thursday, three pitcher came out of the pen and threw 4 scoreless innings.  Yency Almonte and Victor González each threw clean innings with 2 Ks.  Justin Bruihl was just recalled today and pitched the final two innings.  He did allow a single in each inning, but both were erased on double plays.
This was a complete team game victory.  It was especially poignant due to both Arizona and San Francisco losing.  The Dodgers have moved into 2nd, and now trail Arizona by just 2.0 games.  Arizona is going to have a tougher time now that Merrill Kelly has gone on the 15 day IL with a calf inflammation.
San Diego has lost their 5th game in a row, and are now 8.0 games out of the WC.  The Dodgers could have an advantage this weekend.  The Dodgers have 3 games at KC, Arizona has 3 games at LAA, San Francisco has 3 games at a hungry NYM.  San Diego has 3 games at Cincinnati.
Bobby Miller will face off against KC's 25 year old RHP Alec Marsh, who will be making his MLB debut.  I am looking for Miller to get back on track after two poor outings.  Friday's game will be the end of the actual first half of the season (81st game).
06-29-2023 MiLB Game Summary Report
OKC Dodgers 4 – Sugar Land Space Cowboys (Houston) 2
Justin Hagenman started his 4th game for OKC.  He completed 4.0 innings allowing the 2 runs.  Staked to a 4-0 lead in the top of the 4th, Justin gave up back to back HRs to open the 4th to cut the lead to 4-2.  He retired the side and turned the game over to the bullpen.  Hagenman struck out 6 in his 4.0 IP.
Alec Gamboa was recently recalled to OKC (06/28).  He followed Hagenman and completed 2.2 scoreless innings.  He allowed a single and walk in the 7th, and after the 2nd out, Gus Varland was summoned to get the final out of the inning.
Alex Vesia and Wander Suero pitched scoreless innings to close out the victory, with Suero earning his 8th save, in 8 save opportunities.
All of the scoring was done in the 4th.  In the top of the 4th, Devin Mann and Hunter Feduccia led off with singles, and Mann moved to 3rd.  Mann scored on a Bryson Brigman force out.  Justin Yurchak singled and Drew Avans walked to load the bases for Kole Calhoun.  Calhoun tripled to plate all three runs and a 4-0 lead.
Jahmai Jones – 2-5
Hunter Feduccia – 4-4, 2 doubles (12)
Kole Calhoun – 1-4, triple (1), 3 RBI
Amarillo Sod Poodles (Arizona) 12 – Tulsa Drillers 7
Nick Frasso had perhaps the worst outing of his career.  He was only able to record 1 out.  6 of the 7 hitters he faced reached base.  4 runs crossed the plate, and Antonio Knowles relieved Frasso with runners on 2nd and 3rd.  The first batter Knowles faced slugged a 3-run HR, and Amarillo put 7 on the board after only 0.1 innings.
Ricky Vanasco made his first appearance of Tulsa and surrendered a 2-run HR in the 3rd.  Kevin Gowdy followed in the 4th and gave up 2 runs on 4 singles, a SB, and balk.
Trevor Bettencourt was not the answer as he gave up a run in the 6th on a single, SB, single.  John Rooney was the lone Drillers pitcher to complete a clean inning.
Tulsa opened the scoring when Imanol Vargas hit a double to score Jorbit Vivas.
Kody Hoese hit a 2-run HR in the 2nd. In the 4th, Diego Cartaya opened the inning by reaching on an error, and scored on a Yusniel Diaz triple (1).  Diaz came around to score on a ground out.
Yusniel Diaz opened the 6th with a base on balls and came home on Carson Taylor's 5th HR.  But Tulsa could not get any closer, and are now 0-2 in the 2nd half.
Jorbit Vivas – 2-4, 1 run
Carson Taylor – 2-4, 2 runs, HR (5)
Kody Hoese – 2-4, 1 run, 2 RBI
Yusniel Díaz – 1-2, 2 BB, 2 runs, 1 RBI
Imanol Vargas – 1-3, 2 BB, 2 runs, 1 RBI
Great Lakes Loons – Lansing Lugnuts (Detroit) – Game postponed.  DH on Friday.
Kendall Williams will start one of the games for Great Lakes.
Visalia Rawhide (Arizona) 6 – Rancho Cucamonga Quakes 4
The Quakes absorbed their first loss of the second half on Thursday night, falling to the Visalia Rawhide by a final of 6-4.
Visalia starter Wyatt Wendell turned in six solid innings to earn the win and Rawhide first baseman Riquelmin Cabral had three hits, two runs scored and an RBI to help Visalia end a three-game skid.
Kenneth Betancourt had two hits and three RBIs, including a two-run double off of Wendell in the fifth, as the Quakes pulled to within three, at 6-3.
Wendell settled down and retired the final six batters he faced though, getting through the sixth inning.
Rancho starter Madison Jeffrey (0-3) allowed three runs (two earned) in two innings of work in the loss.
Visalia closer Alfred Morillo tossed a 1-2-3 ninth for his fourth save of the year.
The Quakes will send Peter Heubeck to the mound on Friday night.
Simon Reid – 2-4
Kenneth Bettencourt – 2-4, 3 RBI
Kyle Nevin – double (11)
Rayne Doncon – double (14)
Kenneth Bettencourt – double (9)
Jorge Puerta – double (11)
Luis Rodriguez – double (3)