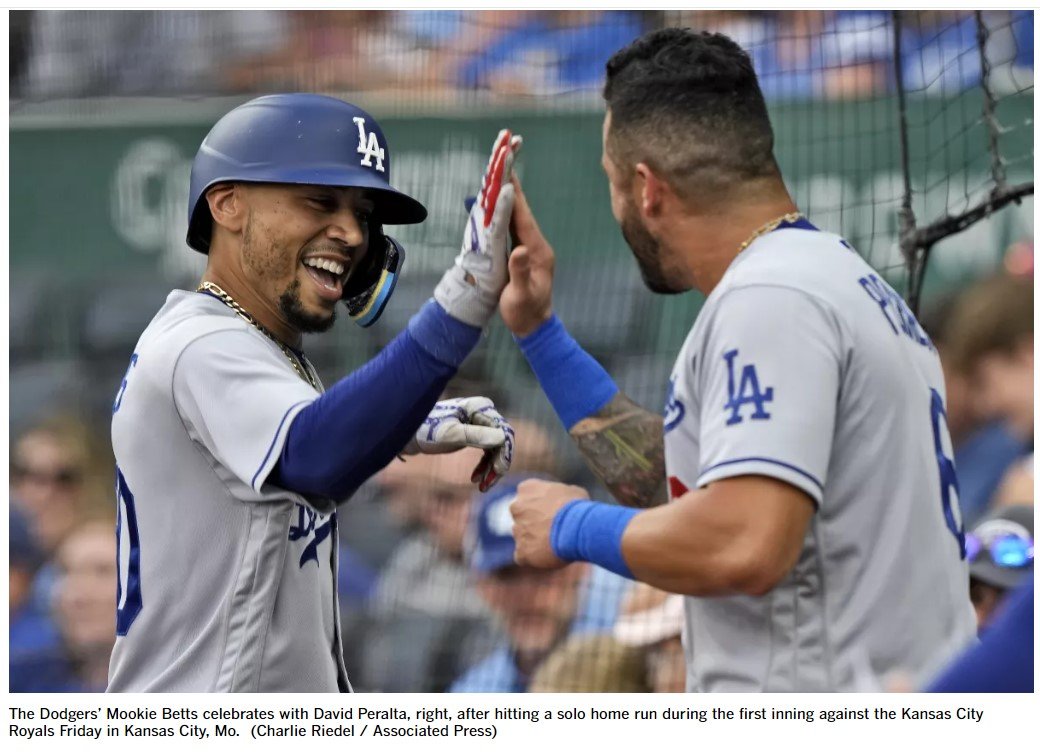 The Dodgers and Royals have only faced each other 15 times between 2003 and 2022.  The Dodgers held a 9-6 record against the Royals before Friday's game. They were 5-1 at home and 4-5 in KC.  The Dodgers won the opening game of the series 9-3.
The Dodgers were facing RHP Alec Marsh who was making his MLB debut.  On a 3-1 pitch, Mookie demolished a 93.2 MPH 4-seamer 422 feet deep into the LF stands.  This was Mookie's 21st HR of the season and it was his 9th leadoff HR of the season, tying him with Joc Pederson for most leadoff HRs for a Dodger in a season.  He has 25 leadoff HRs as a Dodger.  This was Mookie's 45th career leadoff hitter moving him into sole 8th spot on the career list.
Mookie Betts has tied the Dodgers' single-season leadoff home run record with 9

We're halfway through the season

— Blake Harris (@BlakeHHarris) July 1, 2023
Marsh settled down and retired the next 5 batters before Jason Heyward singled for his 1st hit of the night.   Outman flew out to the wall in RF for the 3rd out.
Good start for Mookie, but he was not done.
With one out, Mookie came up a 2nd time, and for the 2nd time, Mookie went deep for his 22nd HR on the season.  This one went off the foul pole.  This was his 2nd HR of the game out of the leadoff spot.
Mookie Betts is on pace for 44 home runs this season 🔥🔥🔥 pic.twitter.com/NL5ZHAZ3QT

— Blake Harris (@BlakeHHarris) July 1, 2023
Mookie has now built on his career lead of multi-home run games out of leadoff spot.
most career multi-home run games out of leadoff spot:

Mookie Betts: 23
George Springer: 19
Alfonso Soriano: 19
Brady Anderson: 14
Kyle Schwarber: 13
Joc Pederson: 13
Bobby Bonds: 13 https://t.co/d0hcCsxI2s

— Sarah Langs (@SlangsOnSports) July 1, 2023
For the night, Mookie went 4-4, 2 HRs, 2 walks, 3 runs, 4 HRs.  He now has his OPS up to .923.
As great as Mookie was, he was not the only star on the night.  Jason Heyward is continuing his resurgence.  After a 3-hit night in Colorado (including 2 doubles), Jason comes back with another 3 hit night including his 12th HR.  He also walked, scored a run, and knocked 2 in.
The bullpen was also pretty terrific.  After Bobby Miller kind of blew his cool with 2 outs in the 6th, Caleb Ferguson came in to get the final out.  Caleb came back out in the 7th and got the 1st out.  On a dribbler along the first base line, Caleb got the ball but tried to tag the hitter/runner, missed him, and the hitter got a single.  Bobby Witt Jr. singled and KC had runners on 1st and 2nd.  Caleb just blew MJ Melendez away for out #2.  Doc came out to get him.  Caleb lobbied to stay in, but the decision was made.
Yency Almonte also continuing a mid-season resurgence, got Salvi Perez to hit a fly ball to James Outman to end the inning.
In the 8th, what many of us LAD fans have been waiting on, Daniel Hudson made his 2023 debut and was outstanding.  The first batter he faced, Maikel Garcia, hit a slow ground ball to Max Muncy who threw late to 1B, and Garcia was on with a single.  I think you can count on one hand the number of 3B who do not make that play.  Max's range is just so limited.
Hudson owned Nick Pratto with a 3 pitch K.  Freddie Fermin flew out to Outman.  He followed that up with a 4 pitch K against Edward Olivares.  Hudson threw 14 pitches, 11 for strikes.  Fantastic season debut for Daniel.
Welcome back, Daniel Hudson! pic.twitter.com/gEDwgTHS9G

— Los Angeles Dodgers (@Dodgers) July 1, 2023
Justin Bruihl gave up a single to Bobby Witt Jr. on another play only a handful of 3B would not have made.  Just like Miguel Vargas needs to hit to make up for his deficient 2B play, Max needs to do the same.
While Bobby Miller pitched better in this one than he did in his previous 2 games, he once again could not finish an inning he seemingly had control over.  He let his emotions get the better of him.  I am sure Mark Prior and Doc Roberts (and maybe Clayton Kershaw) will speak with him and try to get him to settle his emotions.  This is exactly why many amateur scouting pundits labeled Miller with more relief risk than without before the draft.  He has a 5 pitch repertoire, and a good one, so he is going to get all the opportunities he can to prove he is a top of the rotation SP.
"It felt good. It's just fun to be back out there with the guys down in the bullpen." Daniel Hudson on how it felt being back. pic.twitter.com/Gq1wUxrNzH

— SportsNet LA (@SportsNetLA) July 1, 2023
06-30-2023 – MiLB Game Summary Reports
OKC Dodgers 11 – Sugar Land Space Cowboys (Houston) 2
In a AAA bullpen game, Bryan Hudson started and completed 2 scoreless innings.  He allowed a walk and single.  Five of the six outs he recorded were via strikeout.
Jake Reed followed with 3.0 IP (1 run), Keegan Curtis with 3.0 IP (no runs), and Wander Suero (1 run).  Curtis also had a 5 strikeout night.
The offense scored 11 runs on 19 hits.  They scored 9 runs in the first three innings to take an insurmountable lead. They were 9-21 WRISP.
Only David Dahl did not get a hit, although he did reach base via a BB.  Ryan Ward was 1-5, but every other starter had at least 2 hits.  The big hitter on the night was SS Bryson Brigman who was 5-5 with 2 runs, 4 RBI, 2 doubles (7), and a HR (1).  Other offensive numbers:
Drew Avans – 2-4, 2 BB, 3 R
Jahmai Jones – 2-5, 1 BB, 4 RBI, 2 doubles (20)
Michael Busch – 2-5, 1 BB, 1 R, 2 RBI, double (16)
David Freitas – 2-6
Devin Mann – 2-5, 2 R, 1 RBI, double (27)
Patrick Mazeika – 3-4, 1 BB, 2 R
Very good night for OKC.
Tulsa Drillers 7 – Amarillo Sod Poodles (Arizona) 6 – 13 innings
Kyle Hurt started for Tulsa.  He allowed a HR and pair of doubles for a 2-0 Amarillo lead.
Tulsa stuck back in the 4th.  José Ramos led off with a single.  Eddys Leonard tripled (1) and came home on Diego Cartaya's HR (10).  Amarillo tied the score on a passed ball in the 5th.  The first of three blown saves on the night.
Tulsa took back the lead in the 7th on a Brandon Lewis double and Austin Gauthier single.  A HBP, single, sac bunt and sac fly tied the score again in the 8th.  Blown save #2.
A 2nd passed ball was pivotal with the 3rd blown save in the 12th.
With Eddys Leonard the designated runner at 2B in the 13th, he scored on a Diego Cartaya single.  Braydon Fisher retired the Sod Poodles with 2 Ks.
José Ramos – 2-4
Eddys Leonard – 1-5, 3 R, triple (1)
Diego Cartaya – 2-6 3 RBI, HR (10)
Brandon Lewis – 3-6, 2 doubles (5)
Great Lakes Loons 4 – Lansing Lugnuts (A's) 3 – Game 1
In game one the Lugnuts and Loons scored their first runs off errors. Lansing's Max Muncy scored after a Daniel Susac groundball misplayed at second in the first inning.  Taylor Young advanced on an error at third base. Chris Alleyne's double set up a Max Hewitt sacrifice fly to left field in the second inning.
Maddux Bruns struck out four across four innings, allowing just three baserunners in his final three innings.
The Lugnuts took the lead in the sixth. Jack Dreyer worked a 1-2-3 fifth but walked Jack Winkler to begin the sixth. Winkler stole second, moved to third base on a single, and advanced home on a 4-6-3 double play.
In the bottom of the sixth, the Loons tallied three runs. Luis Diaz, doubled roping a ball 107 mph to right center field.  Chris Newell and Griffin Lockwood-Powell both walked on eight pitches. With the bases loaded and one out, Taylor Young sliced a 1-1 pitch up the third base line, to clear the bases.
Michael Hobbs closed the sixth inning and worked out of a jam in the seventh. Eurbiel Angeles singled, and then Danny Bautista Jr. belted a double off the center field fence. The Lugnuts had the potential tying run on second with no outs. Hobbs came back with a strikeout, including a Clark Elliot RBI groundout to second base, and Max Muncy struck out on three pitches to end the game.
Taylor Young – 1-3, 3 RBI, double (12)
Chris Alleyne – double (10)
Max Hewitt – double (2)
Luis Yanel Diaz – double (10)
Lansing Lugnuts (A's) 7 – Great Lakes 5 – Game 2
Great Lakes jumped out to a 4-0 lead in the 3rd.  Jake Vogel led off with a BB.  Vogel scored on Dalton Rushing's 15th double.  Luis Yanel Diaz hit a 2-run HR (4).  Griffin Lockwood-Powell doubled and scored on a Chris Alleyne triple.
Lansing scored 7 runs in the 5th (4 earned) on 4 singles, 2 BB, and three errors.
GL got one back in the 5th on a double, passed ball and sac fly.
Luis Yanel Diaz – 3-3, 2 runs, 2 RBI, double (11)
Chris Alleyne – 2-3, double (11), triple (2)
Dalton Rushing – double (15)
Griffin Lockwood-Powell – double (12)
Rancho Cucamonga Quakes 8 – Visalia Rawhide (Arizona) 6
The Quakes returned to the win-column on Friday night, holding on for an 8-6 victory over the Visalia Rawhide.
Five different Quakes had multiple hits, helping the Quakes win for the fifth time in their last six games and for the seventh time in nine games on the current home stand.
Jorge Puerta led the way with three hits, while Jose Izarra, Josue De Paula, Luis Rodriguez and Rayne Doncon all had two each, as Rancho posted 12 hits in Friday's win.
Rodriguez slugged his first homer of the year, a three-run shot in the first, giving the Quakes their first lead of the game at 3-1.
Visalia came back to tie the game against Rancho starter Peter Heubeck, scoring once in the third and again in the fourth.
The Quakes took the lead for good in the bottom of the fourth though, as Visalia starter Lorenzo Encarnacion fired a wild pitch, allowing Doncon to score the go-ahead run. Izarra and De Paula followed with two-run hits, opening it up at 8-3.
Christian Romero was credited with the win, as he came on in the fifth and tossed a pair of scoreless innings.
The Rawhide tallied three in the seventh against Quakes' reliever Reynaldo Yean, tightening it up at 8-6.
Kelvin Bautista worked around a pair of two-out walks in the eighth, before Lucas Wepf tossed a scoreless ninth for his fourth save of the year to end it.