October 1955, Yankee Stadium, the Bronx, New York. For the first time in their existence, the Brooklyn Dodgers today became Champions of the baseball world, defeating the New York Yankees 2-0 behind the stellar pitching of young Johnny Podres.
That is not the original headline in Brooklyn. It is just one I made up. But it is a fact that the members of that historic team are almost gone. Hodges, Reese, Robinson, Snider, Furillo, Campy, Alston, Amoros, all have passed away.
With the recent passing of Roger Craig, only Koufax and Erskine are still living. Erskine is now 96 and Koufax is 87. Sandy still shows up at Dodger Stadium now and then. Sandy lives with his third wife in Vero Beach. Erskine still lives in Indiana.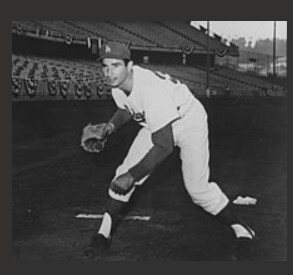 Koufax's first wife was Richard Widmark's daughter, Anne. He retired from the Dodgers front office job in 2016. When hosted at the White House for Jewish-American Heritage Month, President Obama quipped, " Sandy and I have something in common, we are both lefties. He won't pitch on Yom Kippur, and I can't pitch.
"Erskine was one of the more popular players to ever wear a Brooklyn uniform. He was affectionately called " Oisk" by the Brooklyn faithful. And he held the record for strikeouts in a World Series game until Sandy broke it in 1963.
Like our WWII vets, the people involved in that series are now down to just a few. We were all awed by what they accomplished. And it is a part of history that we will never forget.
06-28-2023 MiLB Game Summary Reports
Sugar Land Space Cowboys (Houston) 4 – OKC Dodgers 3
OKC drew 1st blood in the first.  Drew Avans singled, stole 2nd and scored on a Kole Calhoun single.  1st two batters and OKC has a 1-0 lead.  Sugar Land tied the score thanks to a pair of errors and an unearned run.   That would be the only run scored against Mike Montgomery in his 4.0 IP.
Devin Mann homered to lead off the 2nd  and OKC retook the lead.  Hunter Feduccia homered with one out in the 4th to give OKC a 3-1 lead.
Sugar Land scored a pair of runs off Mark Washington in the fifth to tie the score.  They scored an unearned run in the 7th on what would be the OKC 4th error of the game.  2 batters singled off Gus Varland.  With one out, Varland got a ground ball back to himself, made the throw to 2nd for an out, but Jahmai Jones threw the ball away and the tie breaking and eventual winning run scored.
Hunter Feduccia – 2-4, HR (6)
Devin Mann – 1-4, HR (12)
Justin Yurchak – 1-3, double (8)
Amarillo Sod Poodles (Arizona) 6 – Tulsa Drillers 4
River Ryan started and completed 5.0 innings.  He di1d not dominate, but he did not pitch poorly, allowing 1 run on 4 hits, 3 walks, and 3 Ks.  The lone run was a 2nd inning HR.  He was in a position to get the win as Tulsa scored three in the 3rd.
Kody Hoese led off the 3rd with a triple (1).  Austin Gauthier drew a BB.  Hoese scored on a Jorbit Vivas sac fly.  Imanol Vargas slugged a 2-run HR (10) for the 3-1 lead.
Ryan Sublette relieved Ryan and offered up a double and 2-run HR to the 1st two batters he faced to tie the score.
Austin Gauthier led off with a HR (3) in the 8th to retake the lead.
Tanner Dodson entered the 8th trying to protect a one run lead.  He allowed 2 doubles to lead off the 8th.  With one out, a single allowed the go-ahead run.  Braydon Fisher relieved Dodson and immediately gave up a run scoring double for the 6th run.
Austin Gauthier – 1-3, 2 Runs, 1 RBI, 1 BB, HR (3)
Eddys Leonard – 2-4, double (12)
Kody Hoese – 2-4, triple (1), 1 Run
Imanol Vargas – 1-4, 1 Run, 2 RBI, HR (10)
José Ramos – double (9)
Great Lakes Loons 4 – Lansing Lugnuts (A's) 0
Ronan Kopp (3.1 IP) and Jerming Rosario (2.2 IP) pitched the first 6.0 scoreless innings.  Kopp allowed 2 hits and 2 BBs and 7 Ks.  Rosario allowed 1 hit, no BB, and 3 Ks.  Rosario is beginning to get very comfortable in High A.  In his last three appearances, Rosario has completed 10.1 IP, 1 run, 5 hits, 2 walks, and 15 strikeouts.
Four Loons relievers followed and completed the combined shutout.
Dalton Rushing hit a solo HR (8) to open the scoring in the 4th.  In the 6th, Damon Keith doubled (13) and scored on a Dalton Rushing single and E8.  Luis Yanel Diaz singled, and both Rushing and Diaz scored on a Taylor Young double (11).
Damon Keith – 2-3, 1 R, double (13)
Dalton Rushing – 2-4, 2 R, 1 RBI, HR (8)
Taylor Young – 2-3, 2 RBI, double (11)
Jake Vogel – double (11)
Rancho Cucamonga Quakes 5 – Visalia Rawhide (Arizona) 1
Jared Karros continued his mastery over California League teams.  He faced 16 batters and retired 15 of them in his 5.0 IP.  He allowed a single, and struck out 3 Rawhide batters.  In his 11th game and 8th start, Karros lowered his ERA to 2.57, his WHIP to 0.95, and his BAA to .193.  He has 47 strikeouts against just 11 BB.  IMO, Karros is deserving of a promotion to High A.
RC scored an unearned run in the 1st.  With Kyle Nevin reaching on a 2-out error, he scored after a pair of singles by Jesus Galiz and Rayne Doncon.  In the third, back to back to back singles by Nevin, Galiz, and Doncon plated a 2nd run.
A walk and a pair of singles off RC reliever Jonathan Edwards brought Visalia to within one.
In the bottom of the 7th, Dayton Dooney led off with a double (11).  Kenneth Bettencourt singled Dooney to 3rd.  Josue De Paula doubled (6) to scored Dooney with Bettencourt taking 3rd.  Kyle Nevin reached on a fielder's choice as Bettencourt was out a home.  Nevin stole 2nd.  Both De Paula and Nevin scored on Galiz's single.
Jesus Galiz – 3-4, 3 RBI
Rayne Doncon – 2-4
Kyle Nevin – 1-3, 3 R