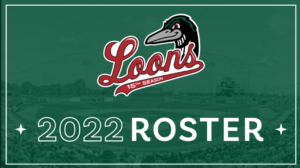 The Dodgers have announced the Loons starting day roster for Friday, April 8.
Of particular interest for me is that seven of the players selected in the 2021 MLB First-Year Player Draft are assigned to the High-A squad after playing just a part season of professional ball in 2021.
Pitchers
Those seven players are all pitchers which is not surprising as 15 of the Dodgers 16 players signed from that draft class are pitchers. The surprise is how quickly they have made it to the High-A level.
The magnificent seven in the order of their draft selection are: RHP Nick Nastrini (4), RHP Emmet Sheehan (6), RHP Ryan Sublette (7), LHP Lael Lockhart (9), RHP Michael Hobbs (10), RHP Antonio Knowles (13), RHP Jordan Leasure (14).
Nine of the other 17 pitchers are returning to the Loons for a second season of High-A competition. They include  RHP Aldry Acosta , RHP Carlos Alejo, LHP Jacob Cantleberry, RHP Hyun-il Choi, LHP Jose Hernandez,  RHP Kevin Malisheski,  RHP Cole Percival,  LHP Julian Smith, RHP Gavin Stone.
Two other newcomers to the Loons staff include right-handers Cole Duensing and Kyle Hurt. Duensing  was signed as a free agent by the Dodgers  in February of this year. He initially had been signed in 2016 by the Angels as an undrafted free agent and was released last August. Hurt came over  to the Dodgers along with LHP Alex Vesia  from the Miami Marlins  in exchange for RHP Dylan Floro.
Of note , Hyun-il Choi was named the Branch Rickey Minor League Pitcher of the Year by the Dodgers in 2021. Also of note, Cole Percival is the son of Troy Percival, a 14-year Major League alum and four-time All-Star.
Catchers
I thought the catching staff would include, or start with, the Dodgers top prospect Diego Cartaya, but for the moment he is listed on the Rancho Cucamonga Quakes roster. I think that will soon change as 19-year-old catcher Yeiner Fernandez needs considerable play time with the Quakes.
The current catching duo includes returnees Ryan January and Juan Zabala who had short stints with the Loons and Drillers during the 2021 season as well as two games with the Oklahoma City Dodgers.
Infielders
The infield contingent includes four returning players in Zac Ching, Eddys Leonard, Leonel Valera and Jorbit Vivas. Until game time it will be a challenge to slot them into a position as three are listed by MiLB as shortstops. However, in the now Dodger custom, they were stationed at different positions in the infield last year.  Initially catcher Kekai Rios, who was claimed off waivers from the Biloxi Shuckers last December, was listed as a third catcher on the Loons roster. Although he has never played at any other infield position he is now listed as an infielder.
This is a pivotal year for Leonel Valera as it is his third year with the Loons although his second at the High-A level. Still 22, I might suggest this could be a break out year for him. He has shown good power but has struggled with making consistent contact and striking out too often. Speaking of power, four of the infielders had double digits in home runs during the 2021 season. Valera had 16, Leonard 22, Ching 13, and Vivas 14.
Outfielders
The outfield has Jonny Deluca and Joe Vranesh returning and they are being joined by Ismael Alcantara, Imanol Vargas, Aldrich De Jongh, and Edwin Mateo who all played with the Quakes during the 2021 season. At bat the outfield will miss the 2021 power of Andy Pages and  Ryan Ward. Alcantara and Vargas have flown a bit under the radar. Last season with the Quakes, Alcantara hit .304 while Vargas hit 17 home runs. This could be a break out year for Jonny Deluca. The 23-year-old had 22 home runs during the 2021 season and 64 runs batted in along with 20 stolen bases. Between the Quakes and Loons he posted a triple slash of .264/.348/.519.He struck out 83 times but also walked 46.
Extra Inning
Five Loons appear on MLB.com's list of top 30 Dodgers prospects: Eddys Leonard (8), Jorbit Vivas (9), Nick Nastrini (13), Gavin Stone (18), Choi (28).
The same five appear on Baseball America's list of top 30 Dodgers prospects: Leonard (8,) Nastrini (16) Stone (17), Vivas (23) Choi (30).
Four members of the 2021 Loons have been released by the Dodgers. They are right-hand pitchers Mike Mokma, Cyrillo Watson, Jose Rudulfo and catcher Chase Barbary. It is indeed a tough game.
As a bit of a sidebar, I looked for some other players to appear on the Loons preliminary roster. I was surprised to learn that RHP Elio Serrano, at age-24, had been released by the Dodgers. He is one I have followed since 2016. I also expected left-handers Jeff Belge and Franklin De La Paz to break camp with the Loons. Belge had a rocky Desert Dog experience in the 2021 Arizona Fall League so he may well be retained on the Development List. De La Paz did have a medical issue at the tail end of the 2021 season so that may well explain why he has not surfaced. Hopefully it was not TJ surgery as he was placed on the 60-day injured list in September.
I was surprised that Gavin Stone was not assigned to the Tulsa Drillers.  He struck out 37 in 21 innings with the Loons in 2021 while walking five. He struck out 101 in 70 innings with the Quakes and walked 20 before he was promoted to the Loons. He was my choice for 2021 Branch Ricky Minor League Pitcher of the Year.
Go Loons!