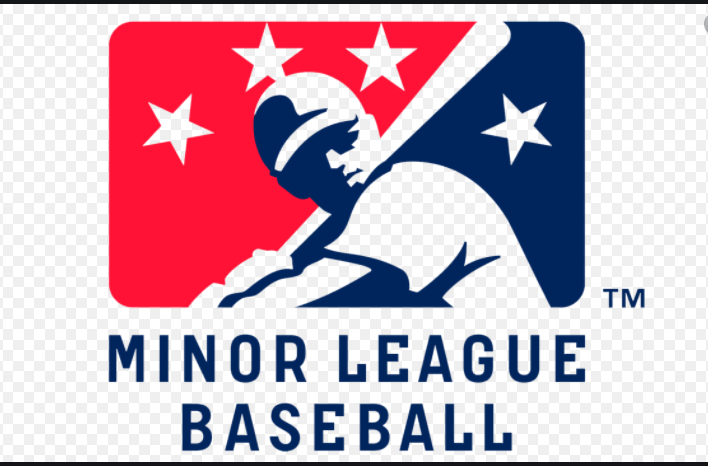 Sam Dykstra and Jonathan Mayo had a column on September 1st in which they projected each team's top prospect for 2024.
They selected the Dodgers current No. 8 prospect in their top 30. This is their rationale for choosing outfielder José Ramos.
"Assuming current No. 1 prospect Diego Cartaya has graduated, Ramos appears to be the logical choice, an impressive climb for a guy who signed for just $30,000 back in 2018 and wasn't even on the Dodgers' Top 30 at the start of the season, was added at the beginning of August and now is in the Top 10. The power is legit, with 25 homers across two levels of A ball this year."
With the Loons Ramos, 21,  is hitting .244/.321/.473 with a .799 OPS. Along with 19 home runs and 74 RBI. With the Quakes and Loons he has hit 25 home runs and driven in 97.
Just 5-foot-11 and 150 pounds when he signed as a 17-year-old, Ramos has added two inches and 50 pounds since then and now resembles fellow Dodgers outfield prospect Andy Pages with his physicality and tools. Both offer well above-average raw power from the right side of the plate and arm strength to match. Ramos has an efficient swing and some feel to hit, though he'll need to tighten his strike zone and prove he can handle quality breaking balls at higher levels.  To date he has struck out 168 times during the current season compared to 57 walks.
Though Ramos has lost some speed as he has gotten stronger, he's still an average runner with good instincts in the outfield. He spent most of his early career in center field but played solely in right field in Low-A, projecting as a solid defender on the corner. Base runners have not had much success testing his arm, as he recorded 20 assists in his first 112 outfield starts.
MINOR LEAGUE BASEBALL ANNOUNCED AUGUST
PLAYERS AND PITCHERS OF THE MONTH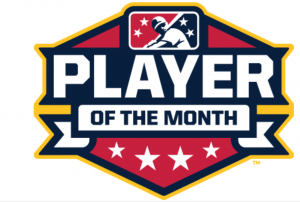 California League (Single-A)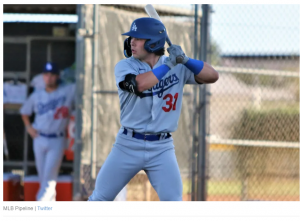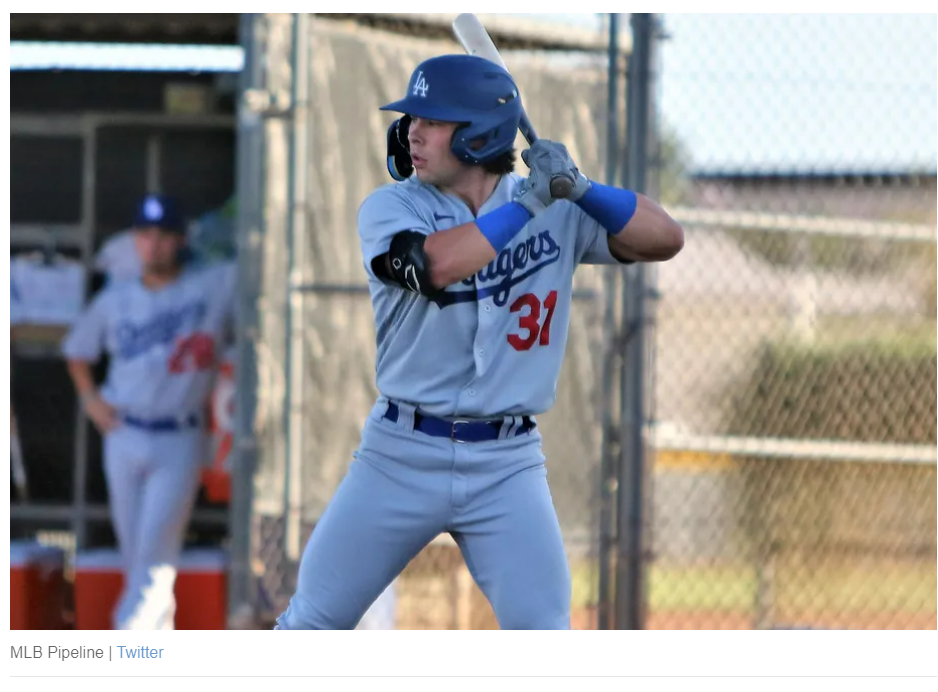 Rancho Cucamonga Quakes (Dodgers) catcher/first baseman Dalton Rushing batted .442/.551/.805 and led the league in average (.442), on-base percentage (.551), slugging percentage (.805) and OPS (1.356). He was second in doubles (10) and third in hits (34) and total bases (62). He posted eight multi-hit games and homered in his first at-bat with a full-season affiliate on August 4. Rushing, 21, was selected by Los Angeles in the second round of the 2022 MLB Draft out of the University of Louisville.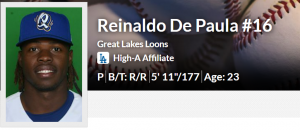 Rancho Cucamonga Quakes (Dodgers) right-hander Reinaldo De Paula is the California League Pitcher of the Month. He went 2-0 with two saves and a hold while finishing seven games for the Quakes. He did not allow a run and allowed just four hits in his nine appearances while striking out 14 in 14.0 innings. Opponents batted just .089 against him in August prior to his August 25 promotion to High-A Great Lakes. De Paula, 23, was signed by Los Angeles as an international free agent out of Santo Domingo, Dominican Republic, on May 29, 2017.
Arizona Complex League (Rookie)
Dodgers infielder Rayne Doncon batted .339/.422/.679 and led the league in home runs (five), total bases (38), slugging percentage (.679) and OPS (1.101). He finished second in RBI (15) and was third in hits (19) and fourth in average (.339) and on-base percentage (.422). Doncon, 18, was signed by Los Angeles as an international free agent out of San Pedro de Macoris, Dominican Republic, on January 15, 2021.
Doncon , as mentioned, is 18 and moved on to the Rancho Cucamonga Quakes. With the Quakes in nine games he is hitting .286/.306/.543 with an OPS of .849. He has hit three home runs and has eight runs batted in.
Offense
One of the most advanced young bats in the system, Doncon could be a plus hitter with 20 or more homers per season if he reaches his ceiling. He repeats his simple right-handed swing with ease, has a knack for barreling balls and possesses plenty of bat speed and projectable strength. Doncon already shows the ability to drive balls in the air, though he can get overly pull-conscious. – MLB Pipeline

He has fast bat speed, excellent natural timing in the batter's box and consistently barrels fastballs. He has a flat swing plane that results in a lot of low line drives, but he has a chance to grow into average or better power as he gets stronger and fills out physically. – Baseball America
Defense
While the Dodgers believe Doncon has the actions and solid arm strength to possibly remain at shortstop, he's an average runner who might lose some quickness as he matures physically. He's still learning to play under control in the field and likely will wind up at second or third base, with more than enough offense to profile at either spot. Club officials praise his makeup as well. – MLB Pipeline

Doncon remains lean and is a capable shortstop with good actions and a plus arm. He is a tick below average runner who projects to slow down as he continues to fill out, so he may eventually have to move to third base. – Baseball America
Leonel Valera Returns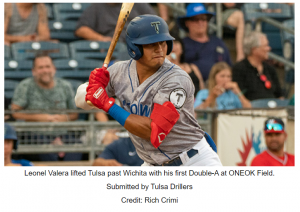 Leonel Valera has floated along almost unnoticed this year, and perhaps last year, but with the Drillers has had a resurgence. His revival has not been enough for him to claim a spot in the Dodgers Top 30 prospects list although it seems he has at least earned some consideration for that list.
Prospects 1500 kept him on their list at No. 17 on January 28th, 2022.
"Extremely fast hands at the dish. Tall, fantastic build with the type of strength that shouldn't be detrimental to his future at SS. Good plate discipline. Valera drops his head, uses his lower half to generate power with fluidity, along with the rest of his body. Takes what the pitcher gives and makes them pay for their mistakes."
The right-handed hitting Valera was signed  as an international free agent on  July 22, 2015 out of Barinas, Venezuela.
He hit well in 2016 and 2017 in the Dominican Summer League and in 2018 in the Arizona League.
His 2019 and 2021 seasons were spent with the Great Lakes Loons at the Class A and Class A+ levels respectively. He seemed to regress and fall off prospect lists in 2021 although he had gone up a level.
Two things stood out in his 2021 season. First, his power stroke emerged as he hit 16 home runs in the pitcher friendly Midwest league. Secondly, he stole 16 bases after having stolen 27 during the 2019 season.
His stock had not fallen with Dodgers farm director Will Rhymes who spoke about Valera last January.
"He's a (player development) favorite because he's about as tooled-up as they come," Dodgers farm director Will Rhymes said of Valera during the season. "Incredibly gifted, kind of an A-Rod type body. Speed-power combo."

"I've been a big fan of his for awhile. His upside is massive and he's starting to put it together."

"It's interesting to think where he would go in the draft if he were coming out now," Rhymes said. "The performance is kind of starting to line up with the potential."
During the current season Valera had another slow start with the Loons. Over 42 games he hit .211 matching his weight at  210 pounds.
After being advanced to the Tulsa Drillers the potential that Will Rhymes spoke of began to surface again.
Through 80 games he has hit .287/.362/.478 with an OPS of .840 along with 11 home runs and 53 runs batted in. He has had 30 stolen bases and been caught once during the current campaign.  Eleven of his stolen bases came with the Loons and 19 with the Drillers.
Among current Drillers, Valera now has the highest batting average having passed teammate Justin Yurchak who has an on-base streak of 22 consecutive games.
Valera, 23, has spent most of his time at shortstop but has also played at second base and third base.